Mastering Content Marketing Training
Online Masterclass: Mastering Content Marketing
Are you struggling to come up with fresh, fun and engaging social media content?
Have you studied other amazing social media profiles and accounts and wonder how they do it?
Or, do you feel overwhelmed or exhausted at the thought of creating more content?
If you answered yes to any of the above, then what you need is an effective content marketing strategy that also saves you time.
That's where I can help.
Introducing the Mastering Content Marketing Online Masterclass…
For the talented service-based small business owner like you, who wants to save time and stop struggling with social media content ideas… And instead, create strategic content marketing that attracts your dream clients and grows your business.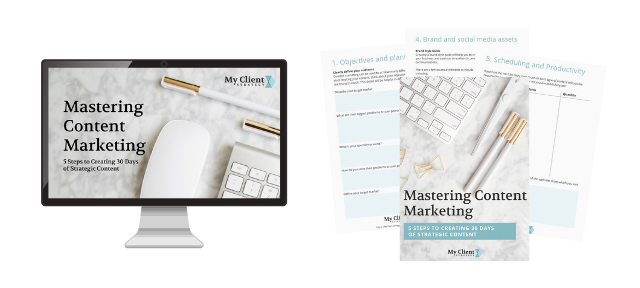 In this content marketing training you'll learn my simple 5-step process for creating an effective content marketing strategy and 30 days of strategic content. We'll cover things such as:
What is content marketing and why is it important
The types of content you should be creating to see the best results
How to streamline your content creation process and save time
The importance of creating consistent content
Tips for designing social media marketing and brand assets
How to create a content framework so you're never stuck for ideas
How you can attract attention online and stand out
The three elements that make a good social media post
Content creation tips to engage your audience and attract leads
SEO tips and strategies to help get your content found
The best productivity tools you'll need for your business, and more!
Plus,
you'll also receive a workbook that will help you implement everything you'll learn.
Here's what past attendees have said about the Online Marketing Masterclass...
"This is my favourite of all your Masterclasses Hayley (the email list one is a very close second). With your guidance and framework I am so excited to say that I have FINALLY overcome my overwhelm when it comes to my content marketing strategy".
~ Erin O'Neill, Accredited Practising Dietitian

[NOTE: This is a replay of the live masterclass which ran on 21 May 2019, and as such you won't be able to ask questions at the end of the class].
Imagine what it would feel like...
To have free organic traffic coming to your site from social media and the search engines
To never run out of content ideas again and know exactly what you're going to post every day
To create content that strategically builds that all-important know, like, and trust factor with your dream clients
To save enormous amounts of time by using a content marketing system that enables you to re-purpose and re-use your content
I want you to know that with the right content marketing training, strategies, and tools it is entirely possible... And I'm 100% committed to making this happen for you.
Join me for the Mastering Content Marketing Online Masterclass and let's start developing a content marketing system that will save you time, attract your dream clients, and grow your business!
Your Masterclass Host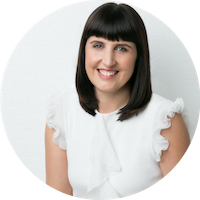 Hayley Robertson | Marketing Consultant and Business Coach
In 2018 Hayley left her corporate life behind and launched My Client Strategy - an online marketing training and coaching business that empowers service-based small business owners with the knowledge and skills they need to successfully market their business without the stress and overwhelm. Hayley has more than 15 years of sales and marketing experience working for some of Australia's largest service-based organisations. She also holds business and marketing qualifications including a Masters of Business Administration (MBA) from the Macquarie Graduate School of Management, and a Bachelor of Management (Marketing) from the University of South Australia.