SEO MARKETING STRATEGY SESSION
Get affordable SEO recommendations and strategies to optimise your website and generate more qualified leads organically.
Have you spent a lot of money outsourcing your website and SEO, but not sure what you received for your money and would like to know how to do it yourself instead? Or do you get confused by keywords and all the SEO terminology which means your website, unfortunately, ends up in the "too hard" basket? What you need is a website audit which will highlight any SEO issues you need to fix, as well as easy-to-follow recommendations and marketing strategies you can use to generate more qualified leads organically. That's where I can help.
By the end of the marketing strategy session, you'll have:
Identified any SEO issues you have and know how to fix them
Actionable steps you can take to improve your search results
Selected the keywords and phrases that are right for you
The knowledge you need to measure and track your performance
A solid technical and functional foundation for your website
Why should I book a SEO marketing strategy session?
You'll get coaching from an MBA-qualified marketing expert
You'll have someone to talk to, so you're not doing it alone
You'll be able to ask questions and validate your ideas
You'll get 1 on 1 support, unlike when you take a course
You'll save travel time and transport costs as it's run virtually
How does it work and what does it cost? Your SEO marketing strategy session is hosted virtually by your Marketing Coach, Hayley Robertson. The process for how it works follows these steps: 1. Book your strategy session using the online booking system 2. Once payment is made; you'll receive an email containing links to a preparation questionnaire and online calendar 3. Schedule a time that suits and return the questionnaire, so I can get to know you and your business better and tailor the session for you 4. The 2-hour strategy session is then hosted virtually via Zoom (teleconference) at the scheduled time 5. Following the session, you'll receive a detailed SEO Audit Report and recommendations for how to fix any issues and grow traffic The cost of a marketing strategy session is $495 AUD (incl. GST).
MY SEO EXPERIENCE AND WHAT OTHERS SAY...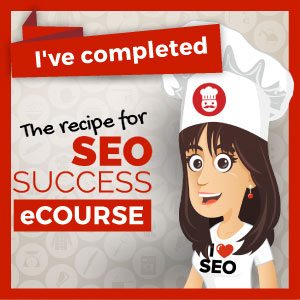 I've spent tens of thousands of dollars on my education, so you can be assured that the knowledge and advice I share has been obtained from some of the best educators and coaches around. This includes working with an SEO expert, Kate Toon. In December 2018, I graduated from her comprehensive Recipe for SEO Success eCourse.

I would recommend Hayley for online marketing
Hayley and I worked together in a project team to rebuild our company's website, with an external stakeholder. Hayley's exceptional strategic and mapping out skills ensured the final product provided a better user experience, improving customer service and in-all, real value to the organisation. An intelligent, creative and very approachable person, Hayley has the ability to make anyone at ease when they meet her. As a small business owner myself, having the ability to discuss marketing, business and self-promotion ideas, with Hayley on a one-on-one basis is of great benefit. She has some incredibly helpful marketing tools to help small businesses succeed.
Nguyen Biszak | Director, Maarkis
FREQUENTLY ASKED QUESTIONS
WHO IS THIS SEO STRATEGY SESSION FOR?
The strategy session has been designed for service-based small business owners who want actionable steps to optimise their website and fix any SEO issues themselves to avoid expensive outsourcing costs.
It would be a good fit for you if you were:
A service-based small business owner who wants to improve your website ranking
Wanting easy-to-follow, actionable steps to manage your website and SEO
Looking for recommendations and strategies to save you time on your marketing
Seeking direction and a step-by-step plan to be more productive
Willing to invest in your business to learn and grow
Ready to take action and grow a business that you love
It would NOT be a good fit for you if you were:
A product-based, eCommerce or bricks and mortar small business owner
Not ready to learn, grow, or invest in your business
Looking for a quick fix for your website or a done-for-you SEO service
Unwilling to put in the work to build your website and grow your business
WHAT EXPERIENCE AND QUALIFICATIONS DO YOU HAVE?
I have more than 15 years of sales and marketing experience working for some of Australia's largest service-based organisations, so I've seen a lot of what works, as well as what doesn't. I have built and launched my own WordPress website and led large-scale website projects in my corporate career. Before founding My Client Strategy in mid-2018, my experience included senior roles at Telstra, NRMA Motoring & Services, Thrifty Car Rental, and the RAA. My qualifications include a
Masters of Business Administration (MBA)
from the Macquarie Graduate School of Management in Sydney and a
Bachelor of Management (Marketing)
from the University of South Australia in Adelaide. I have also completed the Recipe for SEO Success eCourse with SEO expert, Kate Toon.
HOW DO I SCHEDULE MY SESSION?
Simply click the button below and you'll be taken to an online booking page. Once payment is made, you'll receive a confirmation email containing a link to a preparation questionnaire and an online calendar to schedule a time for your session.
Do you have questions and want to chat?
Ask questions and contact me here
.