It can be very challenging to find and build a network as a small business owner.
I know this because I found small business networking quite hard when I first started.
Most of my existing connections were working in corporate jobs, and I had very few small business owners in my circle.
On top of that, I'd gone from working in a busy office surrounded by people, to working all alone in my home office.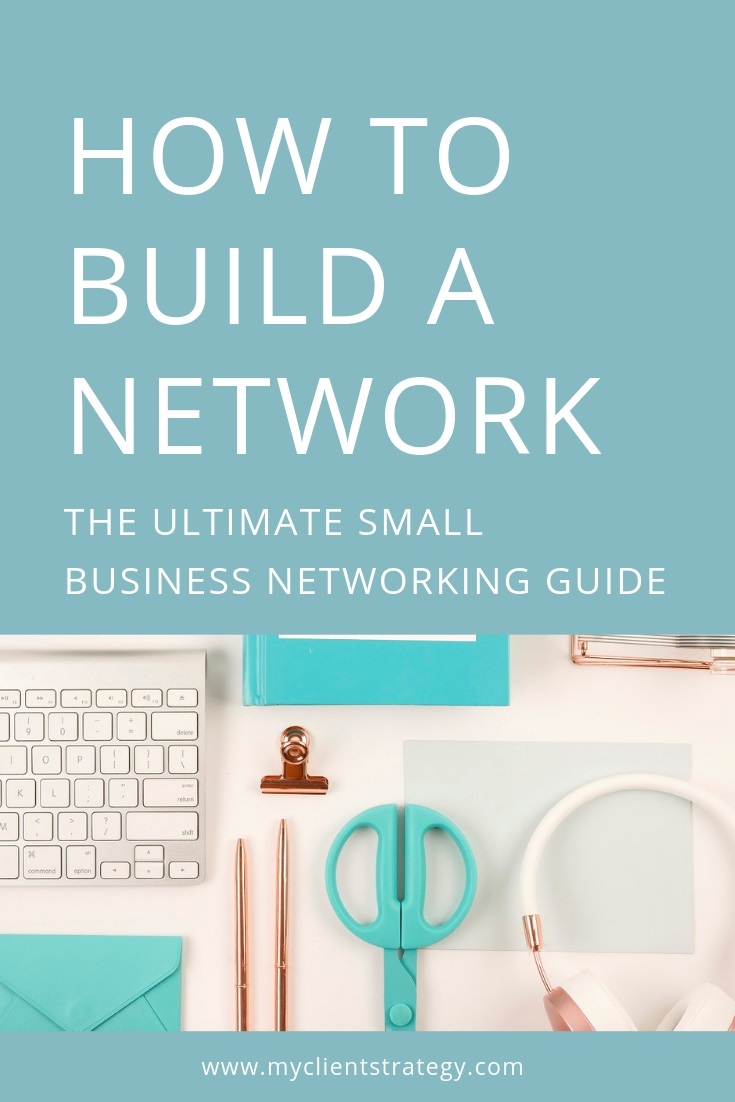 So, where did I start? And what small business networking steps did I take?
It all started with getting myself into the right mindset.
I knew I needed to be open to possibilities and to get myself out there and to interact with more people.
So, once I was in the right frame of mind, things just started to snowball from there.
I met one person who then introduced me to another, and so on.
It didn't take very long for the referrals to start, and I was being recommended by others in Facebook groups online.
In the post below, I cover what I believe are the essential steps for finding and building a network when you're a small business owner.
I also provide some handy small business networking tips and strategies for how you can make the most out of your networking efforts.
I'd love to hear what you learn from the article below – please share with us your biggest takeaway in the comments below!
The ultimate small business networking guide to finding and building a strong business network:
Outline a small business networking strategy
Start by defining your target market and making this the centre of your networking strategy.
Your target market is critical because it'll help you to strategically identify who are the best people to have in your network.
It'll also help you to avoid wasting time and networking with those who aren't going to support your business growth.
There are both direct ways to network (with your target market) as well as indirect ways to network (through others who know your target market).
Having a strategy for how you are going to network both directly and indirectly will help you to build a robust network.
Once you've defined your target market, then there are two other groups of people whom you'll need to identify:
People in your existing network who know your target market and who could refer you
Other business owners who have the same target market as you, but are not your competition
These two groups of people above are whom you'll network with indirectly to build your business support base.
Depending on where you are at within your business, you may decide that directly networking with your target market is a priority.
If this is the case, then develop your strategy with direct networking in mind.
Alternatively, if you don't know how or where to find your target market, then consider making it a priority to apply more indirect networking strategies.
RELATED: 5 Common mistakes small businesses make with their target market
Identify whom you want in your network
As part of developing your strategy, you'll have defined your target market.
Think about your existing network and write down a list of people who would fit this target market profile.
Next, write down a list of the people in your existing network who may know others who fit your target market profile.
(You may have some of the same people on both lists if you suspect that your target market contacts could also connect you with others like them).
If you've worked with these potential referrers before that will be beneficial.
This is because they'll know your standard and quality of work and will be more likely to refer you.
Don't forget to add your past clients to this list of referrers as you'll also want to stay connected with them if they have glowing things to say about working with you.
Finally, think about the types of business owners who have a similar target market to you but are not your competition.
Examples of this could include website developers who have the same target market as copywriters and photographers.
Each of these businesses is not in competition with each other but could all collaborate on a project for the same client.
As another example, women's networking events are attended by other businesses that provide services exclusively to women.
At this point, you may or may not know the specific businesses who are on this list. That's ok. Just write down the types of business owners whom you would like to connect with.
Are you ready to get serious about expanding your network and growing your business? That's where I can help. Find out more here about how my Business Breakthrough Marketing Coaching Program can provide the systems, structure, and support you'll need to successfully grow your business without the stress and overwhelm.
Be selective with your time
Time management is a struggle for a lot of small business owners as we wear many hats and need to fit in #allthethings!
Also, networking is one of those activities which can be very time-consuming, especially if it involves travel time as well.
As such, you'll want to be selective with your time when it comes to networking. Be sure to only go to those events where you know your target market or referrers are in the room.
It may take a little bit of trial and error until you find the networking opportunities and events that are right for you.
However, once you've found a great networking event host, then it can be a lot easier to know which events to attend.
Not always, but a lot of the time you'll find paid events are of a higher quality than free events.
It's likely that the people attending paid events are more invested in the event, and are also wanting to develop strong connections.
RELATED: 10 Time-saving marketing tips for small business owners
Join existing business networks
There are many business networking groups out there already that you can join – you just need to know where to look.
Here are a few options for you to research and consider (as well as where you can find them):
Industry memberships and associations – search online for ones in your industry
Professional networking groups and memberships – search online for these groups in your location
Councils and Business Chambers – contact your local government for details
Facebook Groups – search social media for online business networking groups
Meetups and Networking Events – free and paid groups who advertise on event platforms
Business Masterminds and Inner Circles – often hosted by coaches and business consultants
As you can see in the list above, don't just consider offline business networking events.
There are some sizeable online business networking groups on platforms such as Facebook that enable good connections.
Also, with technologies such as Zoom, you'll find that many masterminds and inner circle groups are now virtual.
These virtual types of business networking groups are brilliant for busy business owners who want to save travel time or who live in a rural or remote area.
RELATED: Learn more and join the My Client Strategy Academy membership
Find small business networking opportunities
Promotional event platforms like Eventbrite, Facebook Events, and Meetup are great places to start your search for networking opportunities.
So while they list a lot of great opportunities, they aren't the only places to search.
Industry conferences and award nights are brilliant places to network with other business owners who could refer you to your target market.
If appropriate, why not also consider nominating your business for an award!
Research the upcoming conferences for your industry and mark them in the calendar.
You may also want to allocate some of your marketing budget to networking at the same time.
RELATED: 5 Ways I invested my marketing budget when starting my small business
Training and courses are also great places to meet people face-to-face.
You'll also have an opportunity to learn more about each other's businesses while studying.
Besides, networking doesn't only have to be via a formal event. It can happen anywhere.
Think about the places where your target market often visits and consider if there is a networking opportunity there.
These places could include co-working spaces, community events, fundraisers, and competition nights, to name just a few.
Also, don't forget about the social networks that you have with people you already know who could introduce you to your target market.
These social networks could include sporting clubs, book clubs, the school parents and friend's group, or your school or university alumni as examples.
Are you ready to get serious about expanding your network and growing your business? That's where I can help. Find out more here about how my Business Breakthrough Marketing Coaching Program can provide the systems, structure, and support you'll need to successfully grow your business without the stress and overwhelm.
Create a business network
Sometimes you can't find the right community fit. Alternatively, maybe you live in an area where the networking opportunities are limited.
If you find yourself in this scenario, then consider becoming a network host yourself.
You don't need to start with a large group of people. A handful of people is enough to get a group together.
Invite a few local business owners whom you would like to connect with for coffee or lunch.
They will likely thank you for bringing them together and creating an opportunity to network.
Also, consider reaching out and inviting your target market to a function that you're attending.
Sometimes people aren't confident to go to business networking events by themselves. However, when someone else invites them, it gives them the motivation to go.
Make the most of small business networking events
One of the keys to a successful networking event is to make sure that you attend with the right mindset.
People generally want to talk to positive and happy people, so think about how you can get yourself in an open and friendly frame of mind.
Before you attend a networking event, also spend a few moments to prepare.
Your preparation could include listing two or three objectives that you have, or what you would like to get out of the event.
Also, practising your elevator pitch, so you'll know what you want to say when you meet someone for the first time.
If you struggle to make conversation at some types of business networking events or you're introverted and shy, also prepare a few questions that you could ask.
One referral framework that I like to use is the GAINS framework which helps with the exchange of information so that you can find common ground and something to build a relationship on.
GAINS is an acronym for Goals, Accomplishments, Interests, Networks, and Skills.
Use these as sub-headings and think about the things you could list under each.
What goals do you have? What are your accomplishments? What are your interests? Etc.
These topics are good conversation starters and can help you find something that you have in common to talk about.
You never know whom you may meet or what may come out of a networking event, so be open to the possibilities!
Continue the conversation
As mentioned above, be sure to take some business cards to a networking event so that you can exchange details and continue the conversation.
Alternatively, you may want to connect on LinkedIn and create a digital connection.
(If we haven't already connected – I would love for you to connect with me on LinkedIn).
Collecting business cards or LinkedIn connections is only just the start of your business relationship, however.
Consider how you could follow up and start to build a more meaningful and sustainable relationship over the longer term.
Here are a few ideas that you could try to keep in touch:
Ask your new connection who their target market is and introduce them to someone you know who fits this profile who is looking for their services.
Connect the person you just met to someone else in your network whom you believe they could create a strong referral partnership with.
Send a thank-you note to your new connection thanking them for their advice (if they offered it to you) and how you intend to act on it.
Invite your new connection to another event you are attending or plan to meet them at an upcoming industry conference during one of the breakouts.
If you believe you could support or help the business owner who you just met in some way, invite them for coffee and offer to provide this support or help.
A word of caution here: No one likes to be sold to straight away. So, be sure to focus on building a relationship with the person in the first instance.
Offer to help and be prepared not to receive anything in return. Sometimes we need to give and then give again before the benefits eventuate.
The networking mistake you'll want to avoid
Have you ever attended an event and then ended up getting stuck talking to the one person all night? Or to someone who's not a good fit for your business?
I think we've probably all been there at some stage!
Well, here are a few tips for how to avoid this situation from happening:
When you enter an event, take the time to look around the room. Find a space where you can approach a group of people rather than walking up to the person who is standing on their own. It's far easier to leave a group of people than it is to walk away from one person.
Practise an 'exit' line and have it ready when you're looking to move on and speak with another person. It could be something along the lines of – When I came to this event tonight, I had a plan to connect with five new people. I'm not quite there yet, so I'm going to keep moving around the room to connect with a few more people before the night ends. Alternatively, it could just be as simple as saying, excuse me, I'm going to go and get a drink or something to eat (which then allows you to move away and meet someone new).
To summarise, here are my top small business networking tips:
Be strategic – Include both direct and indirect networking strategies for your business.
Identify your target market and referral partners – Ensure whomever you add to your network either matches your target market or is someone who could introduce you to them.
Manage your time – Be selective with how many business networking events you attend and follow up coffees you have.
Join existing business networks – Do your research and get yourself out there.
Find networking opportunities – They don't just need to be at formal business networking events. They can happen anywhere.
Create a network of your own – Don't wait for an invitation. Become a network host yourself.
Make the most of it – Be prepared before you go to an event and go with an open mind.
Continue the conversation – Make a plan to stay connected and determine how you could continue to meet up in person to build a strong business relationship.
Avoid getting stuck with the wrong person – Apply a few strategies and techniques to avoid the mistake of getting stuck with one person all night at your networking event.
Are you ready to get serious about expanding your network and growing your business? That's where I can help. Find out more here about how my Business Breakthrough Marketing Coaching Program can provide the systems, structure, and support you'll need to successfully grow your business without the stress and overwhelm.
For more marketing strategies and tips for marketing your service-based business, download the Ultimate Marketing Checklist by clicking the button below:
Did you find this article helpful? Please don't forget to PIN it to Pinterest or share on Facebook.