How to choose the right keywords for your target market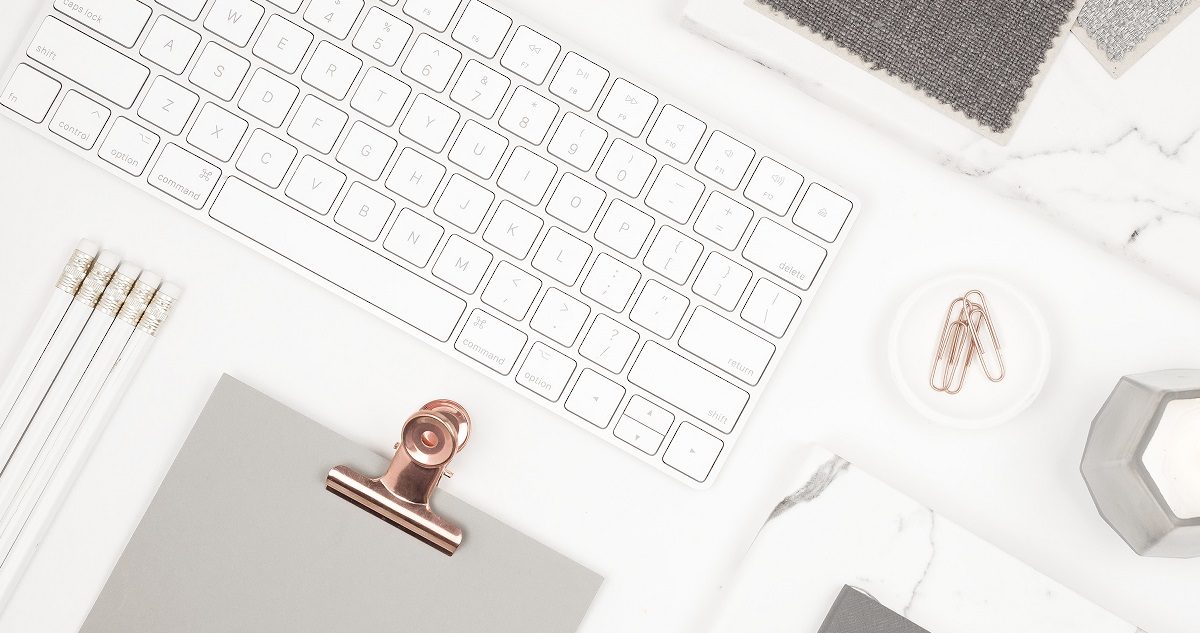 Choosing the right keywords to attract your target market is critical if you want to make it easy for your potential clients to find you.
If you're not sure what keywords (or keyword phrases) are, they are merely words that the search engines look for to determine what content is on your site.
It's important to use keywords in the page title and meta description fields for each page and post so that Google can find your content.
As well as use keywords in the header fields (H1, H2, etc.), image alt tags and body copy to improve your search ranking.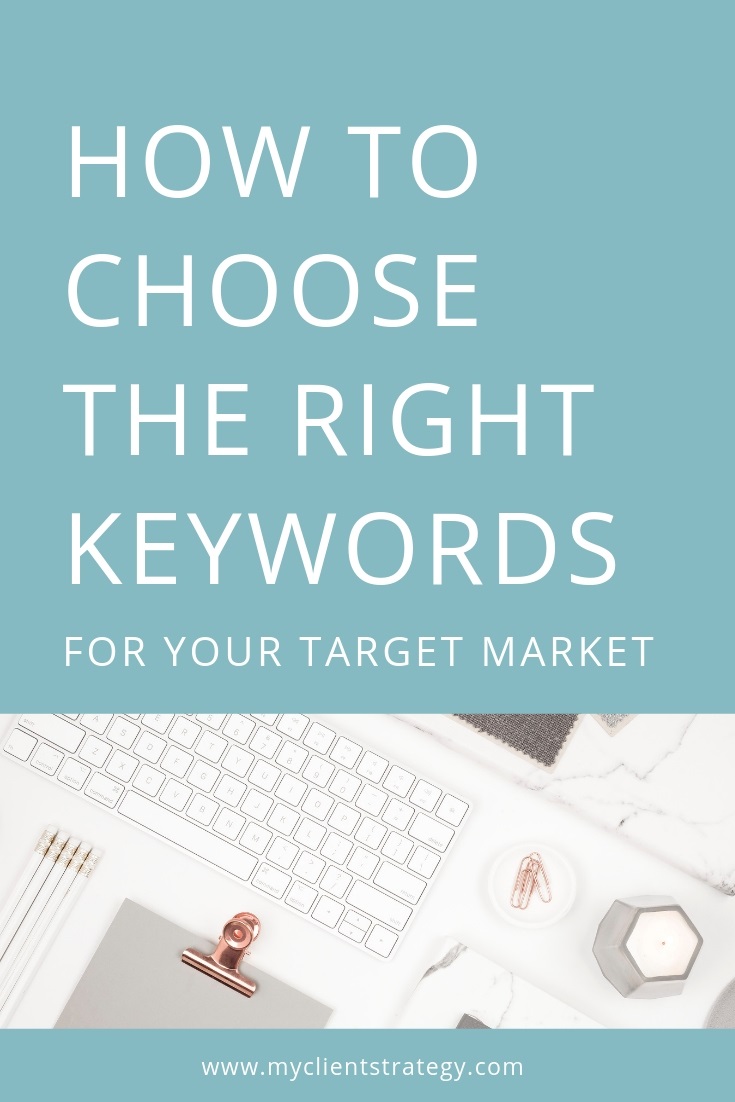 It can take some time to research the most effective keywords for your business and niche.
However, when done well, it's worth the effort.
So, what steps should you take to choose the right keywords for your target market?
Firstly, I recommend choosing the primary keywords that best describe what you do or what you call yourself. Sometimes these are also called head keywords (made up of one or two words).
Are you a life coach, web designer, or a marketing consultant? Maybe you're a service-based business such as a wedding photographer or travel manager?
I recommend choosing primary keywords that best describe your services and using these in the relevant places on your website home page.
SEO TIP: You have 60-70 characters (including spaces) for your page title, however, be sure to use your keywords as close to the beginning of your title as possible.

Before finalising your primary keywords, it's essential to also conduct some research on both the search volume and competitiveness.
What does that mean? It means finding out:
How often those keywords are entered into Google; and
How much competition there is online from other websites also using those keywords.
There are several tools, both simple and complex, that you can use to find this information.
One of the simpler tools that I love using is a low-cost Google Chrome extension called Keywords Everywhere.
Just download this extension to your Google Chrome browser, set up your account, and purchase credits from only $10.
Once you're set up, you'll start to notice some information appearing under the search bar and a list of similar search terms on the right-hand side. (TIP: Go into the settings and turn off the related keywords to save on your paid keyword credits).
As you can see in the image below it shows the Volume, Cost Per Click (CPC), and the Competition.
Also, Related Keywords listed along the right-hand side for additional ideas.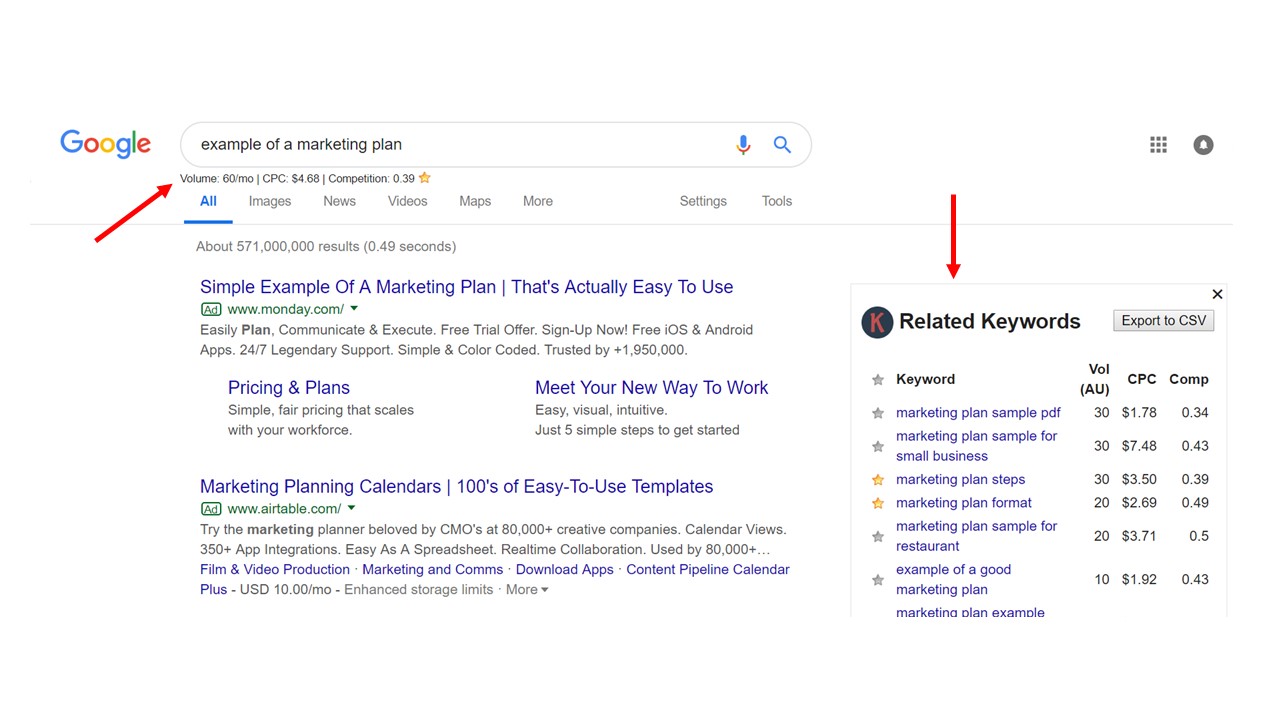 What you are looking for, are keywords that have a high search volume, but low CPC and competition.
Now there's so much content on the internet… and it can be challenging to find high volume keywords that have low competition.
Also, it's so easy to lose hours of your time researching online trying to find them.
I recommend that you don't get too drawn into searching for the 'perfect' keywords.
Just focus on being mindful of selecting keywords that have at least some traffic each month. Also, that have low competition, or you'll never have any chance of ranking near the top of the search.
Another tool that you may want to try is the Google Keyword Planner. It's free, but you need to register for a Google Adwords account to access this tool.
SEO TIP: Use unique keywords for each page or post on your website and don't duplicate any keywords across pages. You want to ensure your pages aren't competing against each other. And that you're ranking for as many keywords as possible.
For your website 'About' page, it's likely that your name or business name is the most relevant keyword to use.
For the services you provide or your 'Work with me' page, create a separate page for each service category.
Separate pages are relevant because you can then use more keywords to cover all of your service descriptions or names.
These keywords may be a little longer at two or three words and are also known as body keywords.
For example, if you're a photographer, you may use keywords such as wedding photography, baby photography, event photography, and headshot photography.
By expanding on the single keyword of photography, you'll increase the chances of being indexed for multiple types of services.
It will help your potential clients find you. Particularly when they are searching more specifically for the types of service provider they want.
Depending on whether you are a local business, it could be useful to add your location in the title for your 'Contact' page. Consider how you may also incorporate both region and town or suburb names.
SEO TIP: Set up a Google My Business page to get featured in the map pack on the Google search results. Don't worry if you work from your home and you don't want people to know where you live. You can select an option to hide your specific home address and list only the suburb or town.

When writing blog posts, I take a slightly different approach to choosing the right keywords for my target market.
When choosing the right keywords for website pages, it's about selecting shorter, generic keywords with higher search volume.
For blog posts, it's important to think about longer keyword phrases.
These keywords have lower volume, so they are less competitive and therefore, easier to rank for.
These are called longtail keywords and are made up of three or more words or phrases.
If I use the keyword example above of wedding photography, a longtail keyword could be "best wedding photography locations Melbourne."
Longtail keywords will have a lower search volume than shorter, generic keywords. However, because the keyword phrase becomes more specific as it gets longer, the content becomes more relevant.
As such, your target audience will be more likely to click through and result in web traffic.
You may not have as many people seeing your post with a longtail keyword, but those that do are likely to be warmer leads.
At the end of the day, it's about getting the right traffic to your site, not getting the most impressions or views on Google.
For someone to take the time to read a blog, it's likely they are researching a topic in more detail.
Often, they'll be struggling with a problem or pain point and be searching online for a solution to solve it.
As such, when you solve problems via your blog post, you'll increase the chances of your content being seen by the right audience.
It also helps to build authority in your niche with your target market. This moves them further along the buying cycle and closer to a sale.
When selecting what topic to write about, it's important to put yourself in the shoes of your client.
Think about what questions they may have or problems they are trying to solve when it comes to your service category or niche.
Also, with the introduction of new voice search technologies, more and more of the searches these days are questions (on how to solve something).
You may have even noticed Google has added what's called a 'Featured Snippet' in some search term results, as seen in the image below.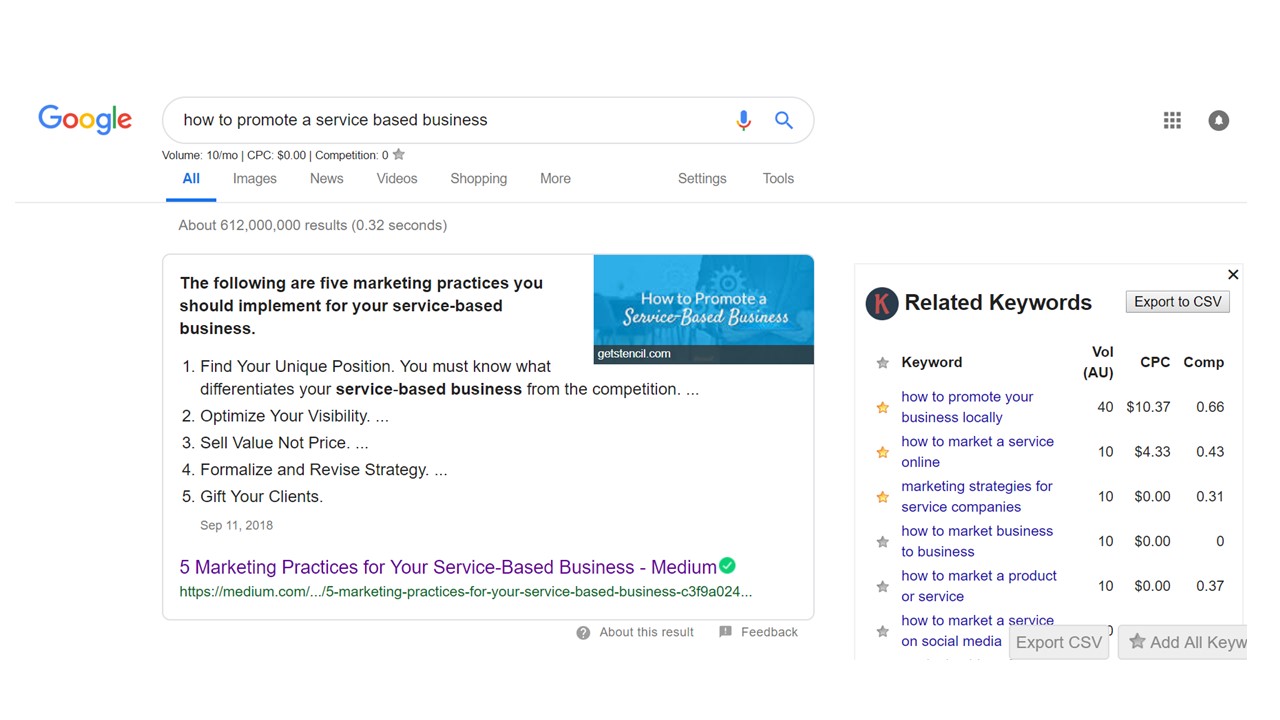 These featured snippets are highly valuable as they are displayed very prominently on the search results page.
If you can pose a question and answer it in your blog post, it may get indexed by Google and help drive more free traffic to your site.
When it comes to tools for helping you to research longtail keywords, the Google Chrome extension, Keywords Everywhere is still relevant.
However, you may wish to also use another more advanced tool such as the free Moz Keyword Explorer tool.
Not only can you research what keywords you're already ranking for… but you can also type in your competitor's website address and find out what keywords they are ranking for too.
Depending on the search volume and competitiveness, you may want to incorporate these keywords on your site.
Setting up Google Analytics and Google Search Console will also help you to see what words you're already ranking for. Open Google Analytics and go to Acquisition > Search Console > Queries.
This report will show you where you're ranking on average for those keywords. Look for keywords with higher search volume and determine what type of content you could publish to help you move higher up the search rankings.
Another tool I use to research keywords and questions is a website called 'Answer the public.'
You enter your keyword or niche into the search box, and it returns a list of all the questions people have asked Google about that topic.
Pinterest is also a search engine and can provide a lot of creative ideas for blog posts around topics. Also, many questions are asked inside relevant Facebook Groups for your niche, giving you great ideas for blog posts.
RELATED: 30 Marketing tools every service-based business should know about
Don't forget to also think about offline ways to research and choose keywords.
Ask your clients what they are struggling with or what type of information they researched before they engaged you. Then write a blog article that gives them the information they need to solve it.
If you want to try some paid keyword research tools, I recommend SEMrush or Ahrefs. They are quite expensive though, so take advantage of the free trials first to determine if they are suitable for you.
Once you have chosen your keywords to attract your target market, ensure you're also monitoring the results.
Over time, you'll find that some types of blog posts are getting more traffic than others.
Focus on creating more of the type of content that drives good website traffic. As well as setting up internal links on your website to drive traffic from high traffic pages to lower traffic ones.
In summary, choosing the right keywords for your target market involves the following steps:
Identifying the primary or head keywords that describe your niche and what you do
Building on these keywords to create body and longtail keywords
Researching client pain points to identify additional longtail keywords
Analysing keywords to find the best combination of volume and competitiveness
Monitoring, adjusting, and improving your keyword performance over time
As mentioned, it can be quite easy to get caught up looking for the perfect keywords. So, be mindful that you are not spending too much time researching.

Did you find this post helpful? Please don't forget to PIN to Pinterest.