7 Simple ways to attract more clients to your service business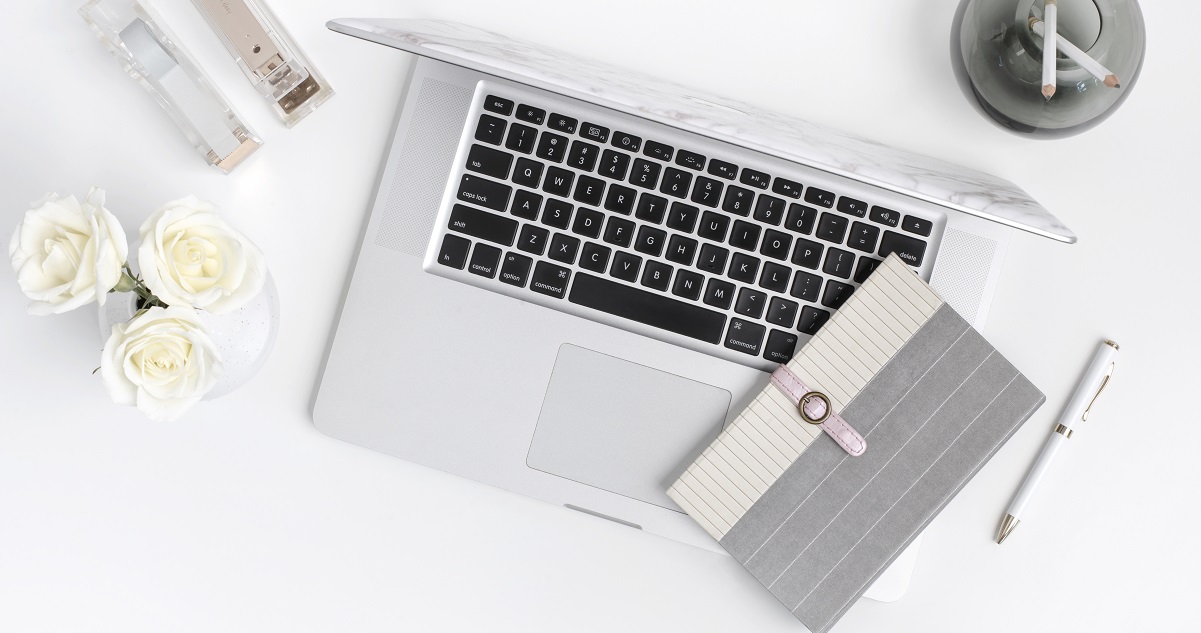 Want to attract more clients to your service-based business without the stress and overwhelm?
Then what you need is a marketing strategy that is simple to implement, and that doesn't involve all the complexity that can quickly emerge when trying to work out where to start and what to do.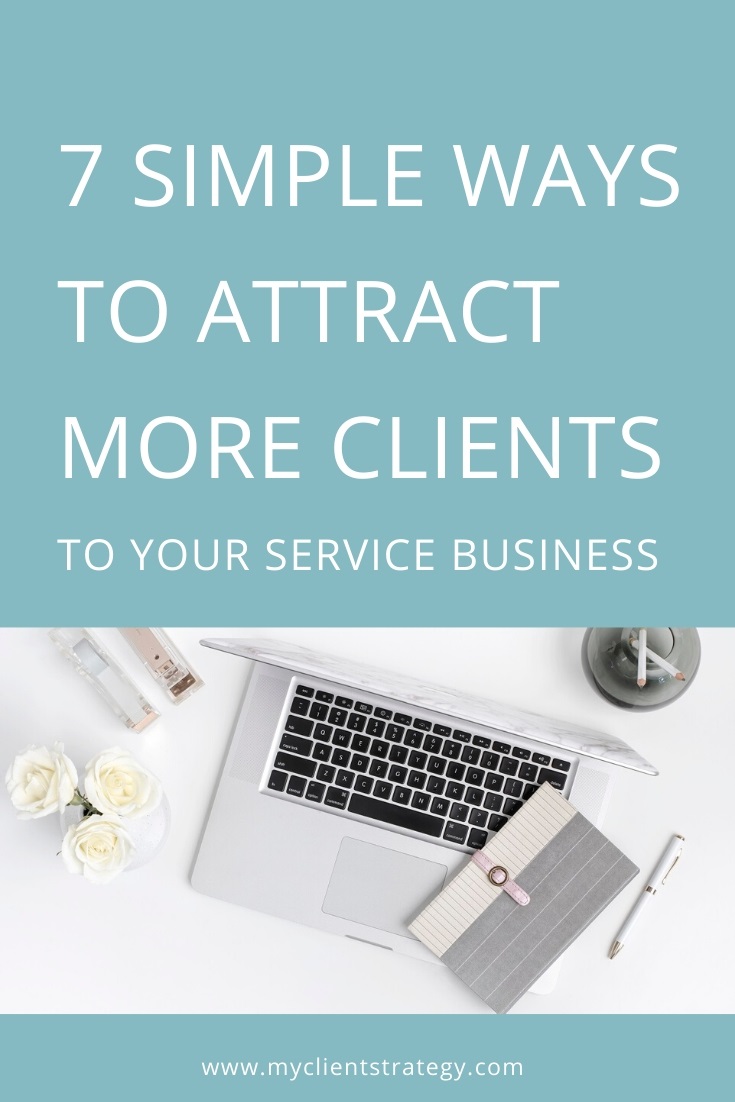 Listed below are seven simple ways to attract more clients and grow your service-based business.
To remove any overwhelm, I recommend choosing one strategy at a time and focus on mastering that before moving to implement the next one.
You're likely to see more success in attracting clients to your service business when you're consistent and focused, rather than trying to be everywhere and trying to do all the things.
So, here are seven simple ways to attract more clients to your service business:
1. Create amazing content
If you want to build up a following and an audience online, then one of the most effective ways to do this is with amazing content.
But what is amazing content these days?
Well, it's the kind of content that is relevant to your target market, is helpful and useful, and it stands out above all the other content that's out there.
It's also the type of content that is consistent, that shares valuable insights and demonstrates that you know what you're talking about.
I would encourage you to share some of your best stuff as this will attract more clients.
And, don't be afraid of giving away too much as there will always be more that your potential clients will want to know.
At a minimum, I recommend creating core content that is in the format of a blog, podcast, video series, or presentations (in person or via webinar).
Because when you create this type of content in a series or theme, then you build up consistency and familiarity which helps people to remember and recognise you.
This brand awareness is vital as it will help you to stay top of mind when your potential client needs to find your type of services.
2. Optimise your website
As a service-based business, you'll want to ensure your website is optimised for the search engines so that your site can be found and so that you can attract more clients.
Search engine optimisation (SEO) has three components that you'll want to get right:
Technical
Functional
Content
From a technical perspective, you'll want to ensure your site loads quickly and has no errors that will block the search engines from finding your site.
There are some great free tools such as Woorank and GT Metrix, which you can use to test how well your site has been set up.
When it comes to site functionality, you'll want to ensure your site and menus are easy to navigate.
And, that you have page and post titles populated so Google can determine what content your site contains.
Finally, optimising your content can make a significant impact when it comes to attracting clients.
Be sure to include targeted SEO keywords within your copy and write blog posts that provide the answers to your client's biggest problems or pain points.
RELATED: How to choose the right SEO keywords for your target market
3. Position yourself as an expert
When buying services, there is a higher level of trust required in the purchase decision-making process.
As such, most people want to be sure they're going to see a return or results for their investment, so they look for an expert.
'Positioning yourself as an expert' is another way of saying 'choose a niche to specialise in'.
How you could do this is by choosing to serve a specific target market or location, as well as gaining qualifications in a specialist field or industry.
Some business owners are fearful of niching their business as they feel they will miss out on opportunities to serve others in the market.
However, the opposite is true.
By positioning yourself as an expert in your niche, you'll build trust faster with your potential clients and lower the barriers to purchase.
You'll find that you attract more clients by being a specialist, rather than generalising.
Not sure where to start when it comes to finding your first clients? That's where I can help. Get started today by clicking the button below to take my quiz – What's Stopping You From Finding Your First Clients – and let's discover what's been holding you back:
4. Articulate clear marketing messages
One of the best ways to attract more clients is with clear and succinct marketing messages.
Crafting a unique value proposition is a terrific starting point for attracting clients and is made up of three components:
What you do (title + niche)
Whom you serve (target market)
Why they should choose you (how you're different/better)
When you can communicate what you do, your clients will not have any confusion and it will be easier for them to make a purchase decision
When you highlight who your target market is, then your target market will identify themselves and know they have come to the right business.
When you can articulate why they should choose you and not your competition, you're reinforcing that you can get them the results they want to achieve.
Take a few moments to step back and review your marketing materials – are you clearly communicating your key messages to help you attract more clients?
5. Build collaborative partnerships
Associating yourself with another complimentary (and non-competing) business owner, you'll be more likely to attract more clients.
You'll have the opportunity to leverage the strong brand association to build more authority and trust with a new audience.
Two things which are essential for making sales!
Spend a moment thinking about the other business owners who complement your business who would make great collaboration and referral partners.
That is, those businesses with a similar target market to you, and perhaps a company whose expertise is also needed for the activities your target market is undertaking.
An excellent example of this is mortgage brokers partnering with real estate agents to assist a client with purchasing a home.
Another example is interior designers partnering with builders to assist a client with designing a new kitchen and bathroom.
6. Deliver outstanding services
Word-of-mouth referrals are an excellent way to attract more clients.
And to generate these, you must provide outstanding service to your existing clients.
There's nothing that will work faster with building trust with potential clients than the endorsement from one of their trusted friends or family members.
Think about what service experience you provide today and consider where you could add value or surprise and delight your clients to make a great impression.
It's the little things that clients will remember, so be sure to take care of the detail when delivering your services.
7. Offer something for free
Free offers have been around forever as a marketing strategy to attract more clients.
There are many formats that you could use, including those below as just some examples:
A free checklist or guide (PDF)
A free trial, sample, or bonus offer
A free discovery phone call
A free assessment or quote
For your marketing strategy to work in attracting more clients, your free offer needs to stand out with a message that resonates with your target market and have a strong call to action.
Believe it or not, but the headline you use can make all the difference to its success.
Your free offer must be tailored to your target market so that you're attracting the right type of leads and building your list with qualified prospects.
And that it provides a quick win or result for your lead so that you build trust, demonstrate your expertise, and leave them wanting to take the next step with you.
So, there are seven simple ways to attract more clients to your service-based business.
When you focus on implementing these strategies one at a time, you'll be well on your way to growing your business and working with clients that you love to work with.
If you found this post helpful, then you may also want to read: How to get clients: 20 Simple ways to get your first client
Tired of trying to figure out what you're missing when it comes to finding clients and making sales in your service business?
Break through the barriers that are holding you back with the support of an MBA-qualified Marketing Coach and Business Mentor who will tailor a 1:1 program specifically for you.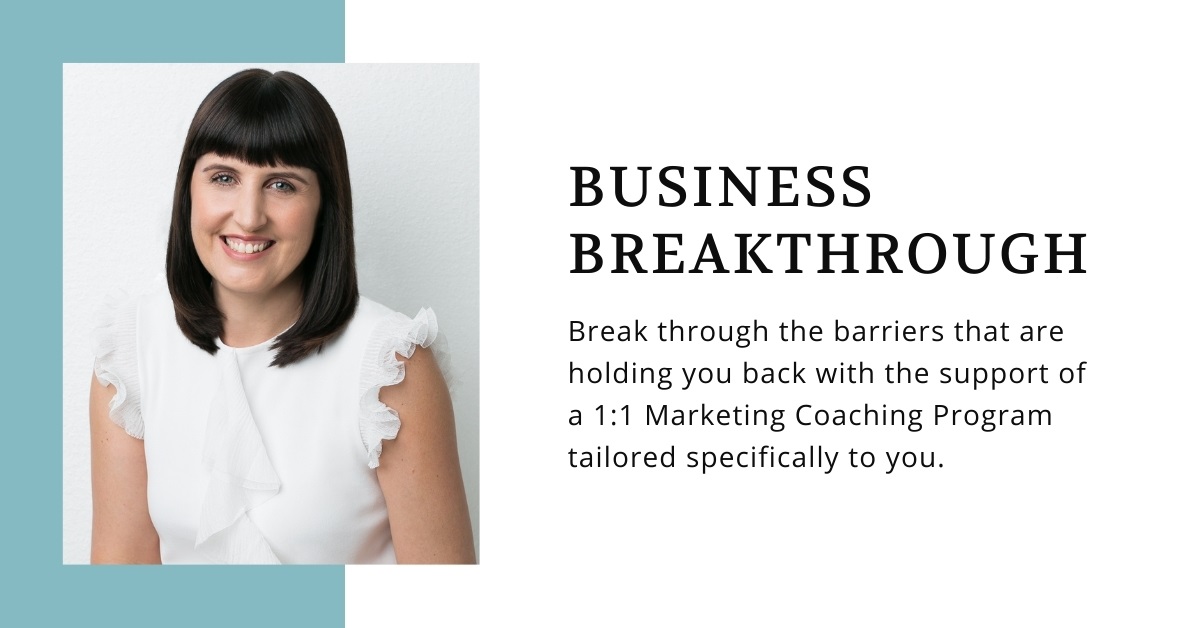 BUSINESS BREAKTHROUGH is a 3 or 6-month 1:1 Coaching Program for service-based business owners who want to develop the strategy, systems, and structure they need to find clients and make sales, so they can stop feeling stuck and start gaining massive momentum in their business.
Did you find this post helpful? Please don't forget to share to Facebook or PIN to Pinterest.