Are you attracting the wrong type of clients to your service business?
You know, the ones that you don't really enjoy working with…
Or those who just end up saying they can't afford to work with you?
Well, I want you to know that it doesn't have to be this way.
You can have a client list filled with clients who you love to work with.
You can say no to clients who are just not a good fit.
And you can build a profitable and sustainable business providing services that you enjoy delivering.
But, to do so, what you need is the right marketing strategy for you and your service business.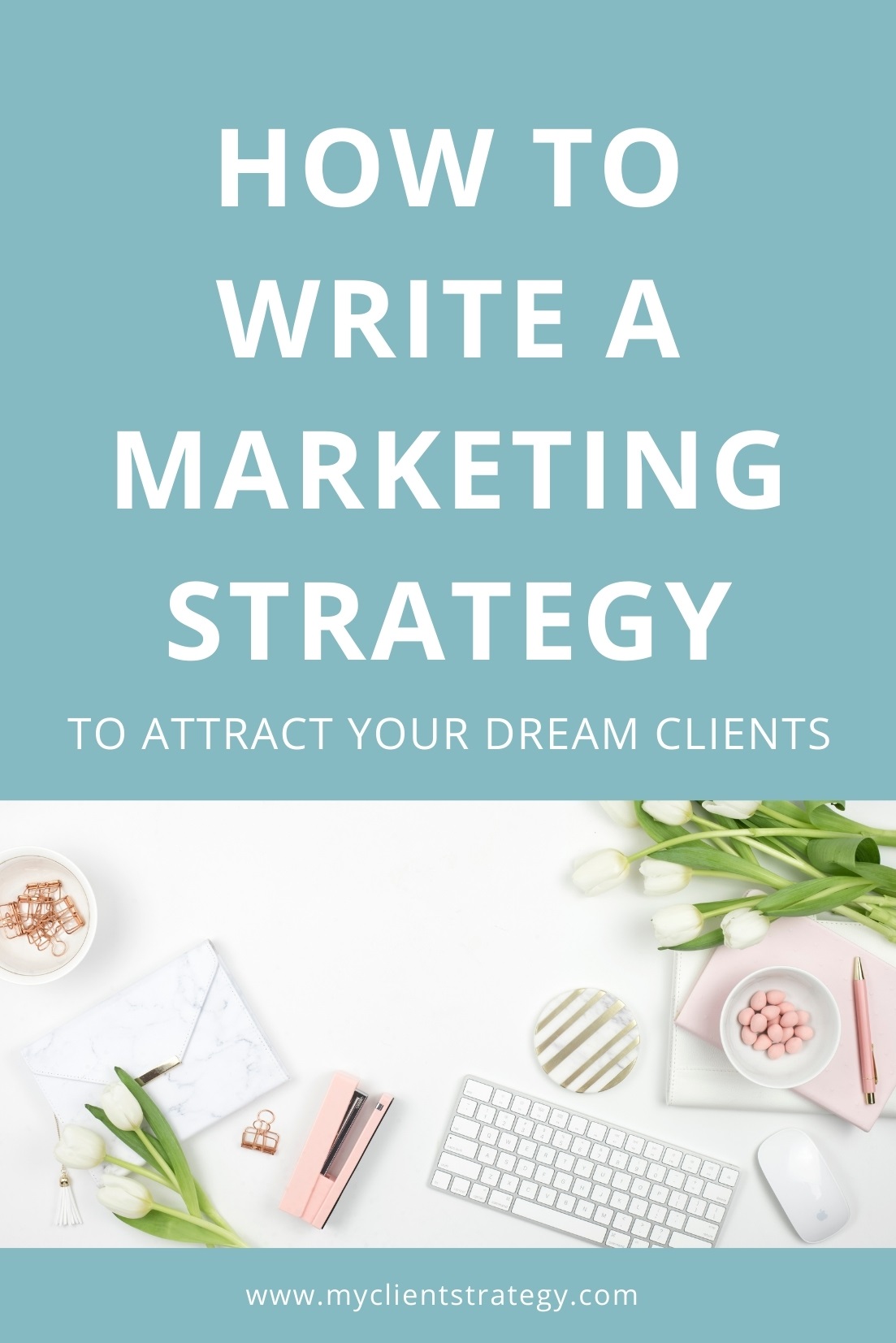 With the right marketing strategy, you'll better resonate with those who you want to attract.
And at the same time, you'll also attract less and less of those clients who are just not a good fit for your business.
So, where do you start when it comes to writing your marketing strategy?
Well, there are three key areas that you'll want to focus on:
What you do (your niche)
Who you serve (your dream clients)
How you will stand out (your messaging)
When you identify and define these three elements, you'll have the clarity and direction you'll need to grow your service business.
In the blog post below, I've outlined each of these three areas, and guided you on how to write a marketing strategy to attract your dream clients:
1. Select a niche and define what you do
The first step in writing your marketing strategy is to define your niche.
You'll want to select a niche that combines both what you are good at doing, with the type of clients with who you would just love to work with.
So, write down a list of the types of services that you want to deliver.
Focus on the services you want to be known for delivering and enjoy doing the most.
And identify what specialist skills, techniques, or experiences you have that would enable you to specialise in a specific area.
When you position yourself as an expert in your niche, you'll find that you'll be able to build trust with your clients and generate leads sooner.
Next, write down what types of clients have a demand or need for these services.
Ideally, they should match the profile of the dream clients that you would love to work with.
These are the types of clients that you'll want to research and profile further, in the next step.
RELATED: 7 Ways to narrow down a market and find your niche
Want a step-by-step roadmap for how to attract consistent clients and grow your service business?
Without the complexity and overwhelm…
And with a supportive community to help you at each step of the way? Well, that's where I can help.
Click the button below to learn more about my membership, the My Client Strategy Academy:
2. Research and profile your dream clients
Now that you've identified what type of clients want and need your services, you'll want to be able to describe who they are.
Ensure that you have a short description that you can use in your marketing to communicate who you can help.
Also, consider other synonyms or adjectives that you could use to describe who you want to work with and include this in your marketing strategy.
Target market research is also a critical step you need to complete when writing a marketing strategy.
The research will provide the information you need to communicate and stand out to your dream clients.
It will also help you decide which communication channels you're going to use to reach them.
When conducting your research, you'll want to delve a little deeper than just profiling their demographic or geographic details.
Specifically, you'll want to find out crucial information such as:
What their most significant pain points are
What they want in terms of a solution or results
What their fears, negative beliefs or perceptions could be
When you have this knowledge, you'll find it so much easier to put together your marketing campaigns and promotional content.
You'll communicate messages that resonate and stand out and attract those you want to be working with.
RELATED: Free Masterclass Training – How to Research your Target Market
3. Craft a message that communicates your value proposition
When I'm explaining how to write a marketing strategy, I tend to focus on the value component and how this is communicated.
This value is the part where you've strategically designed your services or your service delivery in a way that's better or different to your competition.
Maybe you're more experienced or qualified.
Or perhaps your service has more inclusions and is better value for money or is delivered in a faster or more convenient way.
Whatever the value is, this must come through in your messaging.
Your marketing message must be clear and well-understood by your dream clients.
It also needs to be concise so that it cuts through and communicates the three elements of your marketing strategy – what you do, who you serve and how you stand out from your competitors.
When you communicate each of these three elements, you're sharing your value proposition.
You're telling your clients that you specialise in a specific area (building trust and credibility); you can help people exactly like them (and have done so in the past); and that you serve them in a better way or different to your competition.
So, there are three components you need to include when writing your marketing strategy.
Now that you know how to write your marketing strategy, you'll be well on your way to building a solid marketing foundation for your service business to move forwards and grow.
For more tips on how to successfully market and grow your service business, I have a FREE Marketing Masterclass that you'll find helpful.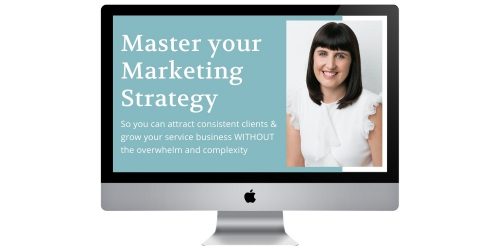 In this Free Marketing Masterclass, you'll learn:
The 3 BIGGEST marketing mistakes I see service businesses make that leaves you stuck and spinning around in circles in your business, and…
My simple 5-step Marketing Framework for mastering the marketing strategy, systems, and structure you'll need to attract consistent clients and grow your business WITHOUT the overwhelm and complexity!
Get started with this free marketing masterclass now by clicking the button below to register:
Did you find this blog post helpful? Please don't forget to PIN to Pinterest or share to Facebook.