As a service-based business owner, you'll likely know just how important it is to narrow down and find your niche.
But where do you start?
What steps do you take to narrow down to a specific niche?
It can be challenging, I know!
That's where I can help.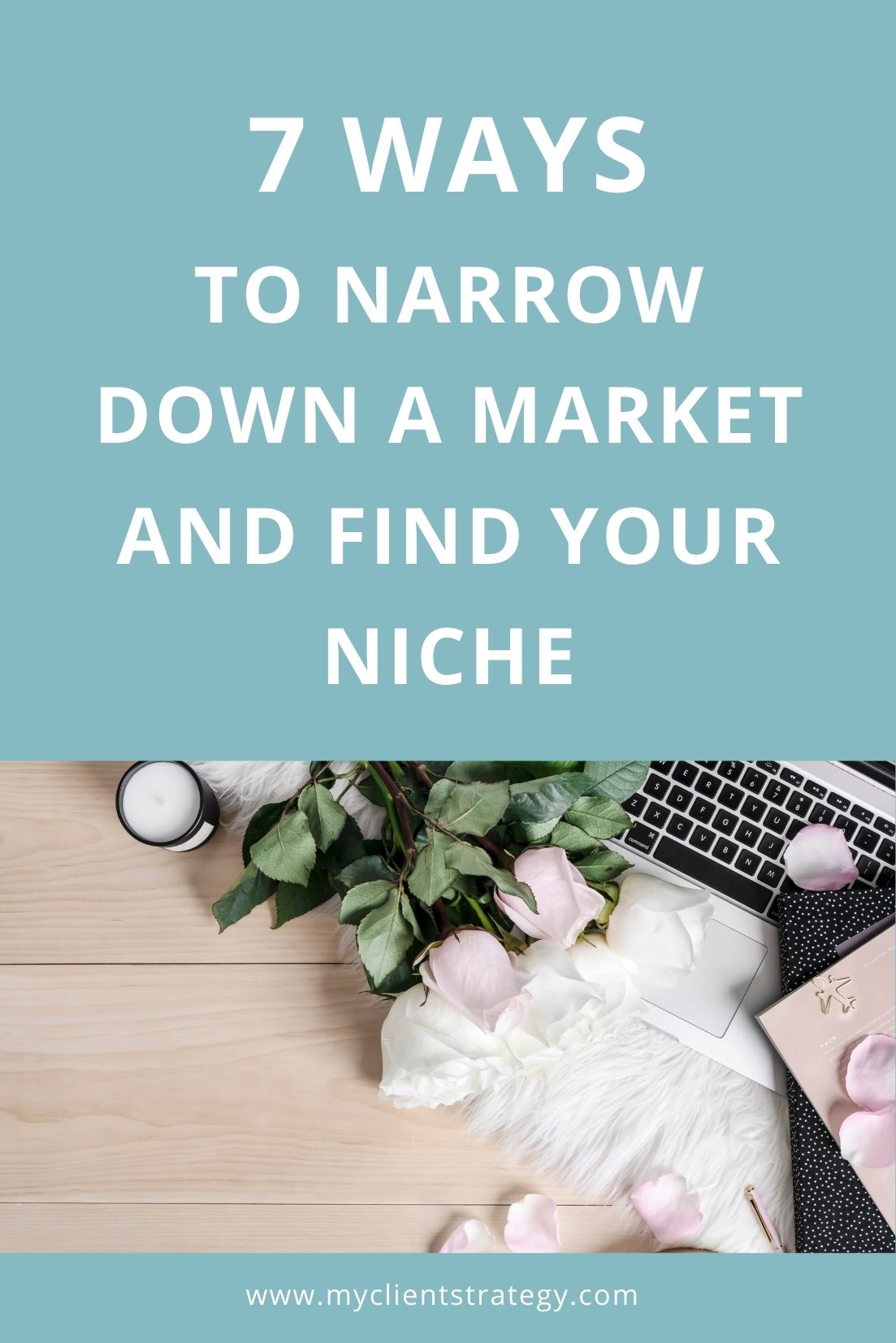 In the blog post below, I've outlined seven ways in which you can narrow down a market and find your niche.
You may find that you're able to niche down and identify your target market using just one of these options.
However, you can also combine these options to narrow down your market further and find a niche.
For example, you may choose to narrow your market to a niche defined by both location and pain point or problem.
1. Choose an industry niche
Narrowing down to a specific industry is a common way to find your niche.
Particularly when that industry is attractive because it has so many people or businesses in it.
Or when it's one that you've worked in for a long time and built up a lot of specialist knowledge and skills in.
There are a few ways in which you could niche by industry.
Firstly, you could go extremely broad across the industry.
You could choose an industry niche such as health, transport, construction, real estate, travel, or defence as just a few examples.
Alternatively, you could get quite specific within an industry.
As an example of this, you could choose to narrow down your market to target hospitals specifically.
While they are part of the broader health industry, their requirements will differ vastly to other service providers within the health industry.
Want to get to know your target market, but not sure where to start? What you need is to conduct thorough target market research. That's where I can help.
Click the button below to watch my free training – How to research your target market:
2. Niche down by desire
When thinking about the types of clients who you want to work with, what is it that they really want?
What do they desire and wish they could have the most?
And what would they most like to change when it comes to their life or business?
If you can pinpoint your ideal clients' wants and desires, you can deliver services that are designed to deliver these results or outcomes.
Perhaps you're a dietitian skilled at helping people lose weight, or resolving a person's gut health issues.
Another example where you can niche by desire is if you're a financial planner who helps people achieve a comfortable retirement.
Therefore, your marketing activities would focus on the type of people who would want to set up a financial plan early, so they have enough savings to live securely after they stop working.
3. Niche down by pain points or problem
In the opposite way to the above, you can also find your niche by focusing on a particular pain point or problem.
Maybe you're a counsellor who specialises in helping people with relationship or marriage problems.
Or you could be a mortgage broker that helps first home buyers who are struggling to get finance themselves.
Consider what the most common pain point or problem is that you like to solve. Or that you are excellent at solving.
If you believe there are enough people with that common problem, it could be a perfect way to find your niche and position yourself as an expert.
RELATED: How to position yourself as an expert in your niche
4. Align on shared values
Are there commonly shared values that your clients have?
Or beliefs that they have about how they should be living life or running their businesses?
When you tell your personal story or share the values you have, it can attract clients who believe in the same things.
Another example of niching down around shared values is by targeting a group of clients such as mumpreneurs.
They're likely to be building a business that gives them the flexibility and freedom they need to be a big part of their children's lives.
And therefore, they're aligned in that they believe in family values and spending time with loved ones.
Want to get to know your target market, but not sure where to start? What you need is to conduct thorough target market research. That's where I can help.
Click the button below to watch my free training – How to research your target market:
5. Select a location or region
If you're a local business, then it's likely that you'll be niching by your location or region.
This may be because your services can only be delivered in person to people who live nearby.
Or your services are only relevant to those in your local area.
An example of the types of businesses that would niche by location includes health service providers such as massage therapists and physiotherapists.
Also, services such as photography and event hire can be limited by the region they operate in.
Suppose you run a professional services business such as an accounting or law firm.
In that case, you may also be limited by the state or country due to the existing regulation.
6. Show up as you
We are all unique and special in our own ways, which means you can specialise as you.
Perhaps you exude confidence and specialise in coaching others to be more confident too.
Or maybe you have life experience in a particular area, and you support others who may be going through a similar experience.
Think about what makes you unique and special and whether other people in your industry offer what you do.
There may be an opportunity for you to define your niche, based around your personality or experiences.
7. Identify a trend
This is one method that I've seen quite a bit in the marketing space.
From time to time, there's a new marketing system or social media platform that's launched.
Suddenly, all these marketing gurus and agencies appear and offer support and advice about this new thing.
They quickly jump on the trend of everyone wanting to know more and switching over and trying out this new marketing method.
Are there any trends that appear from time to time around the type of service that you provide?
It may be a new technique that you could try or a new qualification that you could obtain.
If so, then providing services around this popular trend could be a way to find your niche.
So, there you have seven ways to narrow down your market and find a niche for your service business.
If you've decided on a niche, then the next step is to conduct thorough market research.
To help you with this, I have a free masterclass training to watch where I teach you how to research your target market.
I go behind the scenes and share my simple 5-step target market research process with you (it's the exact same one that I teach my 1:1 coaching clients!)
Click the button below to register and watch the free training:
Did you find this post helpful? Please don't forget to PIN to Pinterest or share on Facebook.