Not sure where to start when it comes to marketing a service based business?
Alternatively, do you struggle to find the time when you're trying to do 'all the things'?
Well, you're not alone.
Marketing your small business can be very challenging, especially when you've not had the experience of doing it before.
However, with a small investment in time and the development of a service marketing strategy and plan it is possible.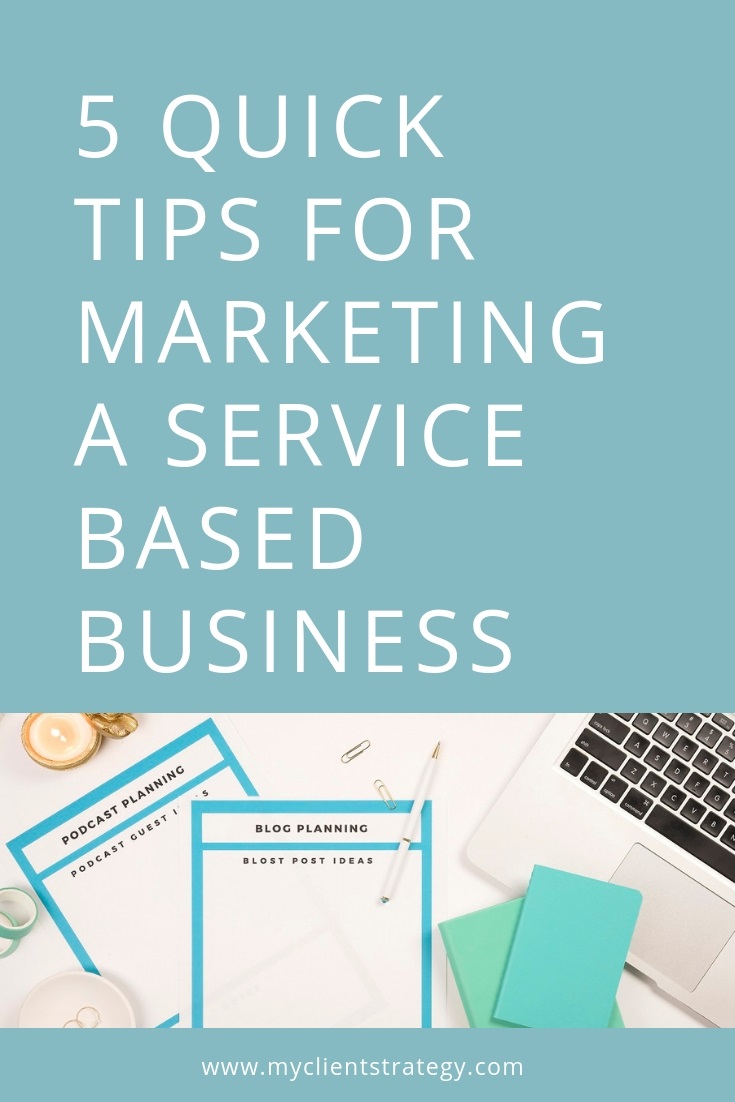 To help get you started, I've listed below a few quick tips for marketing a service-based business.
But, before I jump into that… Are you looking for the clarity you need to breakthrough and grow your service-based business?
What you need is a solid marketing strategy and plan that will work best for you and your business. That's where I can help.
Click the button below to watch my free training: How to Master your Marketing Strategy (without the complexity and overwhelm!)
You'll learn the three most common marketing mistakes I see service businesses make. And what you can do instead to grow your business without the complexity and overwhelm.
Here are 5 quick tips for how to market your services effectively:
1. Position yourself as a specialist
There are several ways to position yourself as a specialist.
Firstly, you can market yourself as an expert in serving a specific group of clients.
For example, you may serve small business owners, or mothers, or women.
By naming this group of clients in your marketing activities, you'll catch the eye of your ideal clients.
They'll recognise themselves and understand that you're an expert in helping them.
Secondly, you can use your education or training to differentiate yourself and your service-based small business.
Are there qualifications that you have or courses you have undertaken that would demonstrate your expertise?
Finally, you can also position yourself as a specialist by the services that you provide.
You may live in an area that has a high number of families. Alternatively, your business may be in the city and located around a lot of other businesses.
Review the demographics of your location and design services and packages that will appeal directly to those in the vicinity.
Name your service packages as specifically for families if that's whom you are targeting.
In summary, positioning yourself as a specialist involves:
Selecting a niche;
Designing services that directly appeal to that niche; and
Crafting marketing messages that will resonate and stand out to them.
2. Research your target market
Market research is a step that is often rushed or overlooked by new business owners.
However, it's a critical step that will make a significant impact on the results you'll achieve.
The best way to research your target market is to speak directly with people who match your ideal client profile.
Set up a dedicated time to speak to them, and ask them questions such as:
"what would you like to change most about XYZ."
"what do you look for when you're considering buying [your services]"
"what are you struggling with at the moment and what help do you wish you had."
"what would you type into the Google search box when looking for my types of services."
"what did you like most about working with me."
"what do you think I could do differently."
Use the information and insights that you get from these conversations to develop your marketing strategy.
Consider adding the words and language they use to your marketing materials.
Also, review your service packages to see if your offers include the important factors that your target market is seeking.
3. Tailor your messaging
It can be challenging to stand out online these days, as there is so much information out there.
As such, it's essential that you create messages with your target audience in mind.
When you're speaking directly to your ideal clients, you'll be far more likely to resonate.
Also, with a well-crafted message, you'll cut through the online noise.
Try using persuasive writing techniques that outline what the client's pain points or struggles are and then present a solution to them that solves their problem (your services).
If you're looking for help with your sales copywriting, then I recommend an excellent book for my coaching clients.
Check it out, it's called: How to Write Copy that Sells, by Ray Edwards.

4. Focus on building relationships
The key to making sales, generating referrals, and growing your business is building great relationships.
However, it's important to remember that relationships aren't built overnight.
A good relationship will take time to initiate, nurture, and grow.
If you don't have much time, then I suggest focusing on relationships that are likely to deliver the greatest return on the investment of your time.
What do I mean by that?
I mean being strategic about the people whom you want to build relationships with.
As an example, this could include other businesspeople in your local community who have a complementary business to yours.
By building a relationship with this other business owner, you could both generate referrals for each other's businesses.
The best relationships are the ones where you are both able to give and receive the benefits.
If you are trying to create a new relationship with someone, start by offering to help or support them without expecting anything in return.
You may find that you need to give and give again before you start to see anything in return.
However, the benefits are likely to be more significant over the long term when a relationship is started in the right place.
RELATED: How to Build a Network: The Ultimate Small Business Guide
5. Analyse your insights and data
How long has it been since you reviewed the data for your business?
If it's been a while, then I recommend scheduling in some time to do so.
When you're close to the numbers in your business, then you'll be better informed on what to focus on next.
You'll understand what's working with your marketing and what's not.
Also, you'll be able to make the right changes and adjustments to improve your performance.
Now, I know that service-based business owners are incredibly short on time, so you don't need to be tracking every metric in your business daily.
However, there are a few key metrics that I recommend you track on either a weekly or monthly basis, including:
The enquiries you receive
The qualified sales leads you generate
The number of sales you close
The revenue you generate
If you're focused on creating awareness for your business, then it would also be beneficial to track metrics such as:
Your website traffic;
The size of your email list; and
The number of followers you have in your community.
Also, if you're running paid ads, then you'll also want to be tracking the results you're achieving from this activity and the return on your marketing investment.
Not sure where to start with marketing your service-based business?
What you need is a simple marketing strategy and plan that focuses your attention on the right things and gives you the clarity and direction you need to grow your small business. That's where I can help.
Click the button below to watch my free training: How to Master your Marketing Strategy (Without the Complexity and Overwhelm!)

Find this post helpful? Please don't forget to PIN to Pinterest.