Are you looking for growth in your service-based small business?
However, are you struggling to put together a plan to achieve your goals?
Well, that's where I can help.
In this post, I'm sharing my top 10 tips when planning for small business success.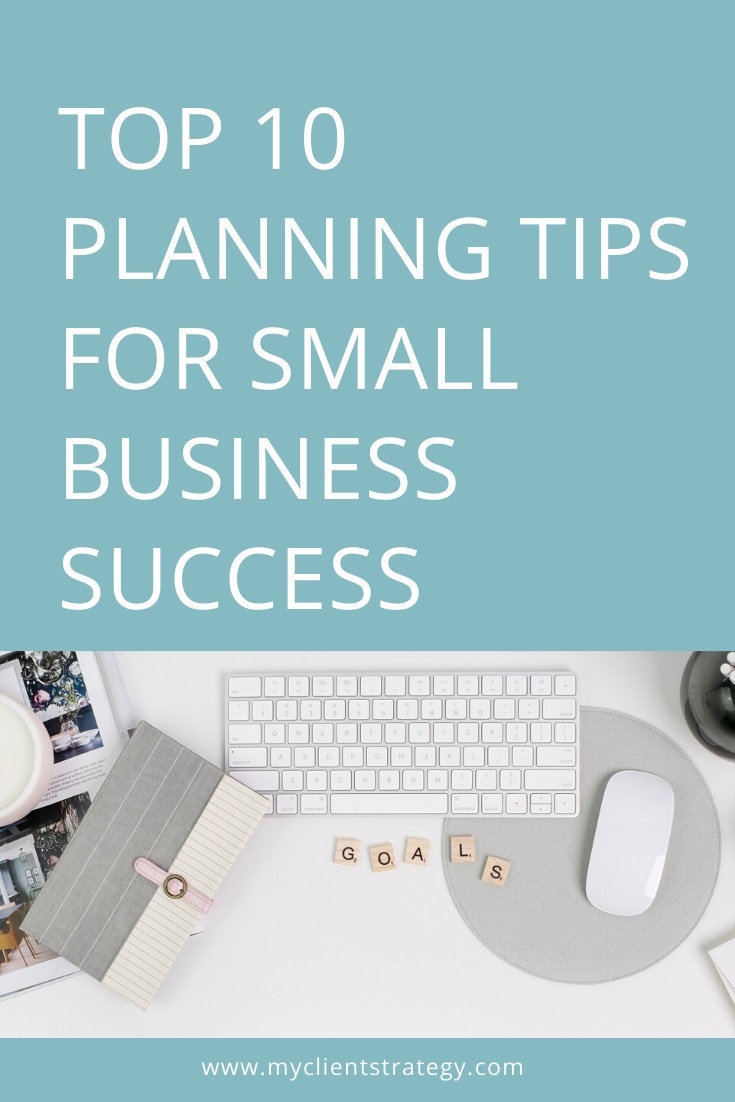 1. Create the time and space
As a small business owner, it can be challenging to find the time to do 'all the things'.
There are many competing priorities, and often planning gets pushed to the bottom of the list.
However, it's so essential to create time and space for planning.
It will help you to get organised and increase the likelihood of you achieving your goals.
I recommend blocking out a set time in your calendar and removing yourself from any of the day-to-day distractions that can come up.
You may even want to relocate to another space to give yourself the right environment to step back and think more strategically about your business and how you're going to achieve success.
RELATED: How to write a marketing plan for a service-based business
2. Review what you've already achieved
When you know where you've come from, it can be much easier to determine and visualise where you want to go.
And, you can learn from the experiences along your journey so far to avoid making costly mistakes in the future.
Another reason why it's essential to review your past performance is that there may have been changes along the way that will now impact your future planning for small business success.
If you're now targeting a new type of client or have adjusted the vision for your business, then you can update your plan with the new focus and direction.
3. Understand your numbers
Generating sales and revenue the key to a successful and sustainable small business.
So, it's crucial to have a strong understanding of how many clients you'll need to serve to generate the revenue you'll need to cover your expenses and make a profit.
Once you understand what revenue you need, then you can work backwards and produce a small business plan that enables you to achieve it.
You can also create a plan that includes a budget to track against, so you'll know early enough when you need to make changes if required.
4. Know what stage of business you're in
If you implement a strategy and plan that works well for established companies when you're only in a start-up phase, then you'll significantly reduce your chances of success.
It could also be quite costly for you if you don't see the results that you expected.
Therefore, it's essential to you know what stage of business you're in so that you can create a strategy and plan that fits best for your business.
For example, are you still in a growth stage and need to build up your audience before you decide to scale?
Or, are you just starting out and still testing your service offerings?
Once you've determined what stage of business you're in, then you can prioritise what's most important for your business now and into the future.
5. Don't try to include everything
It's very tempting to try and include everything that you want to achieve in your small business plan.
However, when you put too many things into your plan, then you'll likely spread yourself too thin and lose focus on the big picture.
When you're trying to do too much, it's also the fastest way to start feeling overwhelmed.
There are also limits as to what you can achieve with your finite time and resources.
As such, it's critical that you're realistic with your goals and that you allocate the budget that you need for resources.
One framework that will help you to set realistic goals is the SMART goals framework – which stands for Specific, Measurable, Achievable, Realistic, and Timely.
RELATED: 7 Steps to setting marketing goals you'll actually achieve
6. Write down your goals
When you put your goals in writing, they become 'real', and you'll be more likely to remain focused.
It also enables you to have something to put up in a prominent place where you'll see them as a regular reminder.
Another benefit of having your goals written down is that it allows you to come back and review them when you're faced with new activities or priorities to consider.
If those new activities don't align with your goals or contribute to helping you achieve them, then it will be a lot easier for you to decide whether you should pursue them or not.
Not sure where to start when it comes to marketing your service-based small business? I can help with that. Download my 72-point Ultimate Marketing Checklist for Service-Based Small Businesses by clicking on the button below.
7. Set realistic milestones and deadlines
Realistic estimates around timing will help you to determine what's achievable and the key dates that should go into your planning for small business success.
If you try to rush and set tight deadlines, then you're going to put yourself under pressure and start to feel stressed.
Also, if you don't have smaller milestones set along the way, then you can find yourself off track and trying to push through too many tasks at the end and close to your deadline.
8. Include performance targets
Including performance targets in your small business plan is essential, so that you can determine what's working and what's not.
When your results are measured against your plan, it will provide insight on where you may have gaps and enable you to adjust your plan early where required.
It will also give you a goal to strive for and create a sense of achievement and reward when you reach it.
9. Communicate your plan
To achieve success, you'll need to get your team on board, and this starts by communicating your small business plan.
Alternatively, you may have involved your team in the planning process from the beginning and have had an opportunity to communicate with them along the way.
Another benefit of communicating your small business plan is that it will help you to stay accountable to it.
By putting it out there, it's like you're committing to achieving the goals you've set out in your plan.
If you don't have a team, then another option is to communicate your plan with your business coach or find an accountability partner.
Also, having a plan will enable you to communicate your upcoming activities with your clients and followers so that you build hype and create more promotion for your small business.
Not sure where to start when it comes to marketing your service-based small business? I can help with that. Download my 72-point Ultimate Marketing Checklist for Service-Based Small Businesses by clicking on the button below.
10. Treat planning as a process, not a document
I've seen many small business owners write a plan and then put it into the bottom drawer and never look at it again.
And, I've also seen small business owners spend so much time on perfecting their plan that they never get to the stage of actually implementing it.
In both scenarios, there is a big focus on the planning document itself, and less so on how it can be used and integrated into your business operations.
As such, I recommend treating your planning for small business success as a process, rather than a document.
That means your small business plan is continuously evolving.
When you get insights and results from implementing something from within your plan, you can feed it back into your planning process and update and adjust your plan where required to improve performance.
It also involves scheduling regular review sessions (monthly and quarterly, for example), to understand what worked well in your plan and where you need to make changes.
So, there are my top 10 tips when it comes to planning for small business success.
What other planning tips do you have? Let me know in the comments below.
Need a marketing strategy and plan for your small business but not sure where to start?
Or, do you need coaching, support, and accountability to help you implement your plan and achieve your goals?
If you answered yes, then my 3-month Marketing Coaching Program is what you need. Schedule a free 30-min discovery call, and we can find out if we're a good fit and go over any questions you may have.
Or, check out my marketing strategy and planning bundle Marketing Momentum >
It's a simple 5-step training bundle that will help you get clarity, move forward and grow your service business.

Did you find this post helpful? Please don't forget to share on Facebook or PIN to Pinterest.