How to write a marketing plan for a service-based business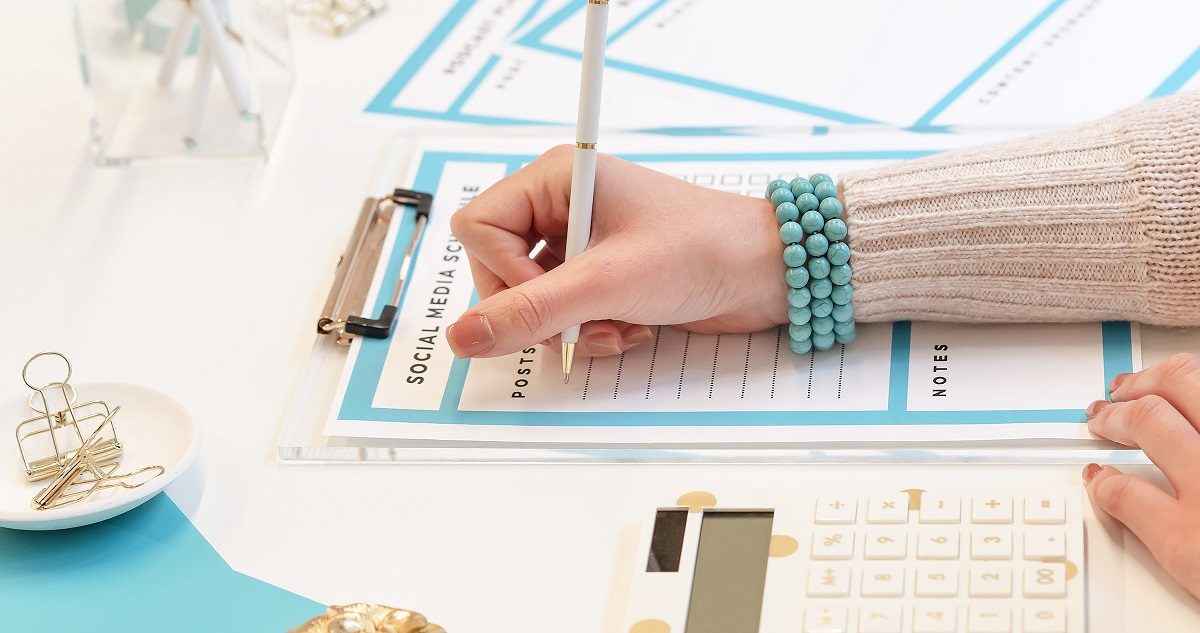 So, what is a marketing plan, and how do you write an effective one for a service-based small business?
A marketing plan is a documented outline or roadmap, including the strategies, activities, and resources you'll need to promote your business and sell your services.
This can be a little challenging for a service-based business as you are promoting something intangible and promising specific results.
However, proven marketing strategies and activities are known to work well for service-based businesses.
At the core, a good marketing plan will be designed to address each stage of the buying cycle (outlined below):
Create Awareness
Increase Engagement
Generate Leads
Close Sales
It's important to understand each of these stages as it will help you identify where you need to focus the most when writing your marketing plan.
For example, if you're a new business and no one knows about you, your marketing focus would be on creating awareness.
Once your business is established, your primary focus will be generating enquiries and leads.
When I write a marketing plan, I include fundamental elements, which I've outlined below.
I've also provided examples of the marketing approaches I know from experience work best for service-based businesses.
Not sure where to start when it comes to marketing your service-based small business? That's where I can help. Get started by downloading my free Ultimate Marketing Checklist by clicking the button below: 
Situation analysis
The first step is working out where you are now and analysing your current situation.
The first step is working out where you are now and analysing your current situation. #marketingplan
Click To Tweet
This analysis will provide insight into your brand awareness. In addition, whether you're generating enough leads and enquires. Perhaps you would like more?
At this point, you may also want to consider if you're happy with the types of clients you are attracting to your business?
Alternatively, does your dream client look somewhat different to whom you're working with today?
Once you've analysed your current situation and determined your key issues, you'll find it much easier to outline your marketing objectives.
Marketing objectives
Setting your marketing objectives and goals is critical as it provides direction and focuses for your marketing activities.
Thinking about your current situation, what would you like to change or increase?
Articulate your objectives regarding outcomes that you would like to achieve from your marketing investment.
For example, would you like to generate more leads or close more sales? Perhaps you want to attract a new type of client?
List as many objectives as you feel relevant. However, keep it simple and manageable to stay focused on the most important outcomes.
RELATED: 7 Reasons why you need to do a marketing plan
Targets
Adding targets against your objectives will ensure you're creating a measurable and trackable marketing plan.
Adding targets against your objectives will ensure you're creating a measurable and trackable marketing plan. #marketingplan
Click To Tweet
You're also more likely to meet your marketing objectives when you know exactly what you're trying to achieve.
For a service-based business, the traditional targets you would put into a marketing plan include:
Number of enquiries (phone / email / online / face-to-face)
Number of leads generated (quotes, sales calls)
Number of sales
Revenue generated
When setting targets, it can be easier to work backward, starting with the revenue or sales you want to generate.
Then you can apply or estimate your conversation rates to determine how many enquires and leads you'll need to produce to achieve that level of sales.
Depending on your marketing objectives, and the activities you choose to do, you may also include other targets, such as:
The number of social media connections or followers
Website traffic
Lead and sales conversion rates
RELATED: 7 Steps to setting marketing goals you'll actually achieve
Target market
When defining your target market, it's important to narrow it down to a specialty or niche.
It's easier to market your services to a defined audience. In addition, a narrower target market will help you achieve a much better return on your investment.
Start by listing their demographic, geographic and socio-economic information, but don't stop there. It's critical to dig a little deeper and think about:
Their needs, wants, fears and desires
Pain points or problems they need solutions for
What social media platforms do they use
What they feel is essential when it comes to your services
The best way to uncover this information is through conversations with your ideal clients and market research.
Ask your target market what they are struggling with, as well as what they're looking for most when it comes to your services.
RELATED: How to define a target market for your service business
Marketing positioning
Consider what makes your services unique or better to stand out from your competition.
Focus on the benefits of your services (as opposed to the features). For example, are you more affordable, or do you offer a higher quality?
Perhaps your services are offered more conveniently?
Alternatively, you may offer expertise and specialised services that solve your client's problems in a faster or less stressful way.
Write a unique value proposition that communicates what you provide, whom you help and the benefits that make your services different or unique.
RELATED: How to position yourself as an expert in your niche
Marketing communications
This section of your marketing plan is about how you will communicate and put yourself out there to increase your visibility.
It's about creating awareness, building your brand, and using messages that resonate with your target market to encourage engagement.
If you're stuck with your marketing communications plan, download a free copy of my Ultimate Marketing Checklist and check off the items listed in the marketing communications section.
There are several organic marketing methods that service-based business owners use effectively.
The most common methods include search engine optimisation (SEO) for your website, posting on social media platforms, and content marketing such as email, blogging, videos, and podcasting.
The keys to making organic marketing work for your business are to have a content marketing strategy behind what you are producing. As well as a content calendar and automation tools that help you to publish consistently.
RELATED: How to create an effective content marketing strategy
You can find free information and templates online to help you with your SEO, content marketing strategy and calendar.
Also, you can pick up tips by following other people online and studying what they post.
However, if you aren't sure where to start or if producing content is not your strength, then it's recommended that you engage an expert to help you get it set up.
The biggest mistake you can make here is to spend hours and days producing content that never gets seen.
Fortunately, there are tools and strategies that the experts use though to help you take a strategic approach and avoid wasting time.
Keep in mind that organic marketing can be slow to build.
For this reason, many businesses also implement paid advertising methods as well.
It's important to set a budget upfront on how much you are willing and able to spend and then design a paid advertising campaign that fits within this.
When choosing what paid advertising method to use, ensure it's in a place where your target market will see it.
Use persuasive copywriting to increase conversions, and always measure and tweak your advertising to improve your performance.
Again, if you are unsure where to start, it's time to engage the experts to help.
You may need some assistance in the beginning while you are testing and trialling what works best for your business.
However, once you know what works to generate leads and enquiries, it becomes much easier to manage going forward.
Packaging and promotions
Bundling your services into a package is an excellent way for service-based businesses to increase revenue per sale (meaning more consistent income). And to reduce the ability to be compared on price with your competition.
Consider what other value-added services you could include when describing your service packages to make them sound more attractive.
Generating consistent clients and revenue is often a challenge for service-based businesses. So, also think about how you could incorporate some sale activity into your marketing calendar.
Having a schedule where you also offer special promotional pricing or bonus offers for a limited time is a great way to boost revenue in seasonal or slower periods.
RELATED: 15 Things you need to create an irresistible service offering
Relationship building
Collaborations, partnerships, and networking are great ways to generate referrals for service-based businesses.
Collaborations, partnerships, and networking are great ways to generate referrals for service-based businesses. #marketingplan
Click To Tweet
When you're referred, it immediately helps to build your credibility. It also shortens the timeframe for someone to know, like, and trust you.
In your marketing plan, add potential partners or groups you would like to collaborate with. And any networking events or training that you're planning to attend.
Depending on your business stage, you may also want to consider introducing a referral incentive for your existing clients. When they refer a new client to your business, they receive a special offer the next time they book.
RELATED: How to Build a Network: The Ultimate Small Business Networking Guide
Not sure where to start when it comes to marketing your service-based small business? That's where I can help. I've created a free 72-point Ultimate Marketing Checklist to help you get started. Simply click below to download.
Budgeting, measuring and tracking
When setting a marketing budget for your business, consider how much you can afford (as a percentage of your overall sales). As well as the pace at which you want to grow.
As a general guide, a marketing budget can be anywhere between 2% – 8% of your sales.
Alternatively, if your business is new, and you want to accelerate your growth, you may spend more than this.
Once you have settled on a figure, allocate your marketing budget to the activities and advertising platforms where your target market will most likely see it.
Implement a way to track your return on investment and tweak and adjust as necessary.
RELATED: 5 Ways I invested my marketing budget when starting my small business
Schedule/Timeline
Your business may be seasonal, or you may have certain periods where your services are in more demand.
It's important to schedule your marketing activities over the year to maximise your advertising spend.
As an example, if you're fully booked, you may be able to scale back your advertising. Alternatively, if you know there is an upcoming period where you will be quiet, you can increase it.
Also, consider what events or holidays are on during the year that you can use in your marketing activities.
Writing a marketing plan for a service-based business
When you include these sections above in your marketing plan, you'll achieve clarity on the strategies, activities, and resources you'll use to market your business.
A marketing plan will also reduce your marketing overwhelm and make you feel less stressed and more organised.
Tired of trying to figure out what you're missing when it comes to finding clients and making sales in your service business?
Break through the barriers that are holding you back with the support of an MBA-qualified Marketing Coach and Business Mentor who will tailor a 1:1 program specifically for you.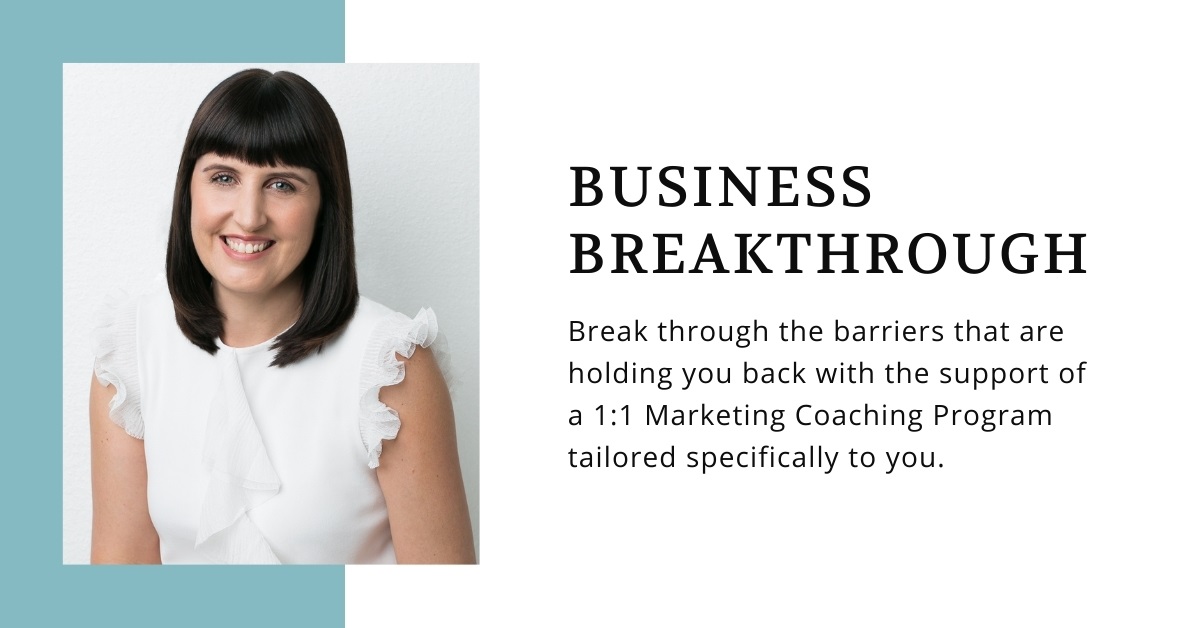 BUSINESS BREAKTHROUGH is a 3 or 6-month 1:1 Coaching Program for service-based business owners who want to develop the strategy, systems, and structure they need to find clients and make sales, so they can stop feeling stuck and start gaining massive momentum in their business.
If you found this post helpful, don't forget to PIN it to Pinterest or share on Facebook.