You may be thinking, why do a marketing plan? Is it that important?
Alternatively, perhaps you have no idea where to start when it comes to writing one.
That's ok. It doesn't matter if marketing isn't your specialty. Anyone can create a marketing plan.
It doesn't have to be complicated and can even be written on one page if that's what works for you!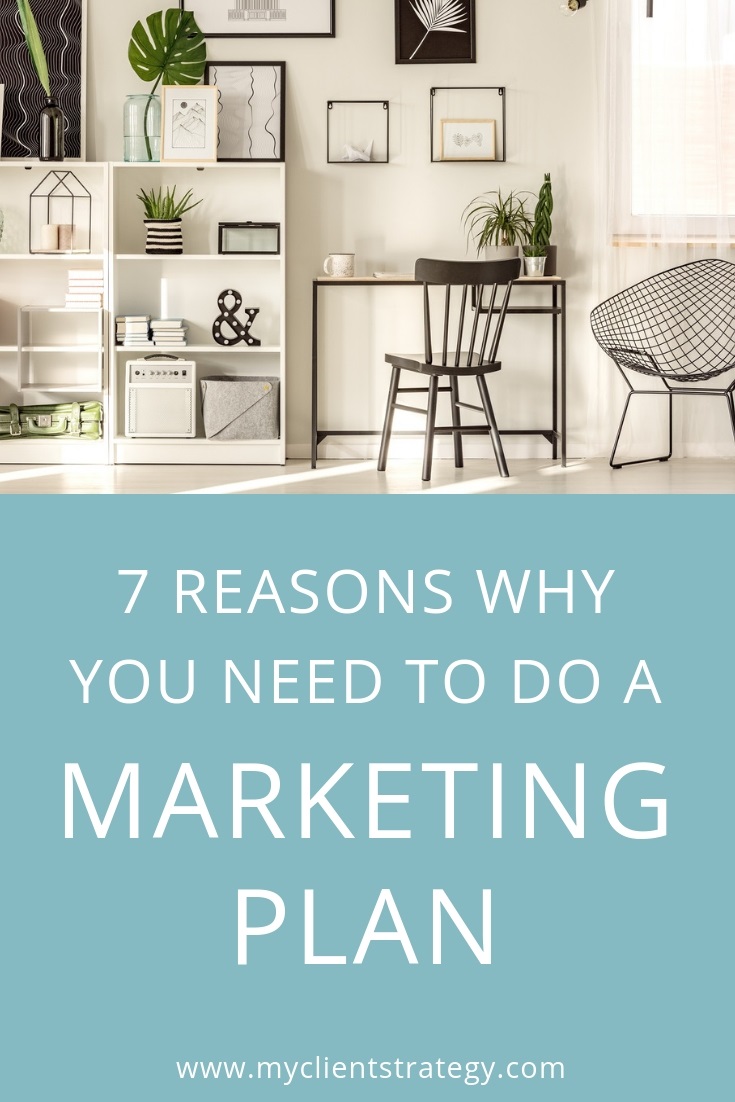 Why is a marketing plan important?
The short answer is because there are so many benefits.
With a marketing plan, you will grow your business in a much faster and more effective way.
If you're not sure what to include in your marketing plan, I've put together a free 72-point Ultimate Marketing Checklist to help you get started.
Having a marketing plan will also improve your wellbeing as you become a more organised and in control business owner.
You'll see this is included in the list of 7 reasons why you need to do a marketing plan below.
RELATED: How to write a marketing plan for a service-based business
1. Improve your productivity
So, why do a marketing plan? Firstly, it enables better time management.
Planning might not be your thing, but it makes managing your time so much easier.
I've heard a lot of small business owners tell me how they don't have time for marketing and that it takes so long.
However, a marketing plan provides valuable structure and time efficiencies.
It enables you to find opportunities to batch produce and repurpose your content. As well as schedule your activities in advance and delegate marketing tasks to others.
These are all fantastic ways to get back the time you need to run your business.
RELATED: 5 Tips for How to be More Productive in your Small Business
2. More effective use of your marketing budget
Have you ever found yourself spending way more than you should have because you need to drive some leads fast?
For service-based businesses, it's common for sales to be a bit up and down. However, it doesn't have to be that way.
When you do a marketing plan your advertising spend becomes much more strategic.
If you know you're going to be busy, you can turn off your advertising campaign. And then turn it back on again just before your business starts to drop off.
Spending strategically evens out your lead generation, and your marketing return on investment improves.
A marketing plan will also include where you are going to spend your marketing dollars.
RELATED: 5 Ways I invested my marketing budget when starting my small business
I recommend that you only focus on a few selected media types. Determine where your target market is most likely to see your advertising and really focus there.
With a more concentrated advertising spend, you won't dilute your message or spread your marketing budget too thinly.
This tip is one of 10 BONUS TIPS included in the Ultimate Marketing Checklist. For more marketing tips, download my Free Ultimate Marketing Checklist by clicking on the button below.
3. Increase trust and attract your dream clients
When creating a marketing plan, you'll spend time strategically thinking about your messaging.
You won't just be throwing out whatever is on the top of your mind. You'll be more focused on what your dream client wants to hear.
When you have a content marketing plan for how you want to show up in front of your target market, it will ensure consistency, and this creates a clear message for your target market.
It also avoids any confusion about what you stand for and what your brand represents.
Over time, your audience will start to feel like they know you and that you can be trusted. Once that happens, it's so much easier to close those crucial sales.
RELATED: How to create an effective content marketing strategy
4. Reduce your stress and anxiety
Running a business is stressful enough without having to worry about your marketing activities.
However, when you strategically plan and schedule your marketing in advance, you won't have to think about it.
You'll feel incredibly organised and on top of things.
These days you can also take advantage of a lot of marketing automation tools.
Many of them are quite easy to set up yourself. However, if the thought of technology scares you, hire a professional to do it for you. (Do your homework though and make sure the professional comes recommended).
5. Grow the value of your brand
You can tell straight away which businesses don't have a marketing plan in place.
Their advertising and branding show up inconsistently, and their messaging feels disconnected.
A good marketing plan will incorporate your brand values and consistently use the logo, fonts, and colours you've chosen.
This then builds value in your brand. Your audience starts to resonate with it, improving the effectiveness of your marketing.
Your marketing plan is an investment in your brand. It protects and grows the value of it.
The 72-point Ultimate Marketing Checklist has an entire section dedicated to branding your business. To see how you grow the value in your brand, download the checklist by clicking on the button below.
6. Generate more qualified leads
This reason is one of the most important reasons why you need to do a marketing plan.
No one has time for fielding a heap of enquiries that are not going to lead to a sale.
It's a complete waste of your valuable time!
However, when you plan for the type of client you want to attract, your leads will be of a higher quality.
You will have spent the time to understand their pain points and developed a relevant solution. As a result, your sales conversion process becomes so much more time efficient.
7. Higher sales growth
As the saying goes, poor planning leads to poor performance.
If you're looking for higher sales growth and more revenue, then a marketing plan is essential.
It will help you to position your service in the market where there are fewer competitors and higher demand.
Additionally, with an effective marketing plan, you can create a sales loop that generates client testimonials and referrals for more business.
RELATED: 10 Reasons why strategic planning is important for getting clients
Why do a marketing plan?
Now that I've outlined just some of the benefits above hopefully, you're not still wondering… why do a marketing plan?
Yes, it will take some time, but the investment upfront will be so worth it over the longer term.
As I mentioned, it doesn't need to be complicated, and it's easy to find templates online, so you don't need to start from scratch.
If you're looking for a shortcut to save time on researching what you need to do, the Ultimate Marketing Checklist will help. Download the checklist and get other marketing strategies direct to your inbox by clicking on the button below.
Find this article helpful? Don't forget to PIN to Pinterest.