5 Ways I invested my marketing budget when starting my small business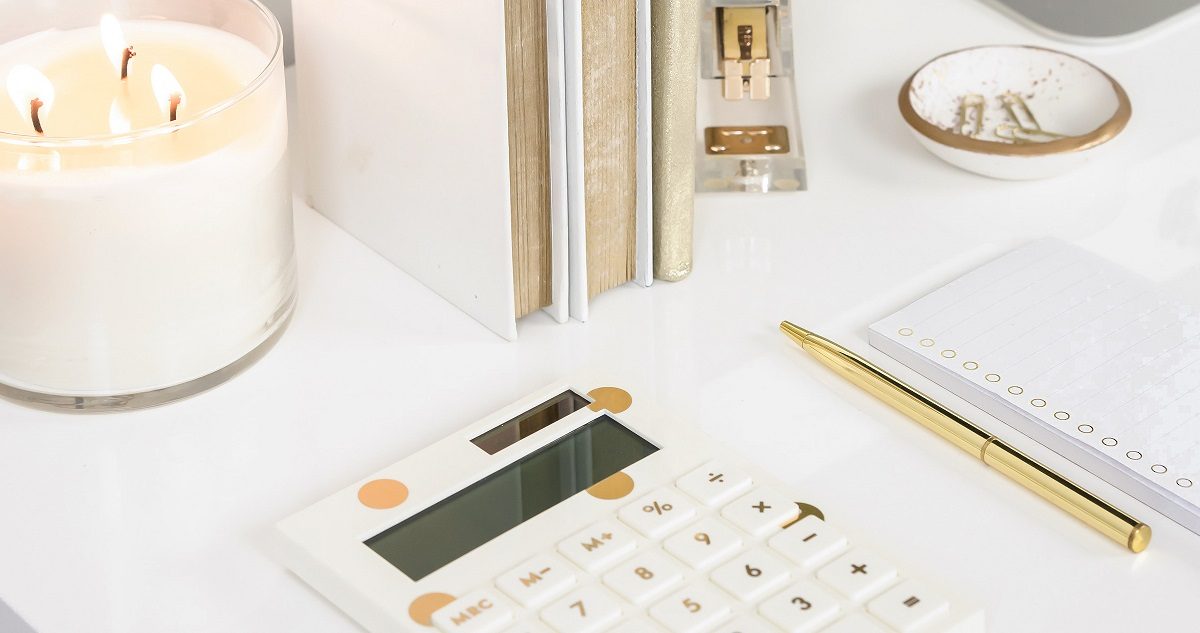 It takes so much courage to launch a small business.
And it takes even more courage to spend money on it, especially in those early days when there is little (or no) revenue coming in.
When I started my small business, I remember being careful with every cent.
All my spending decisions were well-considered, and I was very deliberate about where to allocate my money.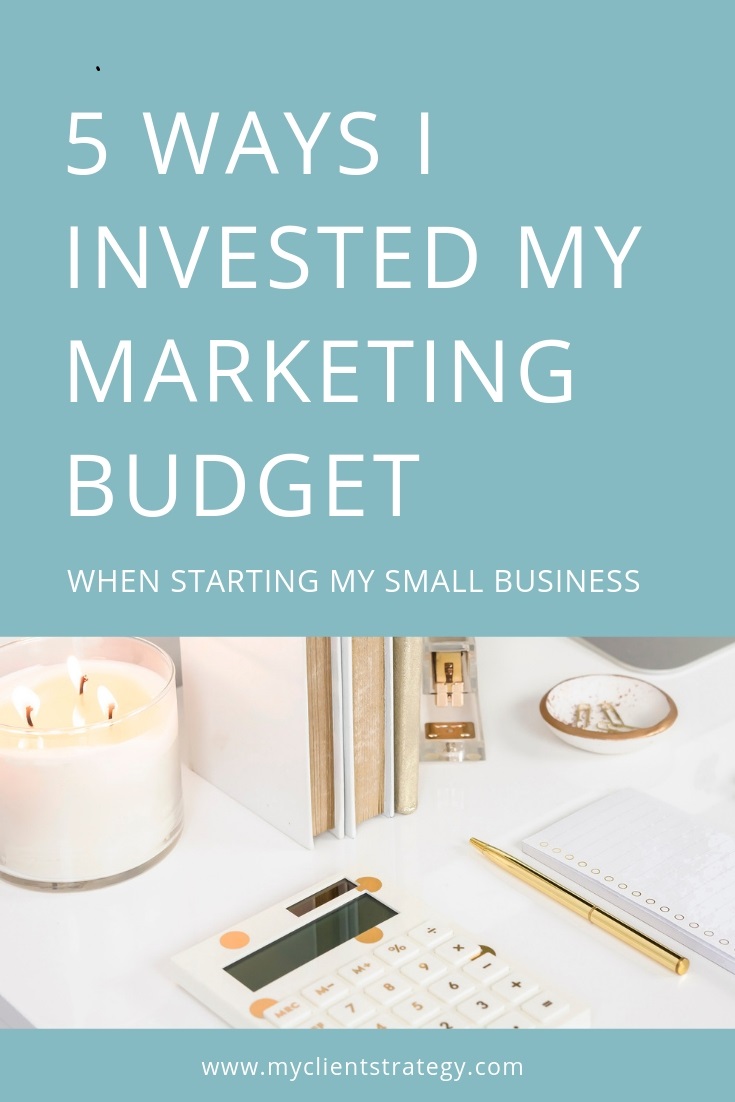 Fortunately, I was comfortable with managing a marketing budget having spent many years doing this in my former corporate career.
On reflection, the best investments I made using my marketing budget were ones that:
Saved me time, so that I could focus on more meaningful work;
Helped me to add value to and grow my business.
The best marketing investments are the ones that save you time, add value and help you grow your business. #marketing
Click To Tweet
Below I'm sharing with you the five best marketing investments I've made since launching my business.
1. List Building and Email Marketing Tools
One of the most critical assets for any service-based small business is a high-quality client list.
So, I knew it was essential to focus on it and have complete ownership and control over it.
By building an email list, I would also be adding value and a tangible asset to my business.
And I wouldn't be reliant on social media platforms which could start charging me more to reach my connections.
The technology and software that I invested in included an email autoresponder, landing page software, and pop-up technology.
I also added plug-ins to my WordPress website to integrate the technology platforms, so it was seamless.
RELATED: How to build an email list when you're first starting out
RELATED: 30 Marketing tools every service-based business should know about
These investments saved me considerable time as I could automate my email sequences.
There are many choices out there when it comes to choosing the right platforms for your business.
I encourage you to consider the functionality you need now as well as what you will need at the very next stage.
Additionally, one that fits your budget and stage of business, so you're not over-investing in something that's too complex and takes too long to work out how to use.
Whichever autoresponder you choose, be sure to take advantage of the free trials on offer. This way you can find out if it's the right fit for you before investing your marketing budget.
RELATED: Email Marketing Strategy Session: Book a 2-hour marketing strategy session and I'll teach you how to set up your email marketing systems and nurture your list, so you won't waste hours trying to work it out yourself.
Want a copy of my Ultimate Marketing Checklist to help you work out where to invest your marketing money? Click the link below to download.
2. Design Tools and Professional Photography
With so much noise online, it's essential to create content that stands out.  And what better way to do that than with beautiful photography and professional design tools.
Invest in beautiful photography and professional headshots to cut through the noise and stand out online. #contentmarketing #marketing
Click To Tweet
One of the very first investments I made in my business was professional headshots.
It not only helped me create a great first impression when people visited my website, but it gave me so much confidence as well to put myself out there.
In addition to headshots, I've also invested in stock photography for my blog and content marketing.
It saves me hours scrolling through the free websites trying to find the perfect shot.
Additionally, because the photos are in sets, I can use themes across my social media which stands out beautifully in the feed.
I don't think a day goes by where I don't use Canva. If you haven't heard of it, it's online design software that is a must-have for anyone wanting to DIY their social media graphics.
Now, you can opt for the free version, but I believe the upgrade to Canva for Work is worth it!
I can save and file my logos, fonts, brand colours, images, and content templates which is a massive time saver!
It also ensures I stay "on brand" and my content is created consistently.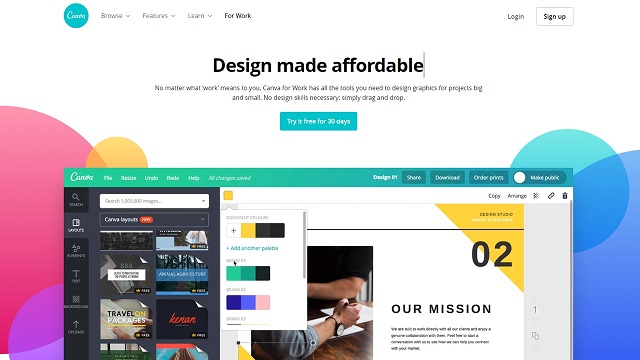 3. Digital Marketing Courses and Coaching
Over the years I've invested tens of thousands of dollars in my education, and I continue to do so today.
Also, I believe you are never too experienced to learn something new.
There were two topics that I purposely chose to invest in, which were Search Engine Optimisation (SEO) and Facebook Ads.
While it will take a little while for my SEO efforts to pay off, I know this investment will help me to drive organic (free) traffic to my site in the future.
By investing in this early on in my business, it means that all my content from now will be created using the all-important SEO techniques that will get my website found.
RELATED: How to choose the right keywords for your target market
I chose to invest in Facebook ads so that I could avoid a lot of the costly mistakes that I see people making online.
The coaching has helped me to think more strategically about how I'm targeting my audience. As well as improve my return on investment when it comes to advertising.
Additionally, I know precisely which metrics I should be paying close attention to so that I can adjust it and improve my marketing performance.
RELATED: Hiring a business coach: Your burning questions answered
In addition to paid courses, I've also invested a considerable amount of time for reading.
I know that this investment in time will add value to my business by helping me make better decisions in the future.
Want a copy of my Ultimate Marketing Checklist to help you work out where to invest your marketing money? Click the link below to download.
4. Paid Advertising
Organic and content marketing is essential when it comes to creating awareness.
However, for most small businesses it takes time to start seeing significant results.
That's where paid advertising (used in conjunction with organic content marketing) provided an opportunity to grow at a faster rate.
Before investing in paid advertising, educate yourself on how it works to greatly improve your results.
Before investing in paid advertising, educate yourself on how it works to greatly improve your results. #marketing
Click To Tweet
I defined the number of leads and enquiries I wanted to generate. This enabled me to estimate how much I would need to spend based on my conversion rates.
And I also studied my competitors' ads and set a budget up front, so I was always in control of what I was spending.
Importantly, I set up tracking to monitor the performance. And made adjustments as I needed to so that I could improve the return on investment.
As a result, I've been able to add significant numbers of subscribers to my email list. As well as generate leads and sales that I may not have made had I not paid to advertise.
RELATED: 15 Ways to drive traffic to your small business website
5. Groups and Membership Fees
Starting a new business can be quite lonely. So, using my marketing budget to join networking and membership groups to help me keep going on the tough days was an easy decision.
Some may not see it as a marketing investment, but these groups opened the doors to referral, partnership, collaboration, and networking opportunities.
For a service-based business like mine, they provided a fantastic opportunity to get feedback on my services, generate referrals, and grow my business.
RELATED: 20 Simple ways to get your first client
Joining membership groups also enabled me to hear about time-saving automation tools and stay up to date with the latest trends (which I can pass on to my clients as a value-add).
I also received invitations to events and training nights that I might not have otherwise heard about.
My business is also listed in their member directory, providing both a marketing and an online backlinking opportunity to build traffic and authority to my website.
While not a monetary investment, I have also invested time in joining Facebook groups. These are great for market research, asking advice, and hearing about events and training.
If you haven't joined yet, you may want to check out the My Client Strategy Facebook group. I share marketing strategies and tips, especially for service-based small business owners.
Where I invested my marketing budget when starting my small business
These five investments above are just a snapshot of the ones which have been significant for me in adding value and saving time. Have you made similar marketing investments or considering where you should start? Share your thoughts in the comments below.
Want a copy of my Ultimate Marketing Checklist to help you work out where to invest your marketing money? Click the link below to download.
Did you find this article helpful? Please don't forget to PIN to Pinterest.