Driving traffic to your website is critical if you are a service-based business.
Especially if you are working from home or in a co-working space, your website is your 'storefront.'
However, when you're a small business, ranking well in search engines is hard.
You're up against the big corporates and their huge advertising spending, making it nearly impossible to rank at the top.
And with so many websites and competitors out there, getting visitors can be quite challenging.
It's just not as easy as "build it, and they will come".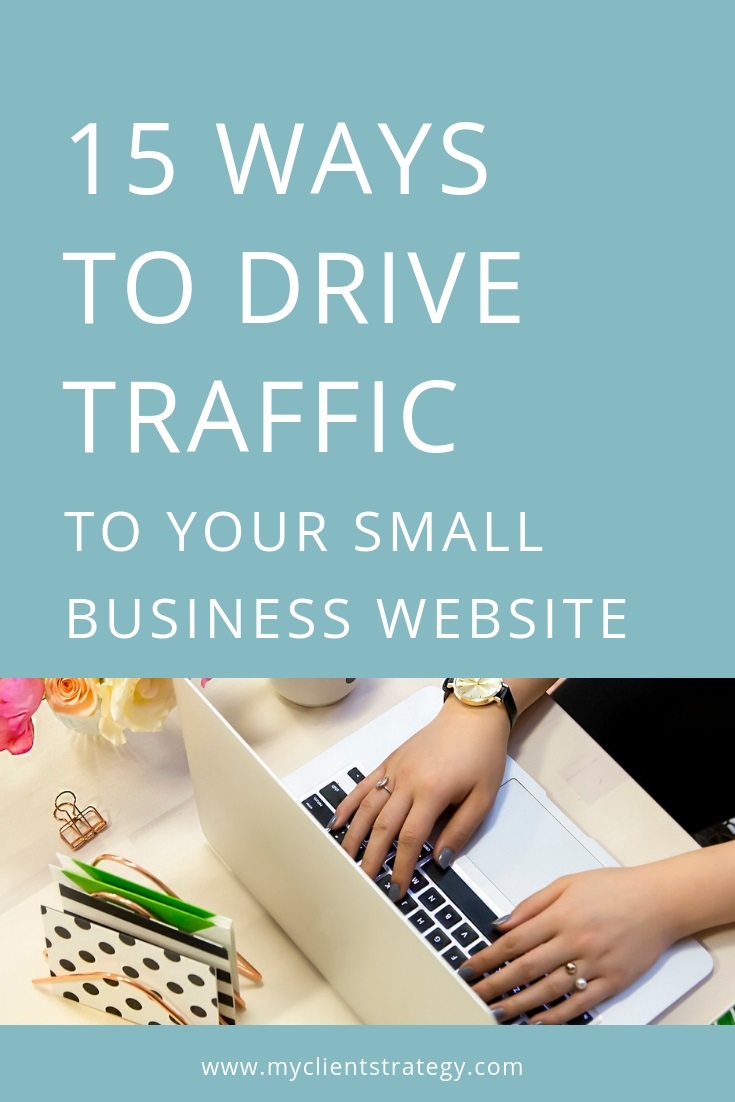 So, how can you cost-effectively drive traffic to your website?
Here's a simple list of 15 ways to drive website traffic that I've created for you:
1. Search engine optimisation (SEO)
What is SEO? In basic terms, it means your website is technically sound so that it can be indexed by search engines and well-designed for good usability. It also contains content (including keywords and phrases) that people often search for.
An excellent place to start is to check that your website appears in the search engine. You may need to verify your site with Google Search Console if it isn't.
To appear in local searches on Google Maps, be sure to also create a Google Business Profile for your small business.
Also, check your page (and post) titles and meta descriptions. They need to be the appropriate length and contain your keywords to assist with your ranking. An easy way to do this is by installing the Yoast plugin (if you are using WordPress).
RELATED: How to choose the right keywords for your target market
It can take a while to see the benefits of SEO as it takes some effort and time to create the optimised site structures and content. However, once you enhance your website, you can gain free traffic via search engines, so it's worth the investment.
Some of the SEO components are technical, and if you aren't confident in this area, you may need to outsource some parts. However, be sure to educate yourself before outsourcing so that you know what you're getting for your money.
Not sure where to start when it comes to marketing your service-based small business? That's where I can help. Get started by downloading my free Ultimate Marketing Checklist by clicking the button below:
2. Directory Listings
There are both free and paid options when it comes to directory listings.
Start with the member associations you belong to, and search for a directory on their websites. Find out how you can get a listing to promote your small business.
To find other online listings, search for your niche in Google and add the word directory after it. You will likely find blog posts that people have written containing the most popular directories, which you can work through individually.
Also, don't forget about offline directories and listings. Look for publications where you can list your website address to get in front of your target audience when they are searching for your services.
Regarding paid directories, before you spend any money, do your research and check how much traffic is likely to come from that site. As well as how you will be billed (it may be per listing or per click) to determine if it is a good investment.
RELATED: The 10 online marketing strategies you need for a service-based site
3. Backlinks
One strategy to drive traffic to your website is to partner with another business that can link to your site and send you referral traffic.
This strategy is known as backlinking, and it also adds authority to your website. It's excellent for SEO as it means you will likely rank higher than another site with lower authority.
When setting up the link, be sure to check that there is no a 'no follow' reference on the link. A no follow link is not good for SEO as the link will not carry any authority.
If you don't have established partnerships, another way to get backlinks is to search for broken links that no longer work on other websites using the brokenlinkcheck site.
If you can find a website in your niche that has a broken link and you happen to have a similar blog article on the same topic, then send a quick email to that business letting them know that they have a broken link. If they would like a replacement article, then you have one available.
Want more information on what you can do to optimise your website for search engines? Download my free Ultimate Marketing Checklist.
4. Internal Links
While internal links move visitors around within your site, they can also assist with driving traffic to your site if they are well-designed.
Excellent site structure is essential to see the benefits of SEO. If the search engines can determine that your site has good internal links, it will rank higher than those that don't.
When your website pages link well, you are more likely to keep people on your website longer, which can help make those all-important sales conversions.
Consider how you can also use high-volume pages to drive traffic to other low-volume pages on your site. Use your Google Analytics platform to identify where you might be able to boost the traffic to your sales pages with strategic links from well-performing blog posts.
5. Email marketing
When writing emails to your list, always ensure links back to your website within the email.
If you write a new blog post or want to promote one of your services, be sure to include a link directly to the relevant pages.
And don't forget to add your website link to your email signature on every email you send.
Not sure where to start when it comes to marketing your service-based small business? That's where I can help. Get started by downloading my free Ultimate Marketing Checklist by clicking the button below:
6. Blogging
Creating highly valuable content on your blog is a great way to drive traffic to your website.
It will increase the chance of your website being found in search engines and shared on social media by others.
RELATED: How to start a blog for a service-based small business
You can use many formats within your blog to boost the chances of it being shared on social media.
Interviewing an influencer in your niche is one way to do this, as there is a high chance that they will share the article with their audience once you've published it.
The Pinterest platform is also great for sharing your blog articles and driving website traffic for free.
7. Media and PR
If you have a newsworthy story to tell or contribute to an article that a journalist is writing, it could generate some free publicity for your business.
Identify the publications you would like to appear in and make contact with the journalists in your local area who write about small businesses or trends happening in your niche.
Websites such as HARO (Help A Reporter Out) and SourceBottle connect journalists with bloggers and contributors.
8. Paid Advertising
While you may not have a large advertising budget, there are low-cost ways to drive traffic to your website.
Facebook, Pinterest, Instagram, and LinkedIn all have affordable advertising platforms where you can promote your business for as little as $5 a day.
The benefit of these platforms is that you can target your audience specifically, meaning that the return on investment is better than advertising more broadly. You also have the option to remarket to people who have visited your site before when you install the tracking code.
If your target audience is most likely to use a search engine to find your service, then consider how Google Ads and Google Remarketing could be appropriate for your business.
As always, before you spend any money on advertising, ensure you are clear on your end goal and marketing objectives.
Additionally, test your advertising messages first before scaling up the spend. And be clear on your target market.
RELATED: How to define a target market for your service business
9. Social media
You can drive considerable referral traffic directly from social media once you have built up your following.
The key to growing your audience is to have an optimised profile that includes the keywords for your business and that your content is engaging and stands out.
RELATED: How to create an effective content marketing strategy
It is essential that you show up consistently on social media every day to create brand awareness (using automation tools). Try to mix your service offerings in strategically around your other engaging sales nurture content.
Working out where to start and what to do is easier with the Ultimate Marketing Checklist. Get your copy today by clicking on the link below.
10. Facebook groups
Sharing your links and helping others out inside of Facebook groups is an excellent way to build awareness.
However, be strategic about the groups that you decide to join, so that you are using your time efficiently. It's very easy to lose hours on social media during your day, so be sure to get in and get out when you need to.
Also, monitor the results you're getting. You'll find that you generate more traffic, subscribers, and sales from certain groups and you'll soon work out which ones to visit.
For strategies and tips on how to successfully market your small business without the stress and overwhelm, join the My Client Strategy Facebook Group.
11. Video marketing
Many people don't realise that YouTube is a massive search engine that can be very effective in driving traffic to your website. Consider the types of videos you could create to post on here, as well as the promotional videos you could make to market your services on YouTube.
Google also indexes and returns videos in the search results, so it's crucial to optimise the videos you are posting on your website by adding appropriate titles and meta descriptions.
There is an increasing demand for visual content online, and video marketing is one way that you could stand out from your competition who may not be doing this yet.
12. Online Question Forums
Answering questions on forums such as Quora or Trip Advisor (if you are a travel business for example) is a great way to build your authority in a niche. Search for others by typing your niche with the word forum after it into the Google search.
You can also include a link to your website in your profile and your answers. A website link to your blog that answers a specific question could significantly increase traffic to that article.
Searching on these sites before you write a blog article is also an excellent way to research what you should write. If you are writing about a popular or trending topic, then there will be a larger volume of people who will be searching for your content.
There's no point in writing a blog article that no one is searching for an answer on, so be sure to choose topics that are regularly searched.
13. Guest blogging
Writing articles and pitching them to other larger media outlets or influencers is a great way to build your profile and get a link to drive traffic back to your website.
It can take some time to write a guest blog post though, so it's important to choose a topic that others would be willing to share on their site. Look for syndicated publications that will share your articles on multiple platforms.
Don't forget to invite others to write a guest post on your blog. If you publish their content and they are a well-known person in your industry, then you could attract a new audience. The influencer will likely share your website with their (more substantial) audience to drive traffic to your site.
RELATED: 15 Blog post ideas for your service-based small business
14. Podcast Interviews
You may have a podcast, or you may be invited on to someone else's podcast. Either way, the episode provides a way to promote the content on your website and drive the audience back to it.
You could increase the amount of traffic to your website by also including a special offer or by sharing something interesting that they can find out more about on your site.
Podcast episodes are also then shared on other social media platforms and via email marketing, making the audience for them much more extensive than just those listening to the audio.
15. Printed Marketing Collateral
In addition to online methods, there are also offline forms of marketing that can increase your website traffic.
Make it part of your brand guidelines to include your website address on all forms of stationery, brochures, flyers, merchandise, and promotional materials.
Consider where your website address might also be appropriate in your sales proposals and other business documents.
How to determine what to focus on to get traffic to your website
It's easy to become overwhelmed when you read through this long list of ways to drive traffic to your site.
However, it's important to consider which methods will be both sustainable for you to keep doing over time as well as which ones will generate the most traffic.
For example, if you don't like writing or aren't that good at it, then starting a blog is likely not a good idea. Try recording videos instead which can be faster to create.
Alternatively, you may feel more comfortable hosting a podcast or going live on Facebook where you can speak to your audience.
Try to pick methods above that you know you could stick to doing. Additionally, remember, that you don't have to do all of them at once.
Building up a following, and traffic flow will take some time if you don't have a large budget, so be patient and consistent with your marketing activities.
I would love to hear what you have found to be effective in driving traffic to your small business website? Let me know in the comments below.
Want to master your marketing strategy – quickly and easily – so you can grow your service business without the overwhelm and complexity?
Well, I have a free marketing masterclass that will show you how: How to Master your Marketing Strategy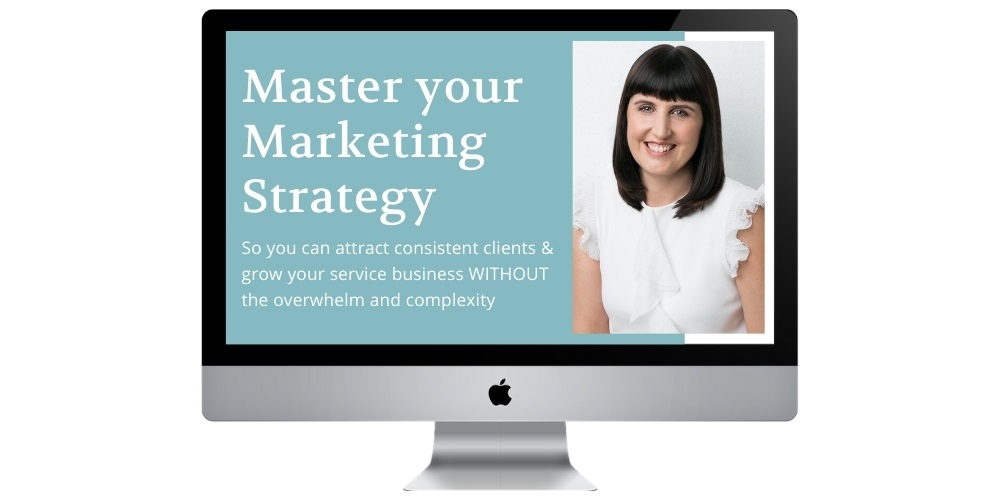 In this Free Marketing Masterclass, you'll learn:
The 3 BIGGEST marketing mistakes service businesses make that keep you stuck and stop you from growing, and…
My simple 5-step Marketing Framework for mastering the marketing strategy, systems, and structure you'll need to attract consistent clients and grow your business WITHOUT overwhelm and complexity!
Get started with this free marketing training now by clicking the button below to register:
Did you find this article helpful? Don't forget to PIN it to Pinterest.