Are you not quite sure how to start a blog for your service-based business?
Or do you feel like you're procrastinating because you're overwhelmed at the thought of writing a blog?
Well, in this post I provide you with a step-by-step guide on the blogging essentials.
I answer the fundamental questions that will help to build a solid foundation.
And I'll give you expert strategies and SEO tips to help get your blog content found.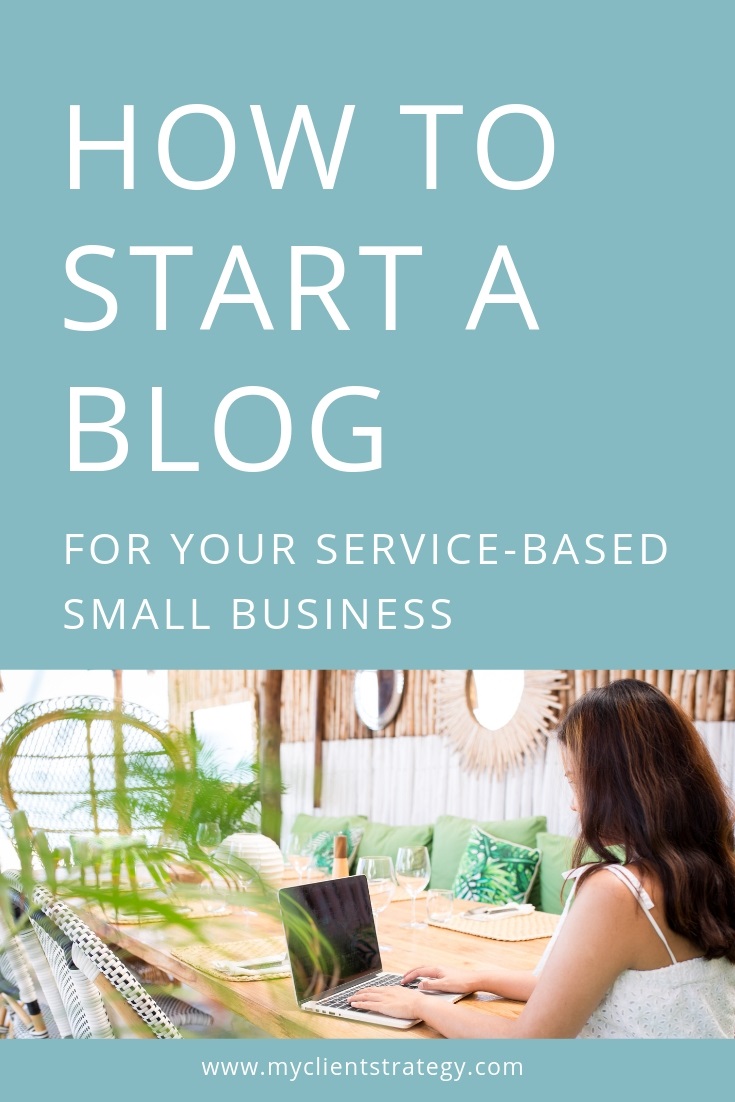 So, what should you consider once you've launched your website, and you're ready to start creating your business blog?
In this blog post, I'll help you to answer the following checklist of questions which will provide a solid foundation for your business blog:
What design and theme will you choose?
How will your blog fit into your overall content marketing strategy?
What is the structure for your blog?
How often will you write and publish articles on your blog?
What SEO tools and tactics can you use to improve your ranking?
How will you generate blog post ideas?
Where are you going to source your images from?
How will you promote your blog?
Once you've answered these questions, you'll be well on your way to launching a successful blogging strategy for your business.
Not sure where to start when it comes to marketing your service-based small business? Download my comprehensive 72-point Ultimate Marketing Checklist which will help make it easier:
Design and Theme
As the popularity of business blogging has risen, so have the number of available designs and themes.
You always have the option to use the blog design that comes with your website theme or if you have a WordPress site, add a WordPress plugin with an updated design.
Alternatively, you can visit a site such as Theme Forest and choose from the many designs available.
For my blog, I chose to pay a small amount for the WordPress plugin, Blog Designer Pro.
I liked the look of this theme, and it's enabled me to have more flexibility when it comes to formatting my blog articles.
Once you've chosen your blog design and updated your site as necessary, it's time to think about how your blog will fit into your marketing strategy.
RELATED: How to write a great blog post: A small business guide
Content Marketing Strategy
Many service-based businesses develop a content marketing strategy to ensure they see a good return on the time they are spending creating content.
You see, researching, writing, editing, and formatting a blog post is a considerable investment in time.
As such, leveraging your blog content and integrating it into your overall content marketing strategy just makes good business sense.
I have my business blog at the centre of my content marketing strategy.
Each week I publish one blog article. And then write an email to my list promoting the new blog post.
This one blog article can be used to create several other pieces of content to share with my audience.
For example, I also extract sections of my blog to create social media posts.
And use the featured images within my blog posts for my social media graphics.
The next step is to consider the actual structure of your blog on your website.
RELATED: How to create an effective content marketing strategy

Blog Structure
A good blog structure means you are creating blog posts that have some relevance to each other.
There may be a central theme that helps your visitors to understand what it is that you specialise in.
Or, links that you can create between your blog posts to promote more content and help keep visitors on your site longer.
A good blog structure also helps with search engine optimisation (SEO) as Google can index your posts which helps your content get found.
The structure of your blog is critical because it:
Provides you with a framework to come up with content ideas
Creates keyword clusters to help with SEO and your website ranking
Establishes you as an expert in your niche or specialist service area
Develops links between your posts to increase the amount of time spent on your site
When it comes to creating your blog structure, I recommend choosing 5 – 8 categories that are related to your niche and the services you sell.
These could be one or two words, which are also keywords that you've identified as being important for your website.
As an example, my specialty is marketing strategy for service-based small businesses.
A few of the categories I've chosen for my blog include email marketing, content marketing, strategy, small business, and business blogging.
Planning and Scheduling
To really see the benefits of business blogging, you need to be consistent.
When you are consistent with your publishing schedule, you'll stay top of mind with your audience.
And it will help you to build that know, like, and trust factor which is essential for making sales.
Decide how often you are going to publish a blog post and then stick to it. This could mean weekly, fortnightly or monthly.
If you find it difficult to fit this into your schedule, consider how you could batch-create your blogging.
It may be more productive for you to sit down and write multiple blog posts all at once.
And then use automation tools to help you publish and schedule out your content over time.
SEO Tools and Tactics
If you want to create high-quality content that gets found, then using SEO tools and tactics when you start a blog is critical.
One WordPress plugin that I could not do without for my blog is Yoast. It provides the essentials for optimising your blog posts for the search engines.
And helps to improve the quality of your writing to make your blog posts easier to read online.
There are also several SEO keyword research tools available to help you decide what type of content to write.
And a great free tool called Answer the Public which is very helpful for brainstorming blog post ideas.
The keyword research tools I use regularly are Keywords Everywhere (which is low-cost) and Moz (which you can access for free).
When using these types of keyword research tools, look for related keywords which have a high volume of traffic (meaning people are searching for these words in Google). As well as low competition (meaning there is not an overwhelming amount of similar content around that you would be competing with).
Once you've found your SEO keywords, be sure to use these within your blog post titles and body copy to get your content ranking well in Google.
Try to also include your SEO keywords within the sub-titles and body of your blog copy.
However, don't overload your blog with these keywords – remember, you're writing your content for humans and not search engines.
RELATED: How to choose the right keywords for your target market
Blog Images
While the title and copy are the most important part of your blog post, be sure that you don't overlook the need for high-quality images.
It adds to the design of your blog and helps to attract readers when your blogs are shared across social media.
You have the option to take your own photos or to source them from a stock photography site.
There are legalities around using photography on your site, so be sure that you have the right permissions to use the images.
With every blog post, ensure that you have uploaded a featured image that is at least 1200px wide.
This is the image that will be featured when your blog post is shared by you (or others) on social media platforms.
Also, don't miss the opportunity to add your SEO keywords to the image ALT tags to help you're your Google ranking.
Not sure where to start when it comes to marketing your service-based small business? Download my comprehensive 72-point Ultimate Marketing Checklist which will help make it easier:
Blog Post Ideas
There are several ways to come up with blog post ideas when you start your business blog.
These include brainstorming content ideas around the blog categories you've chosen, looking at your website and social media insights to determine what content is the most popular, and using tools like Answer the Public or BuzzSumo to see what is being searched for and shared online.
Another option is to also ask your followers what they would like to read about on your blog.
Simply post a note on your social media platform and ask them what topics they would like to know more about.
It's a great way to build up blog content that you know your ideal clients will find valuable and it increases the likelihood of your blog posts being read.
RELATED: 15 Blog post ideas for your service-based small business
Promote your content
The last step in starting a business blog for your service-based business is to create a promotional strategy around it.
By promoting your blog posts, you're extending the reach of your content which helps to build your following.
Also, don't be scared to share your blog posts multiple times.
With the decline in organic reach, chances are you will only reach a small number of your followers each time.
There is also so much content out there that often we consume so much we forget what we've read previously.
Now that you know these business blogging tips and strategies, you'll be able to start your blog and start seeing the benefits.
Are you looking to start or improve your blog and get more website traffic?
Do you want to learn how to create an SEO-friendly blog without the complexity and cost of using an expensive agency or copywriter?
My one-off Business Blogging Strategy Session is a great way to unlock the SEO and content marketing strategies you'll need to set up a solid foundation for your blog.
By the end of our time together, you'll have an easy-to-follow plan and framework for your blog and know how to write SEO-friendly blog content that gets found, without the need to outsource to expensive agencies or copywriters.
Find out more here about my one-off Business Blogging Strategy Session.

Find this article helpful? Please don't forget to PIN to Pinterest.