If you're a service-based small business, there's no doubt you're using a content marketing strategy to grow your business.
And why not. It's a cost-effective way to get in front of your target market and a marketing strategy that's proven to work.
Or, at least, that's what most small business owners think until they start writing, recording and publishing content.
And they find it's not quite as easy as it looks to come up with ideas to stand out. And it can take up so much time.
When you stop and think about how much content is out there online, it's no wonder it's hard to cut through and make an impact.
That's where having an effective content marketing strategy can make all the difference.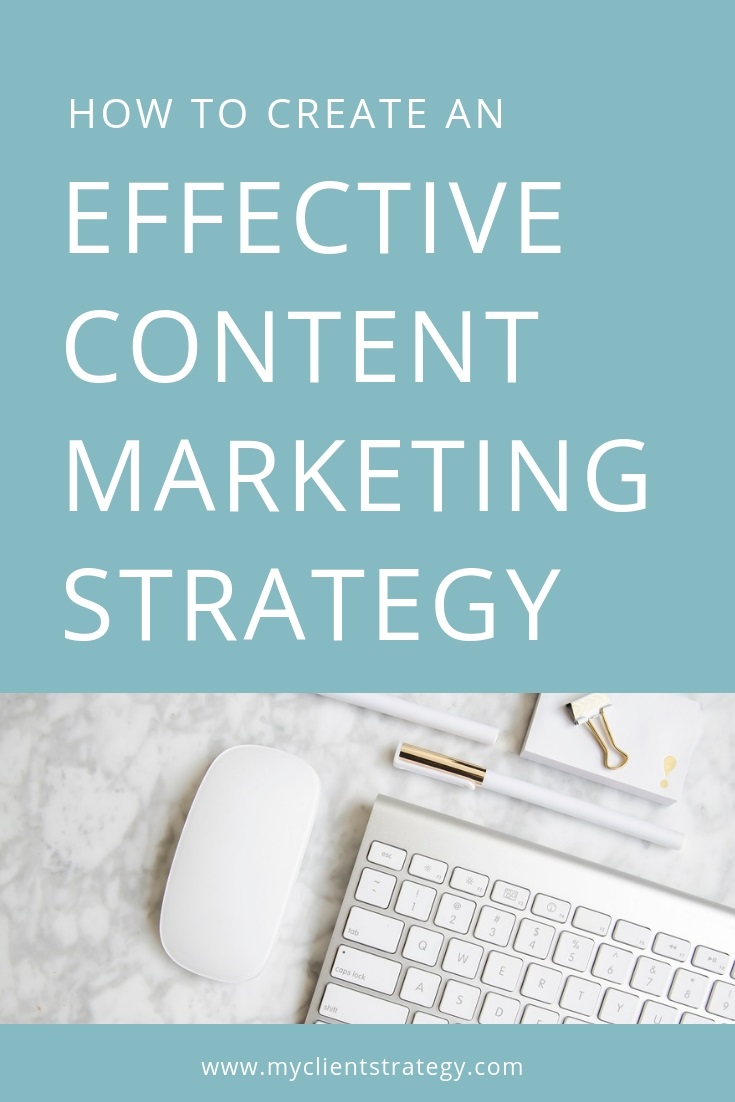 So, what is a content marketing strategy, and how do you create an effective one?
A content marketing strategy sits underneath those snappy blog headlines and quirky social media posts.
It provides a framework to produce content that cleverly draws the audience in and attracts your target market to your service offering without selling to them directly.
It also improves efficiency, as the same content can be strategically shared in multiple places.
No more stressing about what to write about or spending hours creating another PDF checklist because the last one you produced isn't relevant anymore.
When creating an effective content strategy, there are some critical elements to consider, including:
Defining your marketing goals and objectives
Understanding whom you are creating content for
Working out the best place to publish your content
Deciding what types of content will be most suitable
Coming up with ideas for what content to produce
Determining the resources and tools needed for distributing content
Measuring success and developing systems for repurposing content
If you're a little unsure where to start, I've developed the Ultimate Marketing Checklist to help make it easier for you.
Let's look at these critical strategic elements in more detail below.
Defining your marketing goals and objectives
Before you start creating anything, you must decide what your overarching content marketing goal is.
There's no point in starting a blog just because everyone else is doing it.
It needs to fit in with your marketing objectives and work together with the other elements of your marketing plan.
RELATED: 7 Steps to setting marketing goals you'll actually achieve
Whenever you create a piece of content, think about your end goal. Is it to add another subscriber to your list or showcase your authority and build trust?
Alternatively, is it to create brand awareness and increase website traffic?
Regarding social media, you may also want to highlight and bring your brand values into the content you post.
For example, if you were trying to motivate or inspire your audience, you could create content that does that. On the other hand, if you were trying to teach them something, then tips and advice might be more relevant content to meet your objectives.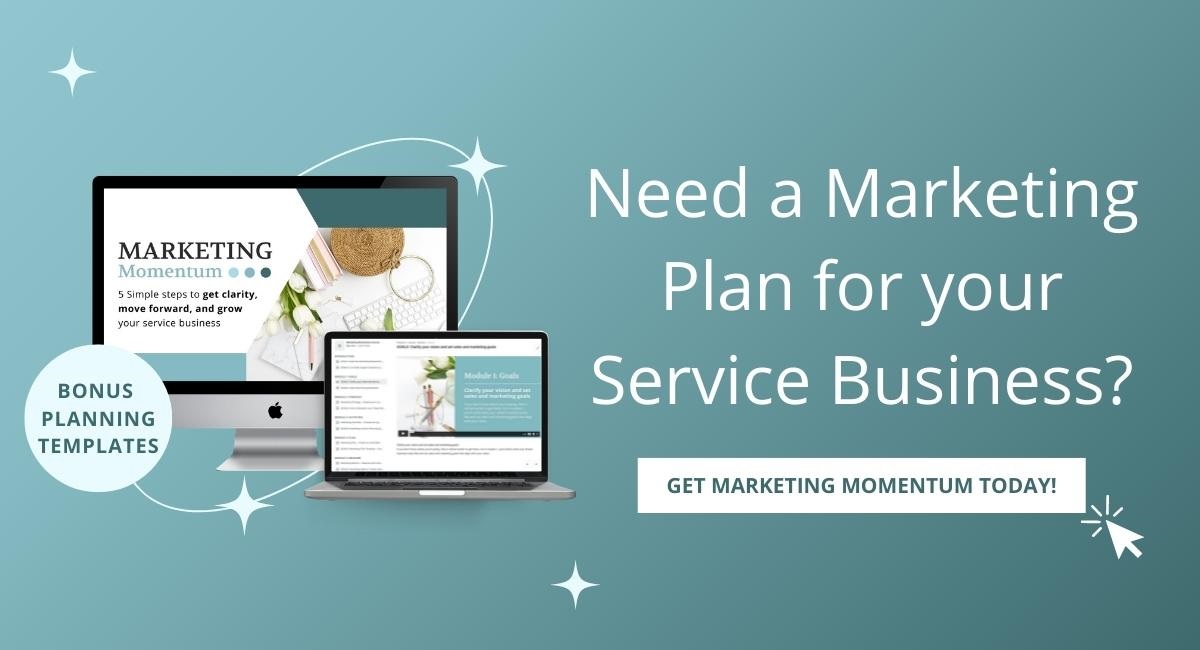 Understanding whom you are creating content for
Researching how your target market would search for information about you and your services is critically important.
Are they typing key phrases or words into Google? Do they search for you by your job title? Is there a customer group that they identify themselves as belonging to?
Through your research, identify what content they specifically want.
If your social media bio's, blog headlines and content can include these specific words, you will increase your chances of being seen online.
It will be easier for your target market to find you as your Google listing will be higher, and your content will catch their eye and stand out.
One costly mistake that you'll want to avoid is creating generic content. It comes across as dull and won't resonate with your target market.
It's essential to be as specific as possible and always have your audience in mind if you want to cut through and create an effective content marketing strategy.
RELATED: How to define a target market for your service business
Working out the best place to publish your content
There are numerous online platforms that you can choose from to distribute content. However, it's also critical that you have a content marketing strategy for your website and email list.
While social media can help you to create awareness and grow your business, you don't own the data on those platforms and have limited control. However, you hold your list data and control how much you communicate with them.
At a minimum, your website may include a blog and a downloadable PDF or eBook to help you grow your email marketing list.
Be sure also to use your target market keywords on your website.
Check out the 'website section' in the Ultimate Marketing Checklist for more ideas on optimising your website:
Regarding social media, consider how your target market uses the various platforms and which would best suit your services.
You may offer a creative or visual service (like photography or web design) suited to Instagram or Pinterest.
Or you may provide a professional service (like recruitment or consulting) that suits LinkedIn better.
Facebook still has an enormous audience, and while it is more difficult to get organic reach, it is still an important platform for you to have a presence.
Potential clients will often research your social media profiles and pages before purchase, so it's essential that they don't look neglected.
Whichever platforms you choose, try to focus on building your followers or connections on those accounts first before spreading yourself too thinly across all of them.
Deciding what types of content will be most suitable
The types of content in your content marketing strategy could include:
Blog articles
Interviews or case studies
eBooks, checklists, guides, workbooks
Videos or Podcasts
Social media posts
Emails
Webinars or events
Information sessions or workshop presentations
RELATED: 15 Types of content marketing you can use to stand out online
When you first start, you'll need to decide which forms will be the most effective for your target market. And what forms of content do you think you can create productively?
For example, online technical tasks are often better explained in a video where someone can show you the steps. As well as for functions where someone is looking for a quick solution.
It can be a lot easier to work something out by watching a short how-to video on YouTube rather than spending hours reading through online guides.
Videos can also be less time-consuming for you to produce, which is why Instagram Reels, Stories, and Facebook Lives are now so popular.
Also, spend some time thinking about your services and the information your target market might be seeking.
For example, if you have a high-end service, your potential client will likely have a greater need for information.
Their decision-making process will be longer, and they will have more questions.
In this scenario, longer forms of high-quality content would help build greater trust with your target market and provide them with the information they want.
Setting up an automated email marketing sequence would also be an excellent way to nurture potential clients who are not ready to make a decision immediately.
Alternatively, your services may have a shorter decision-making time before purchase.
For these types of services, it's about creating quick-to-read content consistently to build awareness of your brand.
RELATED: 20 Simple ways to get your first client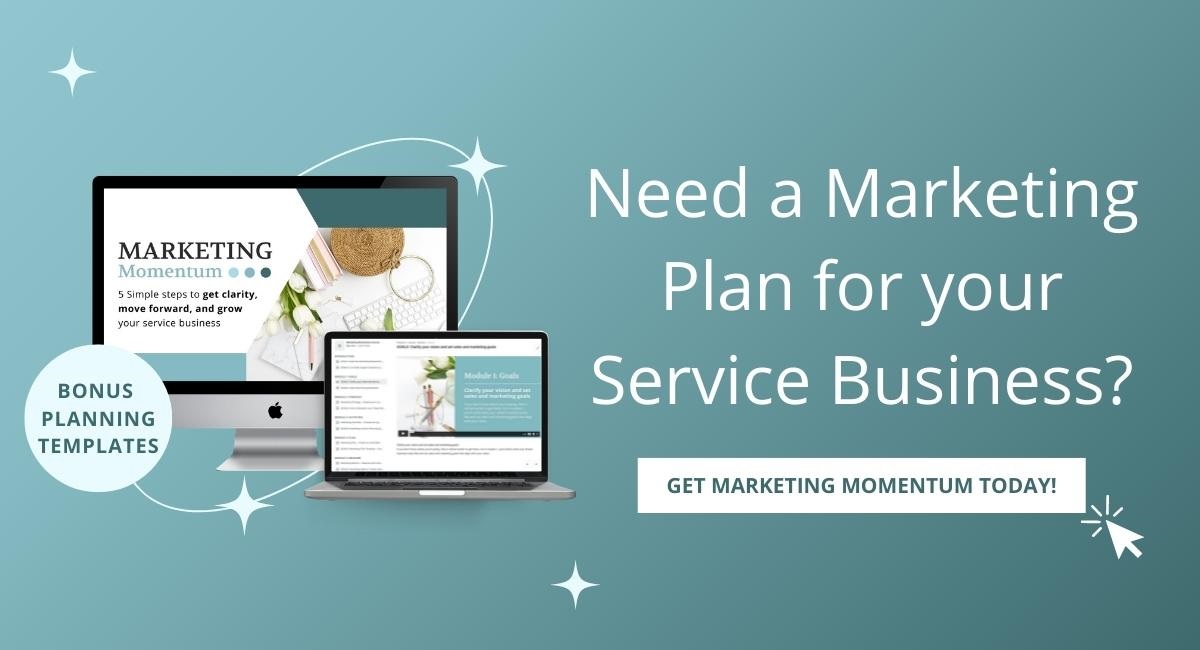 Coming up with ideas for what content to produce
Writing a blog or posting on social media sounds simple, but developing ideas can be a little harder when you're a service-based business.
You don't have photos of your products to share, and you're not launching new services daily.
You may also work from home, so no shop or office photos are available.
However, there are content formulas you can follow to make it so much easier.
Starting with your blog, one tip I can share is developing eight keywords that align with your brand and resonate with your target market.
Then set these keywords up as the categories for your blog and start writing one blog post for each category.
Once you've written your eight blog articles, return to the start and write another eight posts, one for each category.
Writing about the same topics may feel a bit restrictive or boring, but your blog will have a great structure, and those keywords will add valuable SEO to your site.
You also won't need to come up with as many ideas for content upgrades or downloadable PDFs as you can use the same ones on multiple blog posts.
RELATED: How to choose the right keywords for your target market
When it comes to producing social media posts, make it easy for yourself by developing a structure and content marketing plan that you can follow each week.
For example, on Monday's you may post motivational quotes, and on Wednesday's you could give a quick tip.
Other ideas that you could add to your structure could include posting about your latest blog or podcast, or video, promoting a service that you offer, asking questions, sharing client testimonials, and posting photos of yourself (your audience needs to see you!), or a short story or behind the scenes look at your business.
You also don't just have to share your content. Keep an eye out for other pieces of content you think your audience will love and curate them on your feed.
RELATED: How to write a marketing plan for a service-based business
Determining the resources and tools needed for distributing content
I highly recommend using WordPress for building your website and storing your blog content because you can install the Yoast WordPress plugin, which is excellent for search engine optimisation (SEO).
This plugin guides you on the appropriate length for your titles and meta descriptions and prompts you to improve your writing.
This website SEO tip is included in the Ultimate Marketing Checklist and other ideas for marketing your business online.
I love Canva for creating my social media content and downloadable PDFs.
I use the upgraded version called Canva Pro, which allows me to store my logos, images, brand colours and fonts to save time.
I manually posted all my social media content when I started my business because it was a good way for me to work out how each platform worked, and I could stay close to what other people were posting online.
However, there came the point where my time was much better spent on other things.
You mustn't wait too long before deciding to invest in automation tools.
Once you're comfortable, you know how it all works, then set up the tools you need.
It will not only improve your productivity, but your content will also be more consistent and effective.
That's not to say you shouldn't also post some 'in the moment' content as well. You should, as it will add valuable timeliness and personality to your posts which is essential.
Regarding automation tools, I schedule my Facebook page posts directly on Facebook and use Later for Instagram and Tailwind for Pinterest. My email marketing is automated via Convertkit.
RELATED: 30 Marketing tools every service-based business should know about
Measuring success and developing systems for repurposing content
It's essential that you track the performance of your content marketing so you know what type of material is the most effective.
Use the insights platforms on your social media accounts, Google Analytics, and Google Search Console to find out what type of content is creating greater awareness, engagement and website traffic.
RELATED: 15 Ways to drive traffic to your small business website
Once you have determined this, set up systems that help you productively create similar content.
One strategy that I use is to batch my content creation. I find that when I do this, I get on a bit of a roll, and the task becomes a lot easier.
For you, this could mean writing a month's worth of social media posts or blogs at once.
It will result in you having a lot more time during the rest of the month to focus on growing your business and serving clients instead of worrying about what to produce.
The other thing to remember is that you can share the same content across multiple platforms. You don't need to create different content for each account.
Additionally, stretch those blog posts out as far as you can.
For example, once you post the blog article, write an email to your list about the blog article.
Then post the blog on social media, talk about the blog in a podcast and come up with questions, quotes and short stories that link to the blog post, so you can promote it and drive more traffic to your lead magnets.
Be sure to save all your content somewhere so you can return to it in a few months' time for inspiration.
Often you will find that you can change a word or sentence and use it again.
There is so much content out there that people don't necessarily remember what they've seen in the past.
And, with the pace of social media, they might not have even seen it at all the first time around.
If you want to improve your marketing communications, I've developed a section on communications in the Ultimate Marketing Checklist to help you know where to start.
The keys to an effective content marketing strategy
Knowing what will resonate with your target market, having a purpose for the content you create, and establishing productive systems for what to produce and where to publish it are the keys to making your content marketing strategy effective.
Want to master your marketing strategy – quickly and easily without the overwhelm – so you can attract consistent clients and grow your service business?
Well, that's where I have a free marketing masterclass that will help: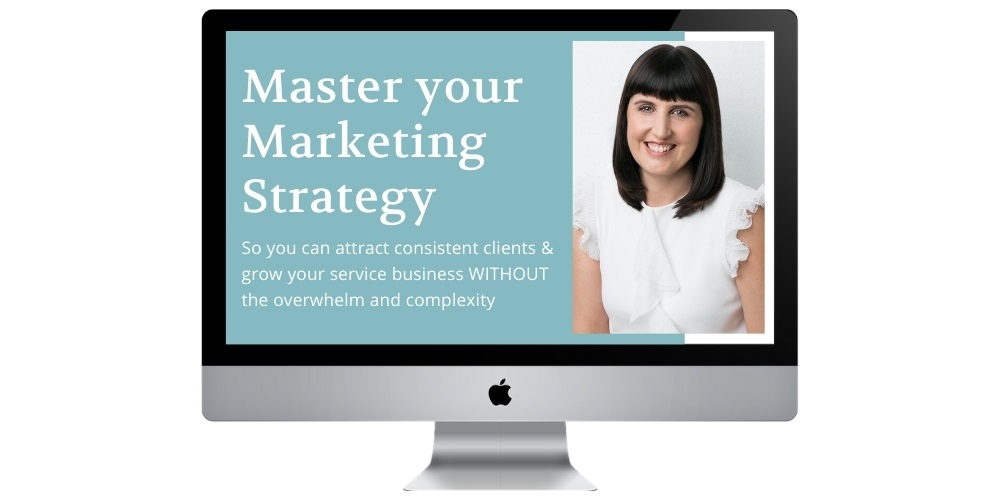 In this Free Marketing Masterclass, you'll learn:
The 3 BIGGEST marketing mistakes I see service businesses make that leave you stuck and spinning around in circles in your business, and…
My simple 5-step Marketing Framework for mastering the marketing strategy, systems, and structure you'll need to attract consistent clients and grow your business WITHOUT overwhelm and complexity!
Get started with this free marketing masterclass now by clicking the button below to register:
Did you find this article helpful? Don't forget to PIN to Pinterest or share on Facebook.