7 Ways to increase brand awareness for your service business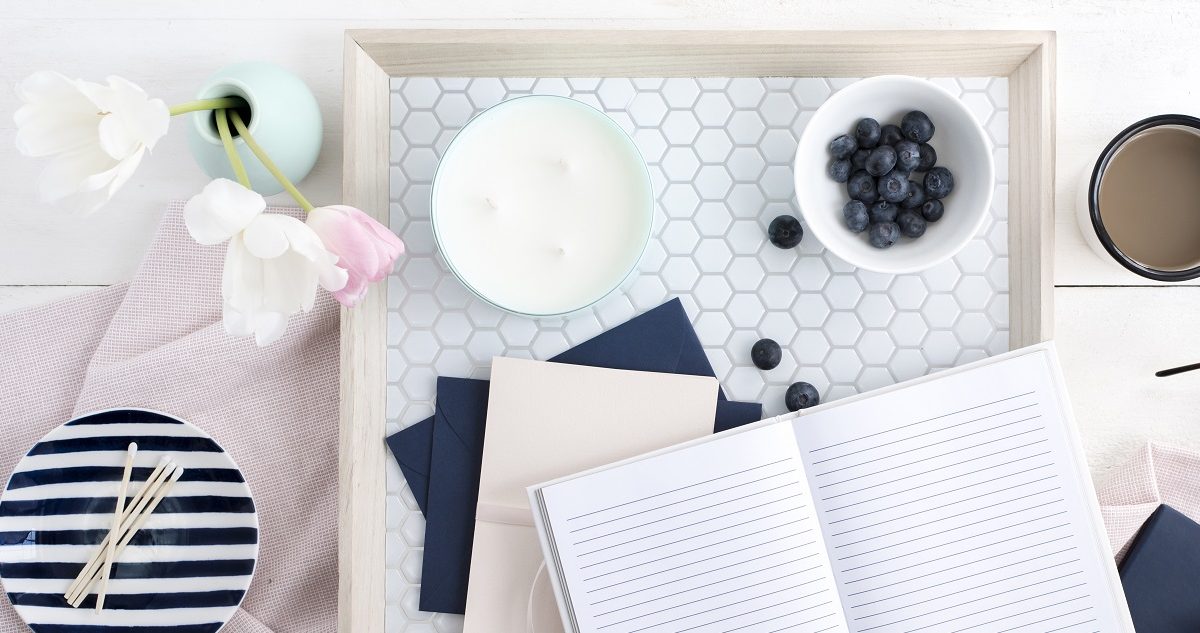 Are you looking for ways to increase brand awareness for your service business?
Maybe your business is brand-new, and few people have heard of you or your brand.
Or perhaps you're feeling a little invisible to your ideal clients and want more of them to find you.
Whatever the reason, it's an important objective if you're currently seeking business growth.
So, where do you start?
And what type of marketing can you do effectively that won't cost a small fortune or take up way too much of your time?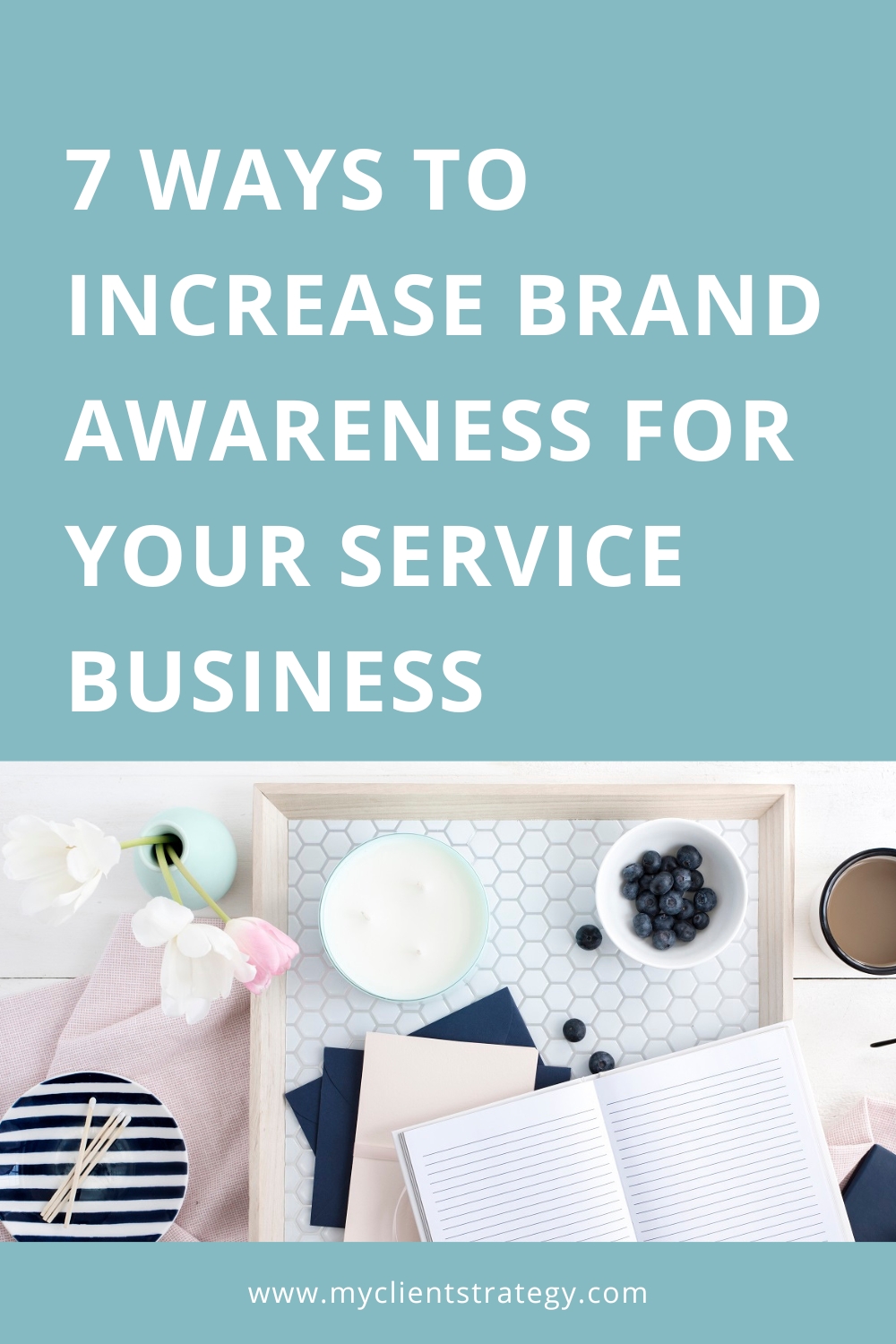 The good news is that there are many ways to get your name out there and increase brand awareness for your service business.
Plus, most of them don't require you to learn how to use complicated marketing strategies or online tools.
You simply need to play to your strengths and choose the marketing activities you feel most comfortable with.
And focus on these consistently so you achieve continuous improvement and growth.
I also recommend closely tracking and monitoring the results of your marketing.
Because when you figure out what works well for your business, your marketing will get easier and be more effective going forwards.
Now before I get into how to build brand awareness, let's start with a quick definition…
What is brand awareness, and why is it important?
Brand awareness is a term marketers use to measure how familiar and informed people are about your business and what you sell.
The more familiar your business, the better. Because more people will likely remember and recall your brand when they're looking for your type of services.
You can create brand awareness through elements such as your brand name, brand colours and design, marketing activities, and the services you sell.
When building your brand awareness, consider what you want people to know you for, as this will strengthen your brand.
It's also important to focus on the specific people you want to recall your business and tailor your marketing activities to appeal to that target market.
So, are you ready to find out how to build your brand awareness?
Here are seven ways to increase brand awareness for your service-based small business:
Get yourself out there and start networking in person
Meeting people in person is a great way to build brand awareness for your small business, as people are likelier to remember you once they've had a conversation with you.
But where do you start? And how do you build a brand via networking?
I recommend researching to find the most suitable networking events for you.
Simply search for business networking events in your local area on Google and look at sites like Facebook events, Eventbrite, and Humanitix.
Also, ask other business owners in your area what networking events they recommend.
Networking can be very effective, but remember that it can also be quite time-consuming.
So, ensure you're selective with your time and prioritising events where you're likely to meet or get referred to people who fit your target market profile.
RELATED: How to Build a Network. The Ultimate Small Business Networking Guide
Send emails to your subscribers regularly
Business owners often tell me they're worried about sending too many emails to their list.
They don't want to come across as 'spammy' and end up with many people unsubscribing.
However, if your emails contain valuable and helpful information, you're unlikely to annoy people on your email list.
Also, if you wait too long between sending emails, then you run the risk that your subscribers will forget who you are.
Another thing to remember is that you don't have to send lengthy and time-consuming emails either.
Sometimes a quick tip or a link to your latest blog post is all you need to send to stay top-of-mind and increase your brand awareness.
Not sure where to start when it comes to marketing your service-based small business? That's where I can help. Get started by downloading my free Ultimate Marketing Checklist by clicking the button below:
Create thought-leading content every week
If you're a coach, consultant, or service-based business owner who wants to build brand awareness, I highly recommend implementing a content marketing strategy.
The most effective content marketing strategies that I've seen clients create are ones where they are:
Consistently creating content every week
Adding their perspective or point of view
These strategies have been effective because their content differs from everyone else's.
It stands out because it includes their thoughts and ideas and is received regularly, so they stay top-of-mind.
Thought-leading content also adds memorability to your brand, so it's a great way to increase brand awareness sooner.
RELATED: How to create an effective content marketing strategy
Start having conversations on social media
If you're posting regularly on social media, then you're likely to see some success in building brand awareness and an online following.
However, if you want to create a memorable brand that enables you to convert followers to clients, I recommend adding conversations to your strategy.
Once you start conversing with people online, it probably won't take long before you feel like you know the people behind the brands you're connected with.
Which builds trust in your brand and breaks down some of the fear and objections that people may have that are stopping them from enquiring with you.
One of the easiest ways to get started with this social media strategy is to post something behind the scenes about what's happening with you or your business.
People often connect with this content and comment on your post or story.
Alternatively, spend 20 minutes or so on social media commenting and liking other people's posts.
Add targeted SEO keywords to your website
Whenever I work with my 1:1 Business Breakthrough Coaching Program clients, we review and optimise their websites.
Because your website is a fantastic marketing asset, you can use to increase your brand awareness.
There are already people searching for your type of business online, so you'll want to ensure that your website has strategically placed SEO keywords on it, so you'll get found.
The brand-related SEO keywords you'll want to include are the name of your business, your name, the names of your team where relevant, and your job title.
RELATED: How to choose the right keywords for your target market
Invite your followers to an online or offline event
Online or offline events provide a fantastic opportunity to engage with your community and build your brand.
So, consider hosting a free or low-cost event that either teaches something or provides helpful information for your audience.
The thing about events is that they are held on a specific date which adds some urgency.
People must reach out by a specific time if they want to attend, and it can be a great way to encourage them into action.
RELATED: How to promote an event for a service-based business
Pitch yourself as a guest on someone else's podcast
One of the more affordable ways to build your business brand is to leverage someone else's brand and audience.
I recommend being selective with whom you choose to associate your business with.
You'll want to ensure that you have a similar target market and that their brand values align with yours.
When pitching to a podcast host, consider what topics their audience may be interested in learning or hearing about.
Ideally, these topics align with your specialist area and your services.
Not sure where to start when it comes to marketing your service-based small business? That's where I can help. Get started by downloading my free Ultimate Marketing Checklist by clicking the button below:
So, there are seven ways to increase brand awareness for your service business.
You don't need to implement these all at once, but I recommend focusing on the above activities that best align with your strengths and preferences.
Once you've tested and tried a few different marketing methods, you'll determine what works best for you and your business.
Tired of trying to figure out what you're missing when it comes to finding clients and making sales in your service business?
Break through the barriers that are holding you back with the support of an MBA-qualified Marketing Coach and Business Mentor who will tailor a 1:1 program specifically for you.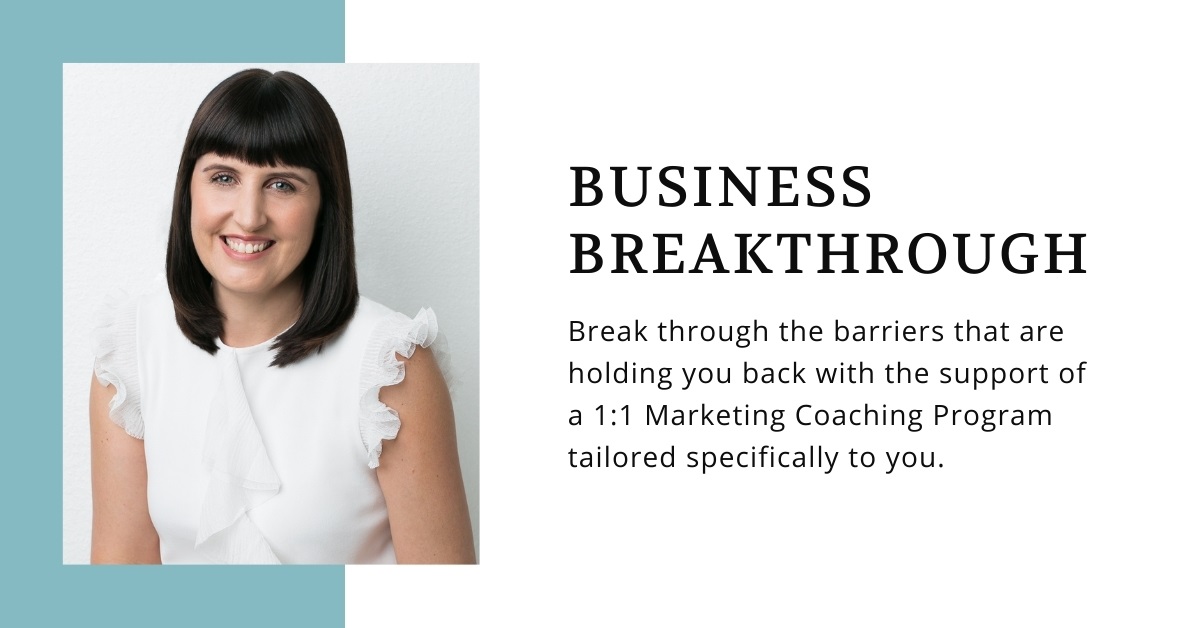 BUSINESS BREAKTHROUGH is a 3 or 6-month 1:1 Coaching Program for service-based business owners who want to develop the strategy, systems, and structure they need to find clients and make sales, so they can stop feeling stuck and start gaining massive momentum in their business.
Did you find this blog post helpful? Don't forget to PIN to Pinterest and share on Facebook.