How to write a great blog post: A small business guide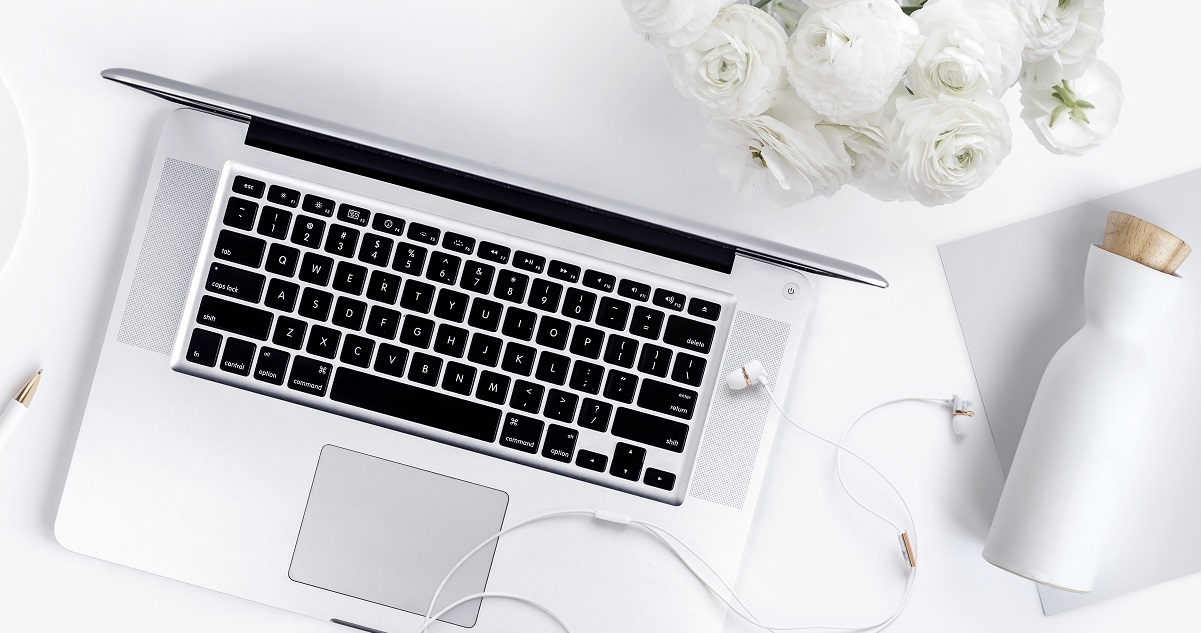 Writing great blog posts for your small business website is essential if you want to grow your online traffic and generate more leads.
But you may be wondering where to start.
Or, what to include if you're going to write a great blog post.
In the blog post below, I outline the step-by-step process that you can follow to write a great blog post for your service business.
However, if you don't yet have a blog, then you may want to read my other blog: How to start a blog for a service-based small business first.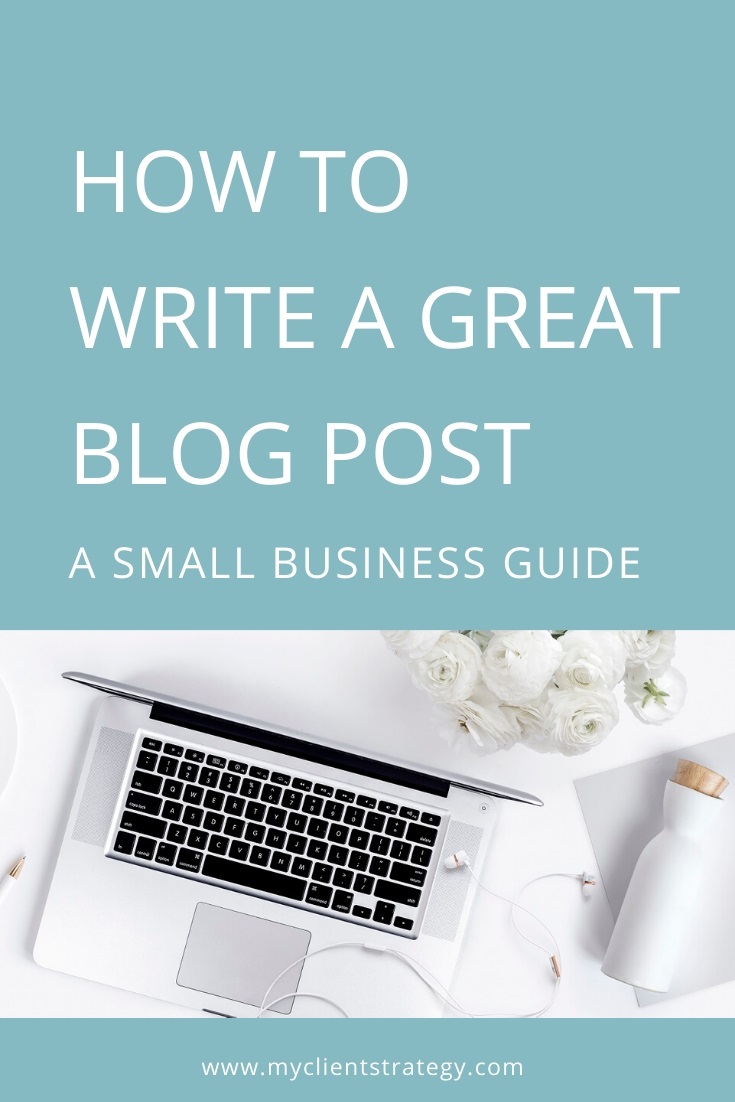 A step-by-step small business guide on how to write a great blog post:
1. Choose a topic related to your services
You want to ensure you're putting your time and efforts into a marketing activity that will likely generate sales.
Therefore, your blog topic must be related somehow to one of the services you sell.
I recommend that business owners select 5 – 8 blog categories when they first set up their blog, and then only write content that fits into these categories.
These categories will help keep you focused on only those relevant topics.
It will also save you time as it will narrow down your choices and avoid the overwhelm of having too many ideas.
2. Brainstorm content ideas
Now that you've selected your topic brainstorm four or five different content ideas for that topic.
I recommend focusing on the pain points that your target market has as these will make great posts.
And the questions that your target market are likely to be typing into the Google search engine.
There's a free tool called Answer the Public that will help you identify what questions people ask online in the search engines.
If your blog post has the answer to a question, then you'll increase the chances of your blog ranking well in the search results.
Once you've brainstormed your ideas, the next step is to narrow it down to the one you think will resonate most with your ideal clients.
RELATED: 15 Blog post ideas for your service-based small business
3. Identify a primary SEO keyword phrase
To help with your SEO and ensure that your blog post gets found online, you'll need to conduct keyword research on your chosen content idea.
I recommend the marketing tool, Keywords Everywhere to find out what the search volume and competition is for potential keywords.
It's a low-cost Google Chrome Extension that will cost around $10 to set up.
Once installed, type a keyword phrase into the Google search to see what search volume and competition it has.
You'll want to find a keyword phrase for your content idea that has high search volume and low competition.
For blog posts, I also recommend choosing a keyword phrase that is at least three words or longer.
These longer keyword phrases are less competitive as they are more specific searches.
A lower competition keyword will improve the chances of your blog post appearing in the search.
RELATED: How to choose the right keywords for your target market
4. Write a catchy headline
You'll want to ensure that your blog post title includes your chose SEO keyword phrase and is catchy so that people click through on it.
The more appealing your headline, the more blog traffic you'll be likely to generate.
The more appealing your post headline is, the more blog traffic you'll be likely to generate. #blog #smallbusinessblog
Click To Tweet
There's a free marketing tool that you can use to come up with a catchy headline called, CoSchedule's Headline Analyzer.
You simply type your headline into the free marketing tool, and it will give you a score and suggestions for how you can make your headline more emotive to trigger a response.
Another way to encourage click-throughs is to include numbers in the headline.
It's a marketing tactic that you'll see many tabloid magazines and newspapers use, and it works in the same way for blog posts online.
5. Outline your blog post
Before you dive into writing your post, it's a good idea to have a rough outline.
This outline will help you with making sure the copy flows and that you have covered the most critical elements.
It can sometimes even help with overcoming writer's block.
I usually jot down a few dot points or sub-headings that I know I want to write.
And, if I need to, I will also do some research at this point to help me with populating and writing my blog post.
6. Capture your audience with the introduction
I recommend focusing on your ideal client's biggest pain points in the introduction to help them realise they're in the right spot and that you can help them.
You may choose to start with a question or a thought-provoking statement that will want them to read more.
It's also good from an SEO-perspective if you can include your chosen keyword phrase in the first sentence or two.
Also, you'll want to outline the content contained within your blog post, so the reader can decide if they're going to keep reading.
Include a summary of the key points and what readers can expect to learn from the post.
7. Use sub-headings to improve readability
When writing for online, you'll want to adapt the style slightly, so it's easier to read.
Two of the elements that will improve readability is to use sub-headings and shorter sentences.
Highlight the sub-heading that breaks up the text into smaller sections by either bolding or changing the font type to a <h2> or <h3> heading as an example.
A lot of people scroll when they're reading online, as they're often reading on a phone or tablet.
So, the sub-headings will help them pick up what the blog is about when they're scrolling.
If you have WordPress, then install the plugin Yoast for SEO which will help you identify where you can enhance your writing style for online.
You can also improve your SEO by ensuring that you have your primary keyword phrase in at least one of your sub-headings.
8. Add internal and external links
Adding internal links to your blog will help with your SEO as it will encourage the reader to stay longer on your website.
A longer site visit indicates to Google that the content is relevant and of value.
Another reason why you'll want internal links is that it can help you to promote your services.
Now, adding external links may feel a little odd as you would be sending people away from your site.
However, if you're selective with the links you add, then it can work in your favour by boosting authority for your website and business.
You'll want to ensure that you're not sending visitors to a site that may have links or information about your competition (where you could end up losing a lead).
However, linking to sites that have complementary or useful information will only help your potential client.
An example of this is the external links that I've placed in this blog post to marketing tools.
Finally, you'll also want to ensure that any links you add to external sites open in a new tab.
When they open in a new tab, the visitor won't lose your website entirely as it will still be there in their browser.
9. Summarise your post with a great conclusion
Often the conclusion to your blog post can be just as important as your introduction.
This is because many people will scroll to the bottom of a blog post and read the conclusion before they decide if they want to read the whole article.
Out of habit (and perhaps impatience), people are keen to know the answers as fast as possible.
Therefore, ensure you are finishing off your blog posts well.
You can do this by summarising the key points of your blog post, and perhaps also telling them about the next steps they can take to find out more, or how to work with you.
Another effective way to conclude a blog post is to finish with a question.
Asking a question can encourage comments below the blog post and generate engagement which is essential for making sales.
10. Proofread your blog post copy
It is so important to proofread your blog posts before you hit publish!
You want to ensure that your website looks professional and there are no sloppy errors.
It is so important to proofread your blog posts before you hit publish! You want to ensure that your website looks professional and there are no sloppy errors. #smallbusinessblog #blog
Click To Tweet
I use the tool Grammarly to help me with any spelling or grammar issues.
I also find that it's helpful to write a blog post on one day, and then wait until the following day to proofread it.
Another option is to outsource to a professional proof-reader and editor.
11. Insert a content upgrade or lead magnet to capture leads
Your blog is an excellent location for collecting leads and growing your email list.
And one of the best ways to do this is with a content upgrade or lead magnet.
This is a downloadable PDF or checklist as an example, that's closely related to the blog post and gives the reader the next step they are searching for help with.
I recommend inserting the download at the top, middle and bottom of your blog post.
That way, if someone doesn't read to the bottom, they will have at least seen it at the top.
Another excellent place for lead magnets is in the sidebar of your blog page.
RELATED: What is a lead magnet? (And how to create one that works)
12. Incorporate links to promote your services
With each blog post, I recommend identifying a service that would be suitable for the visitor who is reading it.
There will be opportunities throughout the blog post where you could link to the service you sell.
You may link to your sales page by either highlighting some text within a sentence or adding a promotional banner.
Or, you could be more prominent and write a sentence asking people to visit the page where they can find out more about your services.
13. Include a feature and post images
When you share the URL for your blog on Facebook or LinkedIn, and image will appear for the post.
This image is your feature image, and there is an option to add one for every blog post.
I recommend a size of 1200px x 633px for your feature image so that it shows up correctly on social media.
You'll also want to make sure all your feature images are consistent in size as they will appear alongside each other on the main page for your blog.
It's helpful for SEO to also include additional images within your blog post as images are searchable too.
Be sure to add your primary SEO keyword to the file name and Alt field of the main image on your blog post, so Google can tell what the image is.
14. Update your SEO title and meta description
Every blog post has a text field for a title and a meta description which you can find within your website theme or you can use the Yoast plugin if you have WordPress.
These two fields appear when your blog shows up on the Google search results.
They also show when you share the URL on Facebook or LinkedIn as a post.
It's essential to include your primary SEO keyword as close to the front of your post title as possible to help get ranked by the search engines.
And that you include your SEO keyword in the meta description.
If you share your blog posts on Pinterest, it will also pull through the post title and meta description for your PIN.
This information makes it a 'rich pin' with more data sitting behind it, which will help your blog to be found on Pinterest by your target market.
15. Encourage social media sharing
Once you hit publish on your blog post, the next step is to promote it everywhere!
But you don't need to do it all alone.
You can ask and encourage your readers to help promote your post for you.
At the end of every one of my blog posts, you'll probably notice that I ask readers to share my post on Pinterest and Facebook.
And that I've added the social sharing buttons to my blog to make it easier for my readers to share my content.
I use the WordPress plugin AddToAny for my social sharing buttons which is a free plugin.
Also, I use the plugin Better Click to Tweet to encourage my readers to share my blog on Twitter.
RELATED: 30 Marketing tools every service-based business should know about
So, there you have it. My step-by-step process for writing a great blog post for your website.
However, writing great blog posts is just one way that you can optimise your site to grow your traffic and improve your Google ranking.
There are also other activities and tools that you can implement to build your authority, nurture your leads, and generate more sales.
In my 1:1 training – Optimise your Website for Growth – I cover the fundamentals of what makes a good website, so that your business website ranks well on Google, gets increased traffic, and generates more leads.
Click here to learn more and find out if it's a good fit for you and your business.
Did you find this post helpful? Please don't forget to PIN to Pinterest or share on Facebook.