What is a lead magnet? (And how to create one that works)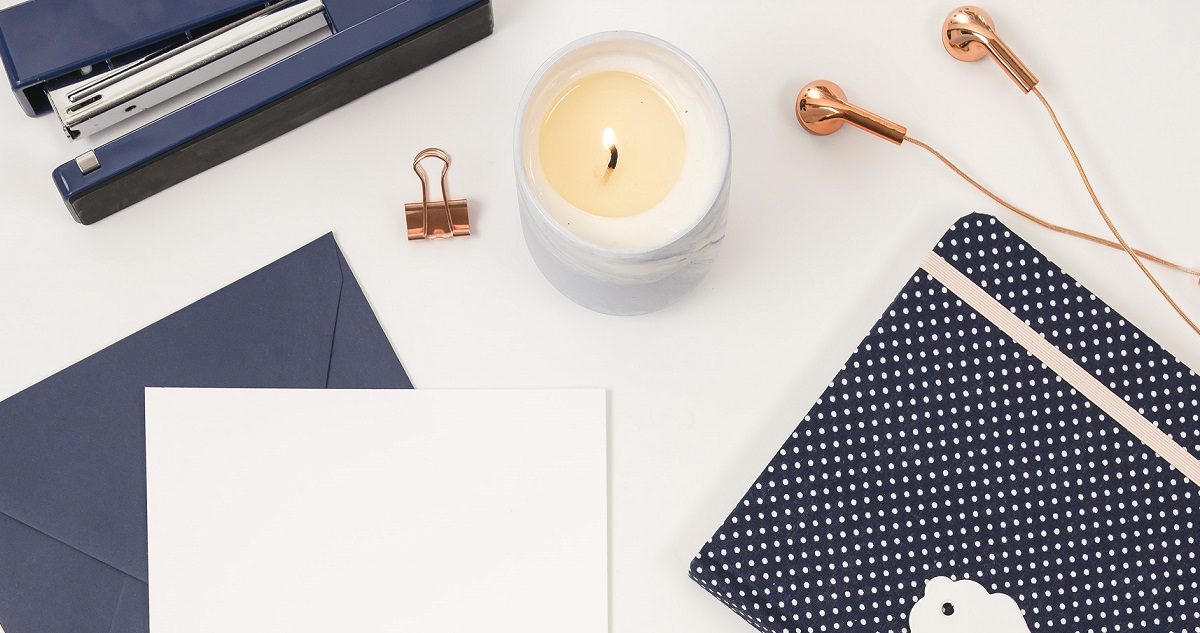 You've probably heard the term, but may still be wondering what is a lead magnet?
A lead magnet is an offer or a free downloadable piece of information that's designed to attract your target market.
It will contain information or an offer that is of high value to your target market and is exchanged in return for their email address or other contact details.
Both retail and service-based small businesses can create lead magnets to attract clients and generate leads.
They are often placed on your website to capture the contact details of visitors to your site.
A link to your lead magnet may also be placed in areas such as on your social media profiles or in online advertising.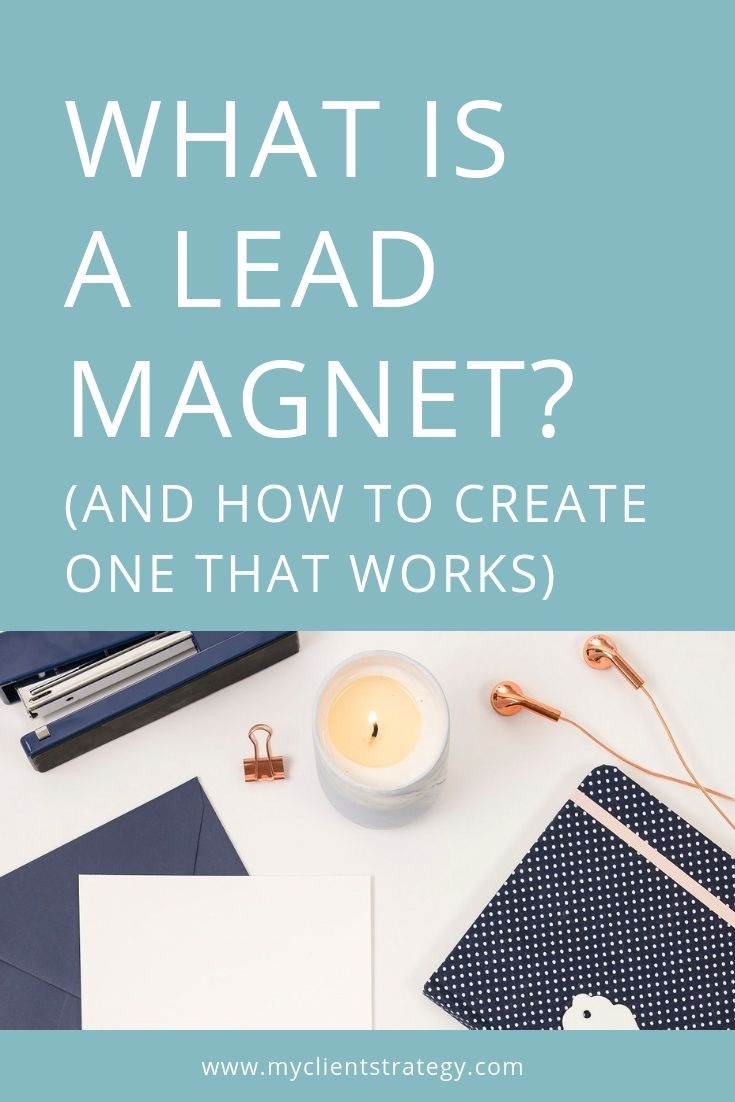 What types of lead magnets are there?
There are several different formats for a lead magnet, including PDF checklists, E-guides, worksheets, workbooks, and cheat sheets.
Alternatively, a lead magnet could be a discount offer, a free consultation or trial, or an invitation to an event or webinar as just a few examples.
With so many different formats, it can become overwhelming when trying to decide what type of lead magnet to create.
However, there are a few elements that will ensure that you're creating a lead magnet that will work.
So, what is a lead magnet and how do you create a lead magnet that's effective?
Well, to be effective, a lead magnet must:
Contain information or an offer that is of high value to your target market
Provide your potential client with what they want or need
Have alignment to the products and services that you sell
Include a catchy title or description to pull people towards it (like a magnet)
Be simple to opt-in to and receive
In the blog post below, I've outlined each of these lead magnet essentials and provide tips for how to create a lead magnet that actually works:
Creating a good lead magnet starts with really understanding your target market.
And, finding out what they would find valuable and helpful now.
As such, before creating your lead magnet, be sure to conduct solid market research on your target market.
And review the types of lead magnets that your competitors are providing.
Consider what questions your target market may have about your types of services and the problems and pain points they may have.
Also, seek to understand what they want, need, and value in the solution that you provide.
When you understand what your target market is struggling with, and what they want and need to solve it, then creating a lead magnet becomes so much easier.
It's simply providing an easy-to-consume offer or piece of information that helps them to solve a specific problem that they're struggling with now.
My tip here is to choose one problem rather than trying to create a lead magnet that solves everything your target market is struggling with now.
RELATED: How to define a target market for your service-based business
Not sure where to start when it comes to marketing your service-based small business? I can help with that. Download my free Ultimate Marketing Checklist by simply clicking the button below.
Align your lead magnet to the services you sell
While it would be great to generate hundreds of leads with your lead magnet, it's important to remember that you only want to get the right kind of leads for your business.
There's no point in having a list of names and contact details if they're not going to ever buy from you.
As such, think about where your potential clients are now and what the gap is between there and purchasing your services.
What steps or commitments would they need to make before working with you?
You want to choose a lead magnet topic or idea that closely aligns to your niche or area of specialty.
That way, you know that the clients opting in for your lead magnet are interested in your types of services.
They may be ready to buy now, or they may be at an early stage in their buying journey.
Either way, collecting leads from potential clients who are at different stages will help to build your sales pipeline.
I also recommend creating a nurture sequence of about 5 – 7 emails that you can automate and send to your leads over the following week or so.
This ongoing engagement is essential because it provides you with an opportunity to showcase your expertise and position yourself as an authority in your niche, which will ultimately lead to sales.
Qualify your client leads using a lead magnet
Your lead magnet design can assist you with filtering your leads down to a list of those who are serious about working with you.
Your lead magnet design can assist you with filtering your leads down to a list of those who are serious about working with you. #marketing #leadmagnet
Click To Tweet
It also removes the need for you to chase clients, as leads will come to you instead.
With a well-designed lead magnet, you won't need to spend as much time:
Following up leads that are unlikely to convert, and
Introducing yourself as they'll already be somewhat familiar with what you do
Sometimes business owners can be worried that they may be giving away too much information for free and as a result miss out on making a sale.
However, the opposite is the case.
When you provide free, and importantly, valuable information, your clients will be grateful that you've helped them.
This helpfulness builds trust, which is critically important for building relationships and making sales.
Keep in mind that your lead magnet is not going to contain everything that you're selling.
Instead, it will only contain a simple solution to one of their specific pain points.
It enables your potential clients to sample or trial the expertise or services you sell, without having to take any significant risks.
It's a great way to showcase your expertise and build your brand as an authority.
Not sure where to start when it comes to marketing your service-based small business? I can help with that. Download my free Ultimate Marketing Checklist by simply clicking the button below.
Consider what format should you choose for your lead magnet design
To determine what format you should create, think about where your potential clients are now, and what pain point they are struggling with.
Do they have a lack of knowledge, or are they time-poor?
Alternatively, are they apprehensive about spending money on your services and could you overcome that objection with a limited trial offer?
Some lead magnet design formats that work better than others, depending on where your target market is now.
As an example, if your target market's pain point is being overwhelmed or confused about where to start, then a checklist would be helpful.
It would give them a starting point for what they should do first and a guide which they can check off as they complete each task.
Alternatively, if your target market were time-poor and would value a shortcut, then a step-by-step 'how to' guide would be useful in solving their problem.
For retail services, a free trial period or a percentage discount offer would generate leads and enable you to overcome any fears or objections about signing up for a longer or larger program.
And, as a final example, if your target market wanted detailed information or a complex solution explained, then running an online webinar or an information session where they could ask questions would be useful.
Create an eye-catching headline
Your lead magnet design needs to be eye-catching and appealing to draw your target market in, much in the same way as a magnet would work.
In other words, in an online environment, it needs to be 'clickable.'
Therefore, the headline is one of the most critical parts that you need to focus on.
For inspiration, think about how news websites and magazines create their content and the headlines they use to promote them.
The next time you're in the supermarket, take note of the headlines which appear on the front of the magazines in the stand.
Which ones catch your eye?
I'm guessing the story headlines with numbers in them stand out effectively, as well as the headlines that include emotive, curious, or shocking words to capture attention.
There's an online tool I recommend that can help you to improve the quality of your headline called CoShedule's Headline Analyzer.
It's free to use and will help you add that emotive language.
The final tip I have for creating an eye-catching headline is to add your target market to the title.
For example, if you wanted to attract service-based business owners, you could include 'service-based business owners' in the title.
Make it simple to opt in for your lead magnet
Even though your lead magnet is free, there's still a commitment of time that your ideal client will need to make to access your offer or information.
Visitors to your site will also have a perceived risk that they may receive unwanted spam emails in their inbox.
As such, you need to make it as easy as possible for your target market to give you their details.
If you put in too many steps or distract them with unnecessary information, then you may lose them during through the sign-up process.
To maximise the number of leads that you generate from your website, keep your lead magnet opt-in form incredibly simple.
Unless necessary, limit the information you collect to a first name and email address only.
If you start asking for too much information, then they will become hesitant and not opt-in.
Another strategy that I recommend is to create a landing page where your target market can enter their details.
One of the main reasons why a landing page works so well is because there are no distractions.
The only thing that you are asking visitors to that page to do is to sign up for the lead magnet.
Finally, remember to check the privacy laws within your region to ensure that you are compliant.
Including a link to your privacy policy on your sign-up form or landing page is a great way to show people that you take their privacy seriously and can help with capturing more leads.
RELATED: How to build an email list when you're first starting out
In summary, to create a lead magnet design that works, follow these steps below:
Research your target market and competition
Identify a pain point or problem that you target market needs help with
Consider what lead magnet format would be best for your target market
Create your lead magnet content, showcasing your expertise
Set up a simple sign-up form and/or landing page to make it easy to opt-in
Have questions? That's OK. Let me know what your questions are in the comments below.
Tired of trying to figure out what you're missing when it comes to finding clients and making sales in your service business?
Break through the barriers that are holding you back with the support of an MBA-qualified Marketing Coach and Business Mentor who will tailor a 1:1 program specifically for you.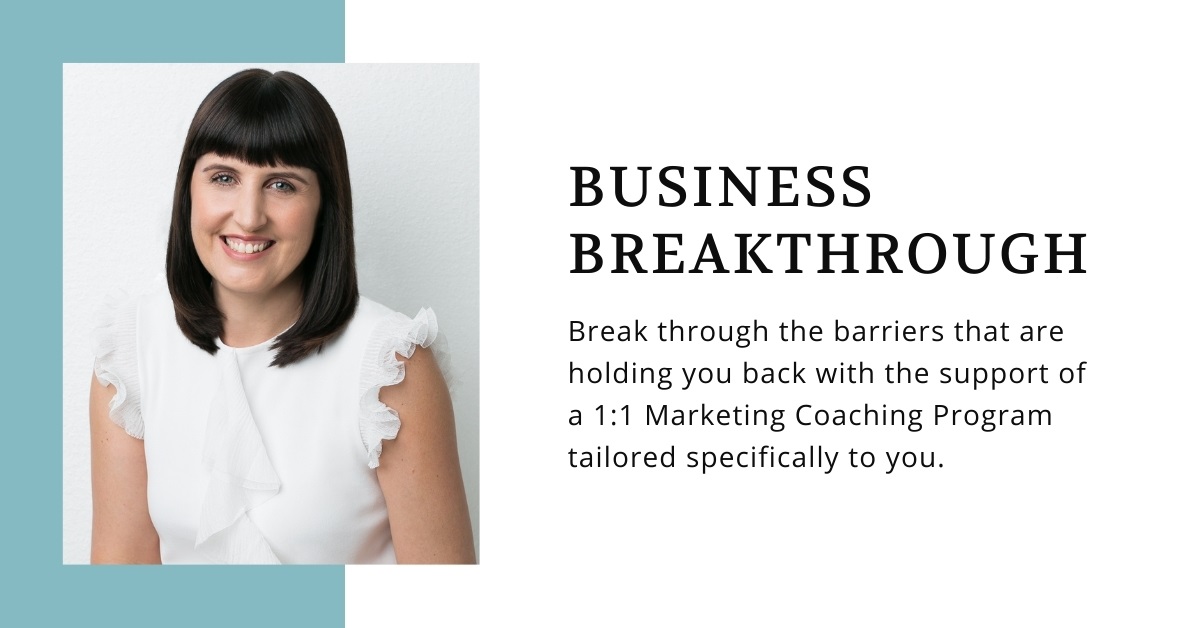 BUSINESS BREAKTHROUGH is a 3 or 6-month 1:1 Coaching Program for service-based business owners who want to develop the strategy, systems, and structure they need to find clients and make sales, so they can stop feeling stuck and start gaining massive momentum in their business.
Did you find this article helpful? Please don't forget to PIN it to Pinterest.