When you're a service-based business, your website is such a critical part of your online marketing strategy.
It's your 'storefront' and where you welcome potential clients.
It's also the place where you field enquiries, generate leads, confirm bookings, and sell your services.
As such, there are many things that you need to get right, especially if you want to grow a successful business.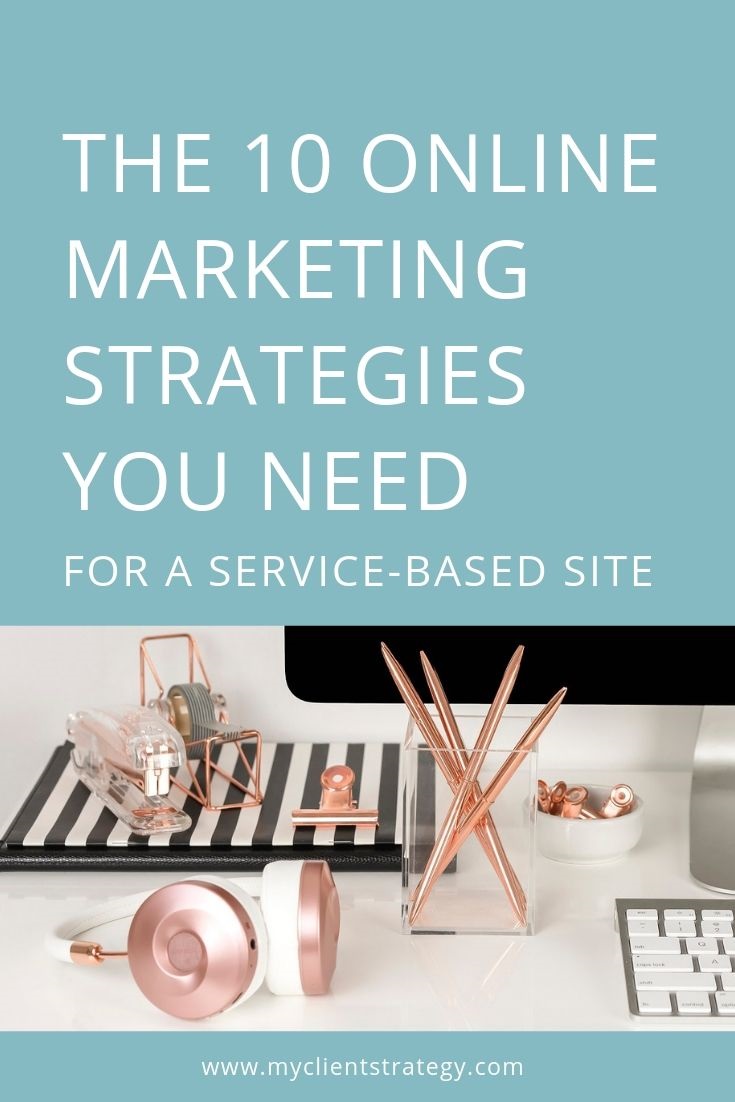 So, where do you start?
What online marketing strategies do you need to ensure you have a great site?
Well, here's a list of 10 online marketing strategies that I recommend every service-based business website should use:
1. Use a Headshot / Photo of you
Yes, we need to all see your smiling face!
Also, it needs to be a professional-looking photo, not one that you had a friend take for you.
Investing in headshots for your business website is a wise decision.
It immediately says you take your business seriously and you're confident to put yourself out there.
People also buy from others they know, like, and trust.
If your potential clients have no idea what you look like, then it's difficult to start building that connection you need to close the sale.
Ensure there is a photo of you on the 'Home' page (ideally upfront so that people can see you as soon as they arrive on your site) as well as on the 'About' and 'Contact' pages.
These are the pages that potential clients visit when they want to find out more or reach out.
2. Add SEO Keywords to every page
There's no point in having a beautiful website if no one sees it.
Also, while you can pay to drive visitors to your site, free traffic is even better!
The best way to get your website found by the search engines is to use keywords that people are likely to type into Google when they are searching for your types of services.
Start by setting up a spreadsheet and writing down each of the pages and posts you have on your site.
Then, next to each one, write a keyword or a keyword phrase (2 – 4 words) next to it.
Make sure each keyword phrase is unique and that you don't duplicate any.
Enter these keywords at the beginning of the Title Tag for each respective page or post.
A title tag should be around 60 characters (including spaces). Use separators and add your company name or other relevant words where required.
Also, write a Meta Description for each page of around 150 characters.
If you're using WordPress, then the Yoast plugin makes this easy for you.
When it comes to your images, make sure you're also using keywords in the file names and Alt Image Tags as well.
RELATED: How to choose the right keywords for your target market
3. Include a Privacy Policy (so you can collect email addresses)
A privacy policy is essential if you are receiving and storing personal information (for example, someone's email address).
If you're marketing to visitors to generate leads or grow an email list, be sure that you have a privacy policy page and link to it in your footer.
You can pay a lawyer to write a policy for you, or there are also templates available online that you can search for and purchase at a lower cost.
A link to your privacy policy on your sales pages, opt-in forms, and marketing pop-ups can also help to increase the collection rates for email addresses.
It shows that you are a professional business and that you take people's privacy seriously.
RELATED: How to build an email list when you're first starting out
4. Promote an irresistible lead magnet
One of the essential functions of a service-based business website is to generate leads.
And promoting a lead magnet is a perfect and effective way to do so.
It's important to make sure that you have your lead magnet placed on the home page. As well as on your blog posts and the other pages throughout your website.
I recommend promoting your lead magnet in at least three places within each blog post.
Use pop-up technology to promote your lead magnet and take advantage of the space in your blog sidebar by adding a promotional banner.
You may feel like it's overkill, but these days people are often scrolling on websites via their phone and may not get to the end of a blog post.
You'll increase the chances of it being seen if you also have a link at the top and in the middle of your blog.
RELATED: 3 Types of Lead Magnets that are Perfect for Service Businesses
Not sure where to start when it comes to marketing your service-based business? And what you need to do to attract your ideal clients? The Ultimate Marketing Checklist makes it easier for you. Plus, it's free to download:
5. Write a personal story for your 'About' page
As a service-based business owner, you are likely used to promoting and selling yourself. And nothing sells better than a good story!
To build a stronger connection with your potential clients, add a personal story to your 'About' page.
Detail who you are or how you came to start your business as well as the struggles you've overcome.
By being open and sharing your story, it will help to fast-track the business relationship and build a stronger sense of trust.
6. Include a 'Work with Me' or 'Services' page
This is one of those online marketing strategies that are easy to miss. Especially if you have a portfolio also included on your business website.
Now, you may be wondering what the difference is.
A 'Services' page outlines what you sell, while a 'Portfolio' page or pages highlight what you've done.
A portfolio is a little more like a testimonial or reference page than an actual sales page.
On your 'Work with me' page it's essential that you highlight what you sell, as well as the process for how people can work with you.
Often people may not be aware of how someone works or what the process is once they purchase your services.
If you can lay this out in easy-to-follow steps, then it helps to make the sales process easier for them (and simpler for you to overcome sales objections and close the sale).
RELATED: 15 Ways to drive traffic to your small business website
7. Add a Contact Page
Again, another one of those online marketing strategies that are easy to miss. Although, sometimes it's not included on purpose.
Which is such a shame as it's an easy and great way to generate leads!
Some service-based business owners are a little fearful to add a 'Contact' page because they don't want people to know where they live (if working from home), or they don't want to get caught off-guard by a client ringing them without any notice (it's much easier to get emails first).
Well, there is a way to get around this, and that's by ensuring that you have a contact form present on your site and only include a broad or regional location.
Not adding a 'Contact' page is a big missed opportunity to generate leads and one that is essential on any service-based business website.
8. Use tracking pixels and codes for remarketing
At some point, you're likely to want to run paid advertising to your site, and these days, remarketing is one of the more cost-efficient ways to do so.
If you don't know what remarketing is, it is a form of advertising which shows you online ads based on your website history (which was captured and stored by the tracking codes).
Have you ever visited a website and then seen an ad for that same product or service appear in your Facebook feed or on YouTube? That's remarketing.
If you have one crucial task to do today, then it's to install the Facebook Pixel and Google Remarketing Tags on your website.
There's also a Pinterest Conversion Tag if you're on Pinterest.
You'll be able to find out how to install these tags on your site from the respective support pages.
Even if you aren't ready to use paid advertising as one of your online marketing strategies, you should still install the tracking codes as soon as possible.
The pixel will start collecting data straight away, so this will enable you to build up a more extensive history of people who have visited your site.
RELATED: How to write a marketing plan for a service-based business
9. Install Google Analytics and Google Search Console
If you want to know how to improve the marketing performance on your website, then installing Google Analytics and Google Search Console is a must.
It will provide you with all the metrics and indicators you'll need to measure the success of your marketing campaigns and the interest in your content.
You'll be able to see what keywords are effective in driving organic traffic to your site from the search engines.
Also, you'll be able to see what pages are visited most on your site and what pages are not getting any traffic.
With this information, you'll know what changes to make to try and lift the traffic on those pages that aren't receiving visits.
It will also help you with your content marketing strategy as you'll be able to see which blog posts are the most popular and what your audience wants to read.
Another great Google tool that will also improve the ranking of your website is Google My Business. Add your business listing to Google My Business to get included on the Google Map.
These tips and more are all included in my 72-point Ultimate Marketing Checklist. Grab your free checklist today by simply clicking the button below:
10. Ensure you have Security and Back-up your site
Although this is not necessarily one that you would put on your online marketing strategies list, it's an absolute must-have for your service-based business website.
It could be disastrous if someone hacked into your site or you had a privacy breach which meant taking down your website.
It would have an immediate negative impact on your marketing activities, brand reputation, and sales results.
Also, backing-up your website and database are critical to ensuring that you have something to fall back on if the worst were to happen.
So, there you have it – the 10 online marketing strategies that every service-based business website must have.
How does your site measure up? Are there any that you may have missed when setting up your site?
Leave a comment below and let me know if there are any changes that you're now going to make.
Want more marketing tips on how to attract consistent clients and grow your service business?
Well, that's where I have a Free Marketing Masterclass that you'll find helpful: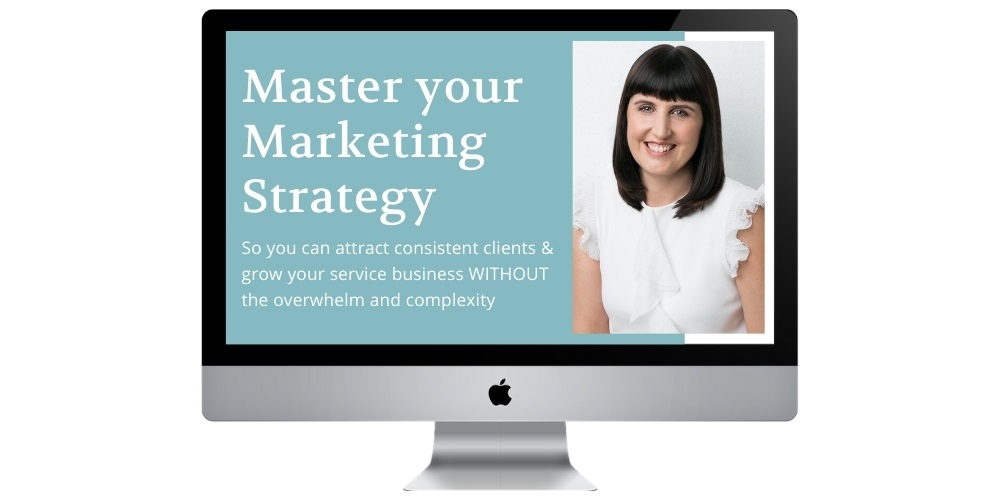 In this Free Marketing Masterclass, you'll learn:
The 3 BIGGEST marketing mistakes I see service businesses make that leave you stuck and spinning around in circles in your business, and…
My simple 5-step Marketing Framework for mastering the marketing strategy, systems, and structure you'll need to attract consistent clients and grow your business WITHOUT overwhelm and complexity!
Get started with this free masterclass now by clicking the button below to register:
Find this article helpful? Please don't forget to PIN to Pinterest and share on Facebook.