Is building a new irresistible service offering on your to-do list?
And have you been struggling to find the time to create it?
Or are you not quite sure where to start?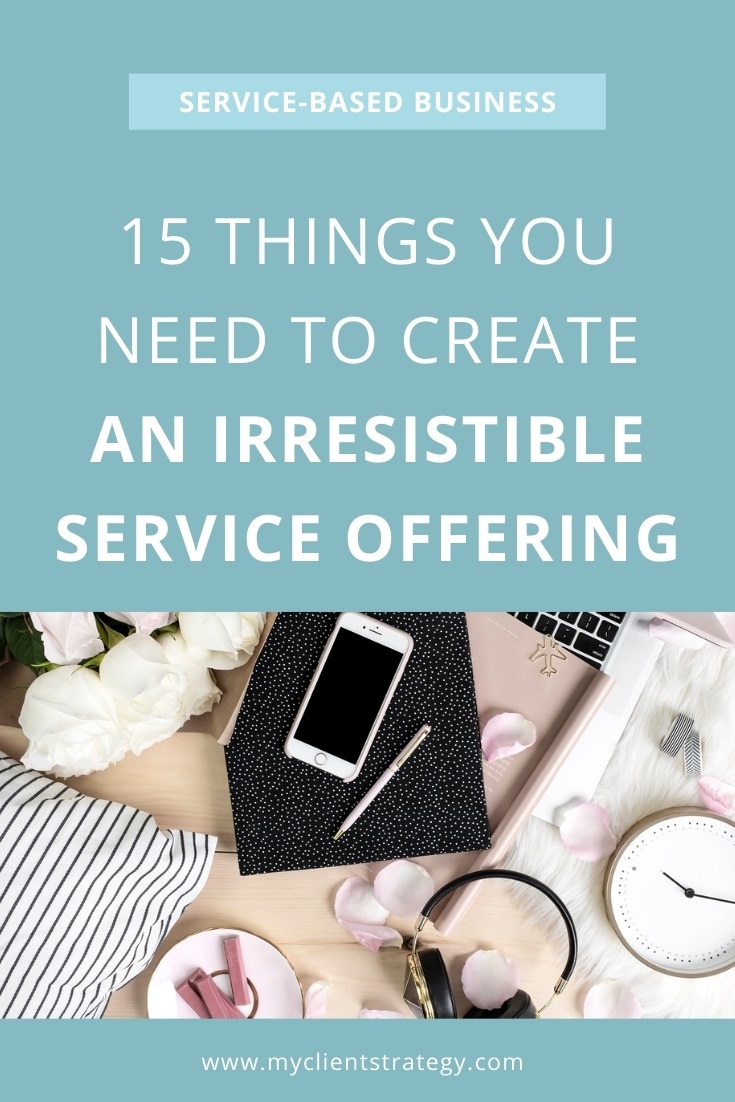 Perhaps you've already created a signature service, program, course, or membership, but unfortunately, it hasn't quite hit the mark with your ideal clients…
And you don't have a line-up of people waiting to work with you.
So, are you ready to change all that?
To make NOW the time when you create a signature service offering that attracts consistent clients to your service business (and delivers the higher revenue to ensure your business is sustainable)?
Yes? Brilliant!
In that case, I have created this list of all the things that you MUST HAVE to create a service program or package that will have your clients saying YES!
1. You need a target market definition
To start with, you need to have a defined target market in mind.
When you have a target market definition, it will help you to determine what you should include in your service offering and what messaging you should use to promote it.
It will also help you to position your service offering within a price range that they can afford.
I recommend conducting as much target market research as you can so that you can input their feedback and ideas into your service development and creation.
The best way to do this is to speak with people who match your target market profile.
If you're not sure how to conduct target market research, then my free masterclass will help: How to research your target market (even if you don't know where to find them).
2. You need to conduct competitor research
Every service business has competition, so it's crucial that you also look around at what other businesses are offering in your niche.
While you don't want to copy anyone else, competitor research can provide valuable inspiration and ideas for the types of services you could create.
Competitor research is also an excellent way to validate what type of services sell well in your specialist area.
RELATED: 10 Simple ways to research your target market

3. You need a solution to a problem
You've probably heard a million times that you need to find your target market's biggest pain point or problem.
Well, the reason for this is because it will help you to decide what service – or solution – you should design for your clients.
If it's easy for your clients to tell what type of solution you will deliver for them, then they will be more inclined to trust you and part with their money!
RELATED: 7 Social Media Post Ideas to Sell your Signature Program
4. You need a specified timeframe
Clients will want to know how long it will take for them to get results that you are promising.
(Because we all want results as soon as possible, right!)
So, your service offering will be more appealing if there's a timeframe that will set their expectations.
Consider where your clients are now. And where they will be once you've finished working together, or once they've completed your course as examples.
Another way to think about this is to consider how long it will take your clients to solve the pain point or problem that they have.
Once you've pinpointed the appropriate timeframe for you to work together with your clients, you'll quickly be able to determine how long your course or program should be.
5. You need a memorable name
Some people find coming up with a course or program name tricky, but it doesn't need to be.
Just think deeply about what your clients WANT from you and your business.
Do they want to move forward, increase revenue, resolve an issue, be more productive, improve their happiness, save money…? I could go on and on, but I think you get the idea.
Next, brainstorm a list of words that relate to what your clients want and choose one that you think will be the most suitable.
Finally, play around with your wording until you land on a catchy, memorable name that will resonate with what your clients really want.
Alternatively, reach out to a copywriter for support. My copywriter helped me to come up with the name for my 1:1 signature coaching program – Business Breakthrough.
Now sure where to start when it comes to growing your service-based small business? That's where I can help. Click the button below to register for my FREE masterclass:
6. You need a transformational description
Your clients will be more willing to pay for your services when they can see an evident transformation.
In other words, what results will you help them achieve? And what changes will you help them make?
They will want to know and trust that you can get them from where they are now, to where they want to be.
So, describe the transformation that you will be able to help your clients achieve and use this in your marketing messages and materials to help attract your ideal clients.
7. You need a list of what your service includes
A list of inclusions is slightly different to your transformational description in that it spells out what your clients will GET for their investment.
I recommend coming up with around five or so dot points that summarise what your service offering includes.
These inclusions could be sessions or appointments, email support, templates, resources, done-for-you services, video training, invitations to events, and an action plan as examples.
When listing out your inclusions be sure to include numbers where appropriate (i.e. the number of sessions or training videos), so that your clients can quickly add up in their head and put a value next to each inclusion.
8. You need to show lots of value
When you're putting together a signature service, it will be irresistible to your clients when they can see lots of value in what you're offering.
Keep in mind that value is different to price.
VALUE can also be time saved, or connections made or intangible benefits that your clients will continue to see value from long after you've finished working together.
So, be sure to explain in detail on your website sales page or services guide EVERYTHING that your client will receive.
And what time they could be wasting or things they could be missing out on if they don't choose to work with you.

9. You need to add in a bonus promotional offer
Another way to show lots of value when creating your irresistible service is to include a bonus offer.
As examples, maybe you will throw in an extra 1:1 session with you, or a special event invitation, guide, or resource.
Also, you could use this bonus as part of a special promotion such as an early bird or fast action bonus for those who enrol or join by a specific date.
A deadline creates additional urgency, which is a great way to encourage clients to act and take that final step.
RELATED: 10 Ways to add a service-based bonus offer to drive sales
10. You need to make it easy to buy
An easy-to-follow application or enquiry process is a must for your service to be irresistible.
Include prominent 'Apply Today' or 'Buy Now' buttons on your website, which makes it easy for your clients to opt-in to your service.
Also, invest in the right tools and systems that can help you to make the sales process smoother and more secure for your clients to buy.
11. You need to have an informative sales page
You don't want to leave your client with questions about your service when they're deciding whether to work with you.
So, you must have an informative sales page for your service offering.
A well-designed sales page will also make your discovery call or initial consultation so much better, as your client will not have as many questions and will be further along in their decision-making process.
This enhanced process will mean less time converting sales and an improved conversion rate from your sales calls!
RELATED: 3 Sales copy tips for creating a sales page that converts
Now sure where to start when it comes to growing your service-based small business? That's where I can help. Click the button below to register for my FREE masterclass:
12. You need affordable pricing options
Depending on who your target market is, affordability may or may not be an issue.
However, there is a way to remove affordability as a barrier by offering a payment plan alongside your upfront pricing.
Payment plans also provide an opportunity for you to charge a premium and generate some additional revenue.
While at the same time making it easier for your clients to manage their cashflow.
13. You need flexible payment options
You can make your service more appealing by providing flexible payment options for your clients.
This could mean providing an option to pay by either credit card or direct transfer.
Another option which is quite popular with clients for online payments is PayPal.
Yes, there are additional processing and transaction fees involved when you are taking online credit card and PayPal payments.
However, the more choice you give your clients, the less chance there is of you losing a potential sale.

14. You need responses to overcome objections
When you take away as much risk as possible for your clients to work with you, then you will significantly increase your service offering appeal.
Examples of ways to remove risk include offering a 30-day money-back guarantee and providing lifetime access to materials to give people more time to work their way through them.
Many sales objections relate to money and time, so think about how you will respond to the most common questions or objections you're likely to hear.
You will often see responses to objections feature in the FAQ section on a website sales page.
So, if you're wondering what type of responses you need to prepare, review your competitor's sales page for ideas.
RELATED: How to overcome sales objections, including "I can't afford it"
15. You need testimonials and social proof
Trust is a huge factor when selling services, and client testimonials and social proof are brilliant for helping you to build trust with potential clients.
When you've finished working with a client, be sure to ask them for a testimonial that you can include on your sales page or website to assist you with future service promotions.
It will add significant credibility to your signature service and help you make it irresistible to your clients.
RELATED: How to use testimonials in your content marketing strategy
So, there you have it. 15 things you need to create an irresistible service offering that your clients will be saying YES to!
Want to master your marketing strategy – quickly and easily – so you can attract consistent clients and grow your service business?
Well, that's where I have a Free Marketing Masterclass that will help: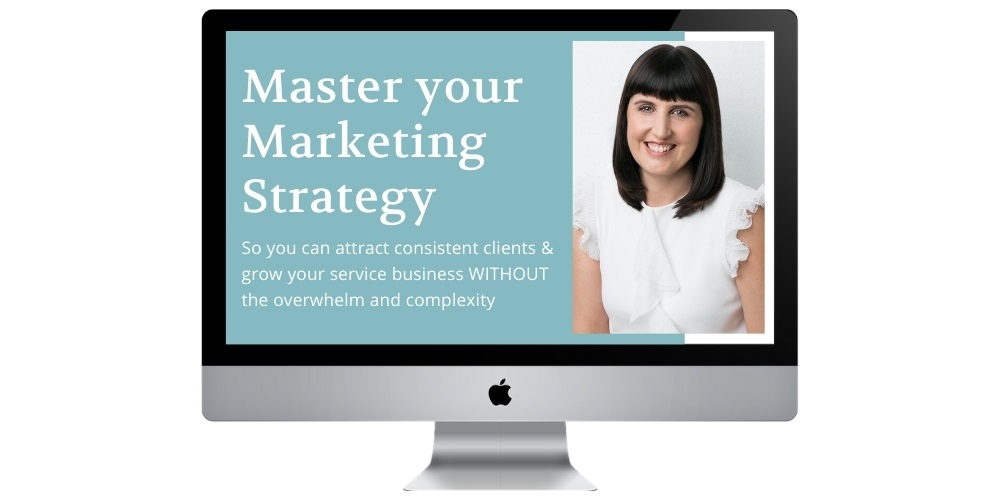 In this Free Marketing Masterclass, you'll learn:
The 3 BIGGEST marketing mistakes I see service businesses make that leave you stuck and spinning around in circles in your business, and…
My simple 5-step Marketing Framework for mastering the marketing strategy, systems, and structure you'll need to attract consistent clients and grow your business WITHOUT the overwhelm and complexity!
Get started with this free marketing masterclass now, by clicking the button below to save your seat:
Did you find this post helpful? Please don't forget to share to Facebook or PIN to Pinterest.