It can be quite frustrating to hear 'I can't afford it' when you're on a sales call with a potential new client.
However, most of the time, it's usually not the money that's stopping them from working with you.
It's just an effortless sales objection to throw out there, so they can quickly end the conversation.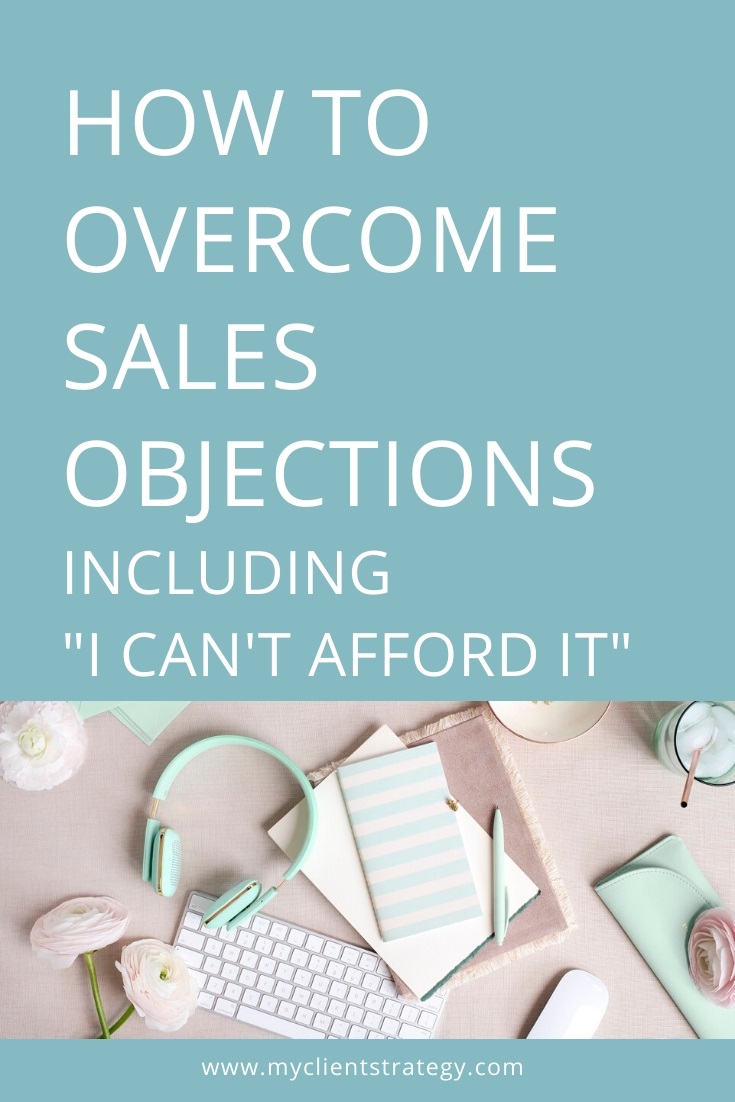 So, why are some leads using a lack of affordability as an excuse and how can you overcome sales objections?
Well, it could be for several reasons including that your potential client:
Can't see the benefits and value in your offering.
Doesn't trust that you can get them the results that you promise.
Isn't ready to commit to, or is fearful of, making a change.
Alternatively, your sales qualification process may have some gaps in it, that is letting through people who aren't a good fit for you and your business.
To understand what change you need to make to improve your sales conversion rates and overcome sales objections, let's unpack why you hear 'I can't afford it', and what you can do when that happens.
1. Your potential client can't see the value in your offer
If your potential client can't see the benefits or value in your offer, then this could be due to a few reasons.
Either, your offer is not as compelling as your competitors offer, or you're not communicating the value and inclusions well enough on your sales page.
Competitors are continually refining and updating their offers, so it's a valuable exercise to review what else is out there in the market.
Analyse the offers, inclusions, pricing, and bonuses that your competitors have.
Ask yourself, how do I compare?
Are there changes that you need to make to be more competitive?
Or any changes that you need to make, so that your offer is more relevant and valuable to your ideal clients?
If you're confident that your offer is positioned well in the market, then also review how you're communicating the value.
Do you list five or so key inclusions that describe what your clients will get?
And, do you communicate the transformation or change that your service will help your clients achieve?
To reduce the chances of a sales objection, make any necessary changes that you need to so that the value in your offer is clear.
RELATED: What is a sales page? (And the 10 things it must include to convert)
2. Your potential client doesn't trust you enough
During your sales call you may notice your client asking questions about your experience and the past clients you've worked with.
This could indicate that they're not quite sure if you can get them the results that you promise.
If you believe a lack of trust may be an issue for your potential clients, then there are several things you can do to overcome sales objections.
The first is to review how you're nurturing your leads and determining what else you could be doing to increase your engagement levels.
Are you contacting them regularly, via email and posting on social media?
Are you providing real value and coming from a place of serving others?
And, are you reaching out to your leads to start conversations that build trusted relationships?
Secondly, you could put more focus on sharing social proof, testimonials and case studies that demonstrate the results you help your clients achieve.
Client testimonials and reviews are essential for service-based business owners because there is a higher level of trust required.
Unlike product-based businesses where clients can see what they are buying, services are less tangible, and your potential client needs to trust that you will deliver on your promise.
3. Your potential client is fearful or not yet ready
Out of all the leads that you collect, there will only be a small percentage of people (around 2-3%) who will be prepared to buy from you at any given time.
Some of your leads will have found you because they were researching your services and are only in the early consideration stage.
Other leads will be further along in their buying journey but may also have other factors to consider before they're ready to commit.
As such, it's essential to understand where a potential client is on their purchasing journey when they reach out to you and make an enquiry.
As well as any roadblocks that they may have that are stopping them from moving forward.
When you have this knowledge, it will help you to identify what approach to take when you're on a sales call with them so that you can overcome sales objections.
One sales strategy that you can adopt is to ask the potential client to tell you about their journey so far, and why they are looking to make a change now.
Listen carefully, as your potential client will share with you the key pain point that they are experiencing now and the solution they are looking for.
Next, ask your client what would happen or what would the consequences be if they didn't solve this pain point.
When you ask them to outline in their own words what they want to change and why they want to make this change, then it helps to reinforce the importance of what they want to achieve.
This approach can help to overcome some of the fears that a potential client may be feeling.
If you hear other factors or roadblocks that may indicate your potential client is not yet ready to commit, then ask them what it would take for them to be ready to commit to making changes.
And, if they would like you to follow up with them in the future at a more appropriate time.
While you may not be able to close a sale with them on the current sales call, there could be an excellent opportunity to work together in future.
Just because it's a no, not now, doesn't mean the answer will always be a no.
4. Your sales qualification process has some gaps
While the first three issues above outlined other sales objections, which may be the real reasons why you hear 'I can't afford it', this issue is related to your sales qualification process.
By that I mean, the activities that you're undertaking to build your database of leads and the questions you ask before getting into a sales call with a potential client.
It's essential that you focus on building a quality list of leads, rather than the largest list that you can.
You can do this by creating lead magnets that closely align with the services you sell, and crafting messages that are targeted to resonate with your ideal clients.
Once you've applied this initial filter to qualify your leads as sales prospects, then there is a second process you can use to qualify your sales leads further.
That is, to ask potential clients to answer several qualifying questions before they get on a sales call with you.
One question that you can ask towards the end of your list is: Are you ready and willing to invest (in your services)? Yes / No
If your potential client has already considered investing before they speak with you, then you are less likely to hear the 'I can't afford it' sales objection.
There may also be circumstances where you're on a call with a potential client, but it wasn't set up expressly as a sales call.
In this instance, it may be more suitable to invite them to another call with you to discuss the possibility of working together.
Rather than mixing the conversations where you are giving free advice versus having a sales conversation.
If your potential client takes you up on the invitation to speak further, then you will have qualified them as a sales prospect and set up the sales conversation in a more structured way.
With a structured sales process, you'll be far less likely to hear 'I can't afford it'.
And, you'll have strategies ready to identify and overcome sales objections when they appear.
If you're wanting to attract more clients and close more sales, then what you need is a solid marketing foundation, and a structured sales process that will work best for your business.
That's where I can help. During my 3-month Marketing and Business Coaching program I provide the structure, support and accountability you need to attract more clients and grow your service-based business without the overwhelm.
I also provide access to my marketing toolkit (exclusively for coaching clients) which includes my proven sales script and process.
To find out more and apply for a free 30-min discovery call click here.
Did you find this post helpful? Please don't forget to PIN to Pinterest or Share on Facebook.