What is a sales page? (And 10 things it MUST include to convert)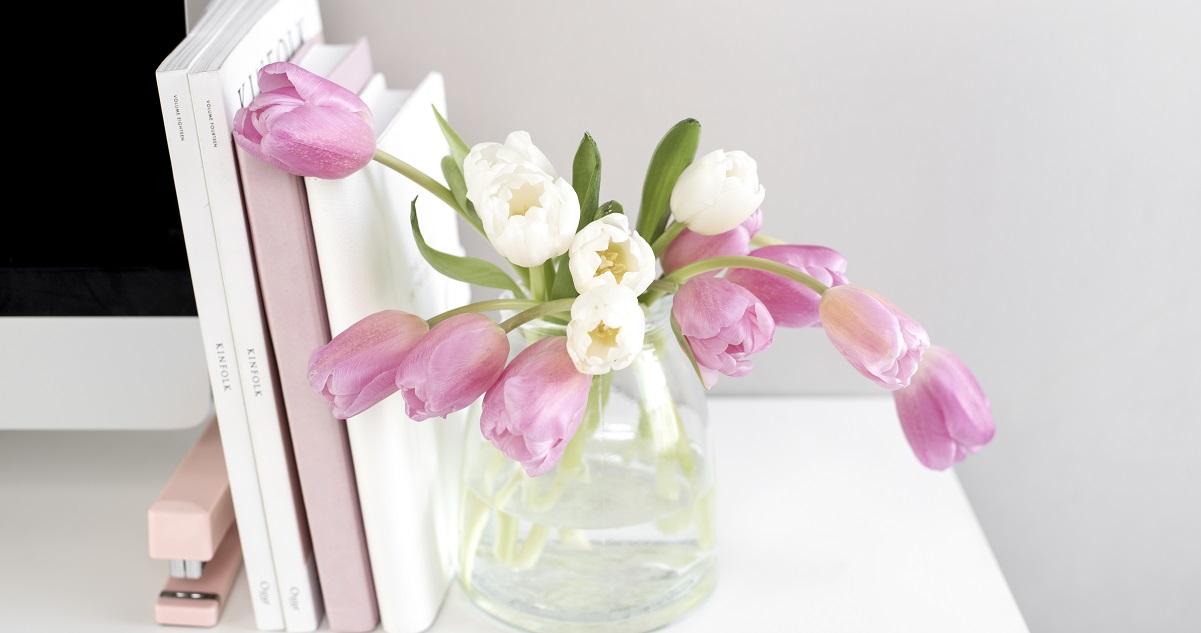 Today I want to answer a question that I get a lot, and that is… what is a sales page?
Which is often followed by a series of other questions including…
Is that different to a landing page?
What length does my sales page need to be?
And what should I include on my sales page?
Now I understand that there's a lot of marketing jargon out there.
Plus, it can be challenging to work out what you need to do.
And it can also be a little confusing to know what the difference is between a sales page and a landing page.
So, I want to clear things up.
A sales page is a standalone page on your website, that has one purpose – to convert your visitors to buyers.
It is a web page which outlines one of the services you sell and encourages clients to either book a discovery call with you or buy directly online.
While a landing page is a standalone page (hosted on or off your website) that also has one purpose – to convert your visitors to leads (on your email list).
Often, a landing page is where you would collect email addresses in exchange for a lead magnet.
It can be hosted on your site. Or you can also build landing pages via your email system (such as Convertkit) or a separately hosted landing page builder (such as Leadpages).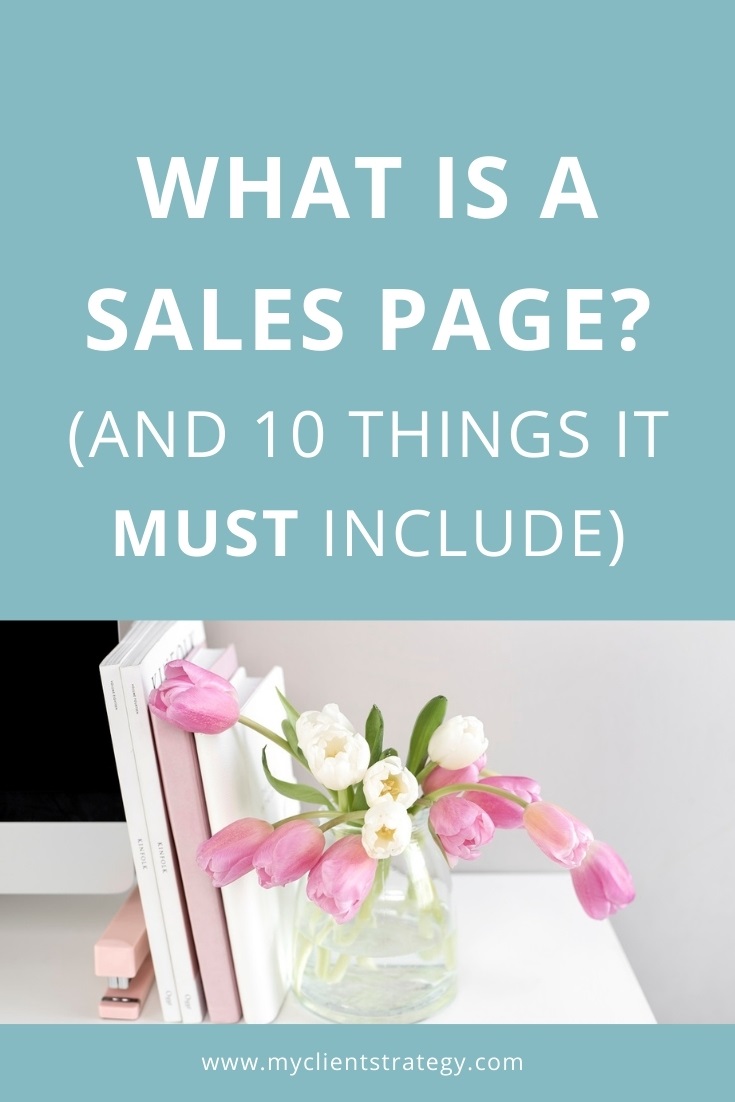 Now that I've explained the difference between a sales page and a landing page, I want to delve a bit deeper and unpack what you need to build a sales page that converts.
I'm going to discuss the benefits of having a longer sales page and why creating the additional content is worth the effort.
Plus, I'm going to list and outline the 10 things that I believe every sales page MUST include to get conversions.
Ready? Great, let's get started…
How long should my sales page be?
This is a great question! And one that people ask a lot.
There's a lot of opinion and market testing out there that suggests a longer sales page will convert better than a shorter sales page.
Longer sales pages convert better because you're able to:
Explain what your service includes in more detail,
Provide most (if not, all) the information your site visitors need to make a buying decision, and
Overcome more sales objections by providing answers to common fears or beliefs your ideal clients may have.
You only need to look at the big companies and well-known online service providers to see that longer sales pages are more common. And that's because they work.
So, if you're wondering if putting together, all that extra content is worth the effort.
I'm here to tell you that yes, it is worth the investment of your time!
However, before you dive into creating this content, let me provide you with a list and guide for what type of information you must include.
10 Things you MUST include on your sales page to get conversions
You may have picked up on this above, but you need to create a sales page for each of the service types that you provide.
For example, if you offer a 1:1 service and a course, then you would need to build a sales page for each.
As another example, if you provide services to two different types of clients, then you would need to create a sales page for each of your client types who would have various pain points and needs.
I also want to highlight that your sales page needs to be attention-grabbing, informative, and persuasive all at the same time.
That means you need to use:
The type of language that will resonate with your ideal client
Descriptions that provide detailed information
Persuasive techniques that encourage people to buy
So, to help you achieve all this, I've outlined a list of 10 things in the blog post below that your sales page must include.
You can also download this list in my Ultimate Sales Page Planner and Checklist by clicking the button below:
1. Attention-grabbing headline
At the top of your page, you'll want to have a headline that catches your visitor's attention.
To do this, you may refer to or talk about the benefits your service provides.
Or perhaps you could ask a question or make a statement that would resonate with your target market.
2. A before and after vision
In this next part, you'll want to paint the picture for your potential client and provide a vision of how things will change for them.
Consider what pain points and problems they are experiencing now, and where they want to be in the future.
Be sure to highlight this transformation and that your services will provide the solution to their pain point or problem.
3. Service inclusions
In this section, you'll want to highlight the value that your services provide.
So, give your visitors an expanded list or outline of what your service includes, and what they'll get for their money.
Add in any bonuses or promotional offers that are also applicable.
And, if your service offering is a little complex or if there are multiple steps involved in the sales process (where you may have to provide a tailored quote as an example), then also provide an explanation of how your service works.
RELATED: 15 Things you need to create an irresistible service offering
Not sure where to start when it comes to creating a sales page that sells? That's where I can help. Get started today by downloading my free Ultimate Sales Page Planner and Checklist by clicking the button below:
4. A target market description
It's important to communicate who your service is for, so include a description of your target market.
You may also choose to include a description of who your service is not for as well to really narrow in on attracting only your ideal clients.
RELATED: How to research your target market – FREE Masterclass
5. Pricing and payment terms
Should you display your pricing on your sales page?
This is another question that I get asked a lot. My usual answer is – it depends on the sales process that you have set up and the type of service that you sell.
In general, if you sell a tailored service where your pricing may vary depending on the client requirements, then instead of pricing, you may opt to include a request a quote form instead.
If your service is a fixed price, then I recommend displaying your pricing as it will help you to qualify your leads better and enable a smoother sales call.
The exception to this, though is if you are in a highly competitive industry where most of your competitors are not displaying their pricing. In this case, I recommend including a request form rather than displaying your pricing.
When it comes to payment terms, provide details of a payment plan if that's what you offer as well as the payment methods that are available.
6. Trust factors – testimonials and social proof
Including testimonials from past clients adds so much credibility to your sales page and will help you build trust faster.
If you have reviews on social media, then also include these where appropriate.
Another way to add credibility and social proof is to include any logos or trust factors that you have.
These could consist of publication or podcast logos where you've featured or logos for professional industry memberships or qualifications that you hold.
RELATED: How to use client testimonials in your content marketing strategy
7. A professional bio
People buy from people, so you'll want to include a section about you.
Include a brief description about you and your business.
And a story around why you created, or why you are selling this type of service.
A photo of you will also add credibility and trust, which is essential, as mentioned above.
8. Frequently Asked Question's (FAQ's)
A lot of people miss putting FAQ's on their sales page, but they are so critical!
Within the FAQ's section is where you can put responses to the most common fears or sales objections that your clients have.
Many of these objections relate to time and money, so consider what questions your clients are most likely to ask. And include these in your FAQ's.
RELATED: How to overcome sales objections including, I can't afford it
Not sure where to start when it comes to creating a sales page that sells? That's where I can help. Get started today by downloading my free Ultimate Sales Page Planner and Checklist by clicking the button below:
9. Call to action buttons
You'll want to use persuasive language in your call to action and on your buttons to encourage more people to buy.
Brainstorm a list of words and phrases that you could use, so you avoid using the boring 'buy now' call to action.
Also be sure to add a call to action button at the top, middle and bottom of your sales page. And anywhere in between where you feel it's appropriate.
10. Appealing design features
Lastly, you'll also want to add some appealing design features to your sales page.
These design features could include images, icons, brand colours, paired fonts, and broader spacing which makes your page easier to scan and read online.
I recommend writing your sales page copy and adding in any design features later.
Separating the writing process from the design process will make creating your sales page far easier!
So, there you have 10 things that you must include on a sales page to convert.
Want to learn more about how to optimise your website and generate more leads from your sales pages?
Download my free Ultimate Sales Page Planner and Checklist by clicking the button below:
Did you find this blog post helpful? Don't forget to share on Facebook or PIN to Pinterest.