Researching your target market is probably the most important thing you can do when you start your service-based small business.
You need to understand what their biggest pain points and struggles are.
You need to understand what they want and need from you and your business.
And, you need to understand where they are so that you can reach them and engage.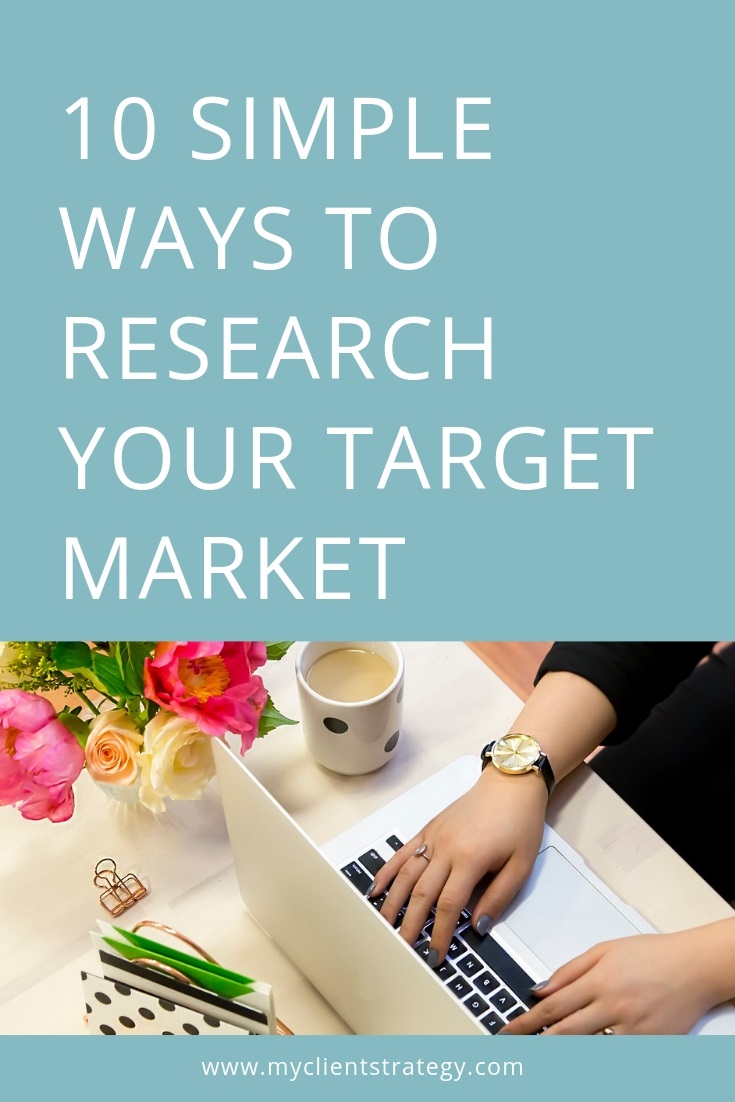 However, you may be wondering where to start and what actions you can take to research your target market?
Well, here are ten simple ways you can conduct market research for your service-based small business:
1. Study your competition
Your competition has been there before you and has likely already done target market research which you can learn from.
Visit the websites and social media profiles of 3 – 5 of your competitors and take special note of:
The words they use to describe their ideal clients
The client pain points they've identified and mention in their copy
The client testimonials and the success stories their clients define
The service packages and pricing they have on offer
Once you start collecting this information, you'll likely see patterns amongst your competition.
Are they all targeting the same type of client, or are there any gaps you could take advantage of?
Do your competitors talk about the same pain points? If they do, it's likely a clue that this is the most significant pain point that your client has.
Also, finally are there standard results that your competitor's clients talk about in their testimonials, which could indicate what's most important to them?
Remember, studying your competition is not about copying what they do, but rather to give you some insight as to what's already working in your marketplace.
2. Interview your target market
Conducting target market research interviews must be one of the most effective ways to uncover all you need to know about your ideal clients.
However, many new small business owners find this difficult as they don't have an existing pool of clients whom they can talk to.
If you have a new business, don't let this stop you. There are many ways to conduct interviews.
You could ask family and friends if they know of anyone who fits your target market profile whom they could introduce you to.
You could answer queries, be helpful, and reach out to potential clients in Facebook groups online.
You could also join a networking group or attend networking events where you know your target market will be.
RELATED: How to build a network: The ultimate small business networking guide
It's surprising how many people struggle to ask for help; however unless you start reaching out to people and engaging in conversation you won't understand what it is that your ideal clients are seeking.
3. Join online groups and forums
As mentioned above, online Facebook groups and forums such as Quora and Trip Advisor (if you're a travel business) are great places to conduct target market research.
This is because these groups are where people ask many questions.
When you see the same questions repeatedly, it's a pretty good indication that there is a need for someone to solve this problem.
If you're going to use this strategy, be sure to join groups or forums where you know your target market will be (not your peers).
Also, to save time, use the search box in the online group or forum to narrow in on the questions related to your niche.
4. Search for case studies and statistics
It's essential to research case studies and statistics when researching your target market because it will help you to 'size' your market.
When you have some idea about the size of your target market, you'll be able to determine whether it's large enough for you to see a sustainable return and be profitable.
Alternatively, you may find that there is a segment of your market, which is more significant than another, which may point to an opportunity to niche your business down further.
To find case studies and statistics, visit government websites that track the census or key statistics for your country and region.
Also, try visiting your local library or business chamber or council who may also have statistics relevant to your local area.
Finally, you can also find this type of information by simply typing the words case study or statistics after the name of your niche into Google.
Not sure where to start when it comes to marketing your service-based small business? I can help with that. Download the free 72-point Ultimate Marketing Checklist by clicking the button below.
5. Analyse your social media insights
If you've built up a bit of a following online already, then you will have valuable data about your target market that you can analyse.
Your social media platforms all have insights dashboards which you can view.
If you have a Facebook page, you may also want to review the audience insights on your Facebook business account to get a profile of the people who are following you. (You will need to build up an audience first before this works).
Also, don't forget to set up and review Google Analytics on your website.
Google Analytics will give you insights around your target market, including where your website visitors live and the platforms they are on before they visit your site.
6. Create a Facebook group
One of the benefits of creating a closed Facebook group is that you can collect information about your followers when they join.
When you set up your group, add up to three questions to collect the information you want to know.
Examples of the questions you could ask to help you build your target market profile include:
How long have you been in business?
What industry do you work in?
What's your favourite XYZ (related to your niche)?
What's your biggest pain point when it comes to (your services)?
What's most important to you when it comes to (your services)?
What do you need help with the most right now?
In addition to asking these types of questions to get information, you can also see from their Facebook profile where they are from if they have filled in their location details.
Also, with a Facebook group, you can run polls in the group to get feedback and information directly from your target market.
All this information combined will help you to determine what types of followers you are attracting and validate whether you're talking about the right kinds of pain points.
Have you joined the My Client Strategy Facebook group yet? We'd love to have you join us!
7. Send a survey to your email list
Again, if you have a bit of a following, already there is an option to send an online survey to your email list.
I use Survey Monkey to conduct my marketing research, and it's free for up to 10 questions.
Also, Survey Monkey has several pre-formatted questions making the research process more straightforward and a reporting tool to collate your results.
To increase your response rate, you could also try running a competition or incentive to get more of your email list to complete the survey.
RELATED: How to build an email list when you're first starting out
8. Set up a test group of potential clients
This target market research method is excellent for when you want to launch a new service.
Ask past clients or others you know who fit the profile if they would be willing to attend a feedback session.
Present the new service offering you are planning to launch and ask for direct feedback from your target market.
Not only will you understand what level of interest may be out there, but you'll also find out what your target market finds the most valuable in your offering.
This research and feedback will help you to create marketing messages that are more likely to resonate and cut through with your ideal clients.
9. Use search engine keyword tools
If you're trying to work out what words might resonate better with your target market, then use an SEO keyword research tool to help give you the answer.
These tools will also help you to work out what your target market may be more likely to search for when it comes to your services.
One of my favourite SEO keyword tools is Keywords Everywhere.
It's a low-cost Google Chrome extension that tells you how many times specific keywords and keyword phrases are used on Google on average, and the level of competition online for those words.
The results appear directly in the Google search engine, and you can save them to come back to and review later.
RELATED: How to choose the right keywords for your target market
10. Network at conferences and events
It's incredible what insight and ideas you can get from directly speaking to people who fit your target market profile.
Which is why it's vital to regularly attend industry conferences and events where you know your target market will also be.
Before you go, make sure that you've worked out a bit of a plan for the type of information you're looking for.
If you've thought about it beforehand, you'll be more conscious to ask the right kind of questions.
While at these events, it can also be a good idea to ask the people you meet what other events and conferences they are thinking about attending.
It can be hard to find the right events and conferences sometimes, so asking around can help you to speed up the search and ensure you're attending worthwhile events.
So, there you have it. Ten simple ways to research your target market. What methods are you going to use? Please share with us in the comments below.
Not sure where to start when it comes to marketing your service-based small business? I can help with that. Download the free 72-point Ultimate Marketing Checklist by clicking the button below.
Did you find this post helpful? Please don't forget to PIN to Pinterest or share on Facebook.