I often get asked, why is a marketing plan important?
And I respond by saying that it will help you to grow your business in a much faster and more cost-effective way than if you didn't have one.
It will ensure that you aren't wasting time and money on activities that don't align with your goals.
It will provide a more strategic approach to the way you implement your marketing activities.
And, it will help you to get unstuck, build momentum, and move your business forward to the next level.
Now those are just a few reasons to start. There are many other important reasons, as well.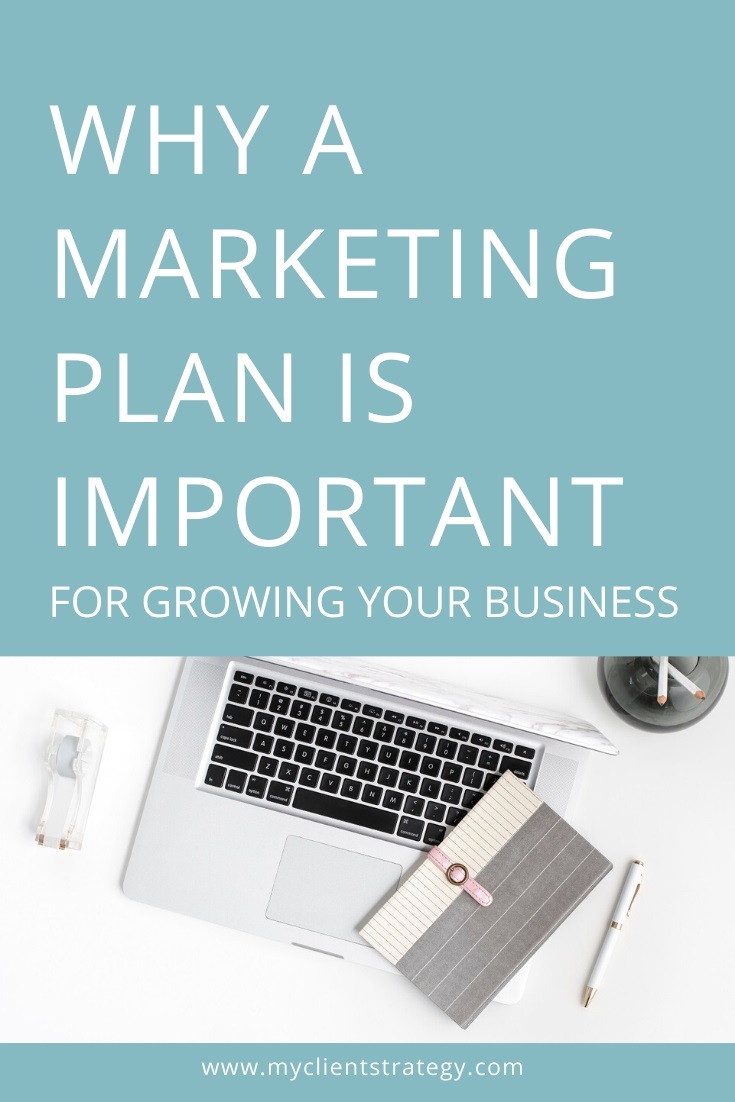 So, why is a marketing plan important for growing your business?
Well, here's a list of 7 reasons why you need to develop a marketing plan for your service-based small business:
1. Provides clarity and direction
A marketing plan is a brilliant tool for providing clarity and direction, which is why it's so important when it comes to growing your service business.
You may know where you want to go and what you want to achieve…
However, without that clarity and direction for how you're going to get there, it just won't happen in the fastest and most efficient way.
When you have clarity and direction, you'll also find that all your marketing decisions become so much easier to make.
2. Aligns your goals and activities
There are so many different marketing strategies and tactics that you can implement to grow your business.
So many in fact that it can become overwhelming and confusing to know which ones to choose.
However, with a marketing plan, you'll have set the marketing objectives or goals that you want to achieve first.
And be able to align these goals with the specific activities that will help you achieve them.
With aligned goals and activities, you're likely to achieve that growth much sooner than you would have without a marketing plan.
RELATED: 7 Steps to setting marketing goals you'll actually achieve
3. Improves your marketing performance
One of the main reasons why a marketing plan is important is because it will help you to improve your marketing performance.
And an improvement in your performance means more leads and growth for your business.
A key feature of your marketing plan is your sales targets and marketing metrics, which will provide the numbers for you to track against and measure your performance.
It will also help you to determine where you have some gaps and could focus more energy to improve the marketing results.
Now sure where to start when it comes to marketing your service-based small business? That's where I can help. Get started by downloading my free Ultimate Marketing Checklist by clicking the button below:
4. Supports your strategy and sustainability
Why is a marketing plan important for sustainability?
Well, to write a marketing plan, you'll need to take the time out to 'work on your business' and not 'in your business'.
You'll also have to take a more strategic view of your business and identify the steps you'll need to take to achieve sustainability.
One of the main benefits is that you'll be putting together a marketing budget that is appropriate for your business and will ensure you have a solid return on your marketing investment.
This budgeting will also ensure you aren't wasting money in areas that won't deliver business growth.
RELATED: 5 Ways I invested my marketing budget when starting my small business
5. Creates efficiency and saves time
It's quite easy to get distracted by the latest marketing tool or the new feature that's just launched on your favourite social media platform.
However, when you do, it's taking you away from working on the strategic steps that you need to follow to achieve business growth.
It's also quite easy to spin around in circles when you haven't spent the time to consider what you should be doing, and in what order.
But, when you have a marketing plan, you'll know the exact steps to take to achieve your goals.
And, you'll build that critical marketing momentum that will push your business forward to the next level much sooner.
RELATED: How to write a marketing plan for a service-based business
6. Communicates your goals
It's incredible how something becomes so much more 'real' when it's written down or shared aloud.
Which is why it's important to write down your marketing plan and communicate it with your team if you have one.
A written document also removes any potential confusion and communicates the steps you're going to take to attract more clients and grow.
7. Holds you accountable
By sharing your goals and documenting your marketing plan, you're also committing to achieving the goals and results contained within.
It provides a reference document that you can come back and review at specific intervals.
And it provides a reminder for what steps you need to follow and the actions you need to take to achieve your business goals.
RELATED: How to develop a marketing strategy and plan for a service business
So, there you have seven reasons why it's important to write a marketing plan for your service business.
If you need a marketing plan for your service business, but you're not sure where to start… Well, what you need is a step-by-step guide for developing a marketing strategy and plan.
That's where Marketing Momentum > will help!
Marketing Mometum > is a marketing strategy and planning training bundle that will help you to get clarity, move forwards and grow your service business.
The training bundle includes:
5 Self-paced videos to guide you through each step in my planning process
A marketing plan template to save you time and make the process easier
A simple-to-follow sales planning spreadsheet that removes all the complexity
A workbook and worksheets to create a strategy that's right for your business
A marketing plan tracking template to help you stay focused on achieving your goals
To learn more about Marketing Momentum > click here or on the image below.

Did you find this post helpful? Please don't forget to PIN to Pinterest or share on Facebook.