Black Friday has become an important promotional period for service-based business owners.
Yes, it's not just eCommerce and brick and mortar businesses that can create a Black Friday offer and a Cyber Monday sales promotion.
Service-based small business owners can put together Black Friday marketing offers too!
What is Black Friday?
Black Friday started in America and is the Friday following the Thanksgiving holiday.
It marks the beginning of the Christmas holiday sales season and has significantly risen in popularity amongst both offline and online businesses in recent years.
While it started as a one-day event, many businesses now offer specials over four days and incorporate the promotion around Cyber Monday, which is aimed at online buyers.
This year, Black Friday sales will occur on Friday 25 November 2022. Cyber Monday will be on 28 November 2022.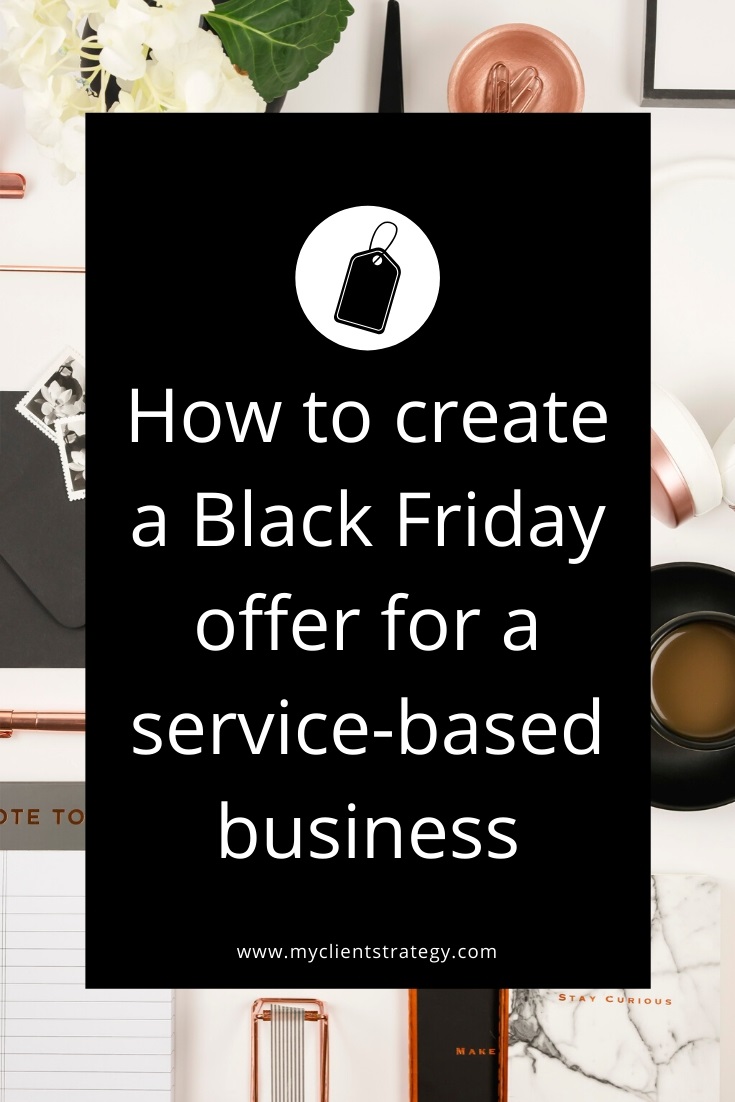 So, how can service-based small businesses participate in Black Friday marketing promotions?
Well, I've put together a list of 3 ways a service-based small business can create a Black Friday offer and promote their services on Black Friday and Cyber Monday.
These offers can be promoted for one-day only on Black Friday, or over the four-day sales period through to Cyber Monday.
You also have the option to have a separate offer for each day over the promotional period.
I recommend that you create specific Black Friday marketing materials that reference the urgency and take advantage of the hype around this sales promotion.
And share on social media in the days leading up to the sale that you have a special offer coming up that your clients should look out for.
Another Black Friday marketing tip I have is to promote your Black Friday offer in multiple places and send multiple emails over the four-day sales period.
Be sure to share your Black Friday offer across your social media pages, emailing your list (at least couple of times), and where relevant, posting it in Facebook Groups that have Black Friday offer round-ups and Cyber Monday promotional threads.
1. Create a value-added offer
One of the best ways to attract clients is with an irresistible offer.
That is an offer that's packed full of value and solves the exact problem that they have.
So, how do you increase the value? With additional bonuses or services!
My tip is to consider what you already have within your business that you could include, rather than having to spend a heap of time creating something new.
Do you have any resources or tools that you give your VIP clients?
Or, perhaps do you have a training or workshop that you've provided, which could be easily turned into a short online masterclass?
If you're stuck for Black Friday marketing ideas and wondering what value you can add, check out the list of suggested bonus offers below:
An extra coaching or accountability session with you
Resources such as a planner, checklist or workbook
An audit or review where you will critique their business and provide feedback
Access to a short course or online training program
Templates, spreadsheets, or copywriting swipe files
A ticket to an event you're hosting in the future
Access to your 'black book' of contacts
Exclusive access or a behind-the-scenes tour
Invitations to live daily or weekly support sessions
Entry into a competition to win something awesome
Whatever you choose to add, ensure that it's related to your services and something that will add extra value for your clients.
RELATED: 15 Things you need to create an irresistible service offering
2. Bundle your services
Combining your services into a bundle is another excellent way to provide increased value to your clients.
Perhaps you have several resources or tools that you provide your clients individually that you could bundle up into a unique 'Toolkit'.
For example, you could create an Email Marketing Toolkit where you have a training video on how to set up your email system, a workbook, email copywriting templates, a list of subject lines that get opened, and a swipe file containing an email welcome sequence.
If you sell each of these resources separately, then you can show a saving on the discounted bundled price.
Alternatively, maybe you have several online training courses that you could offer on a 2-for-the-price-of-1 basis.
The key to effectively bundling your services is to pack as much value into your bundle so that you have your clients saying, 'what a deal'!
3. Discount your services
I'm not a big fan of this one, and I recommend that you do not discount your main service or signature offer in your Black Friday marketing campaign.
Instead, offer a discount on one of your introductory or lower-cost services.
This way, you can introduce your services to new clients without them having to spend much money or take a significant risk to work with you.
And, once you've worked with them and shown them what you can do, then you have the option to up-sell them to your signature offer or program.
If they choose not to take you up on your more premium offer, then instead take the opportunity to ask them for a testimonial that you can add to your website sales page.
The keys to a successful marketing campaign over this Black Friday and Cyber Monday sales period is to plan out your communications well in advance, and to create an offer that's irresistible to your clients.
Want to master your marketing strategy so you can attract consistent clients and grow your service business with ease?
I have a free marketing masterclass that will help: How to Master your Marketing Strategy Without the Overwhelm and Complexity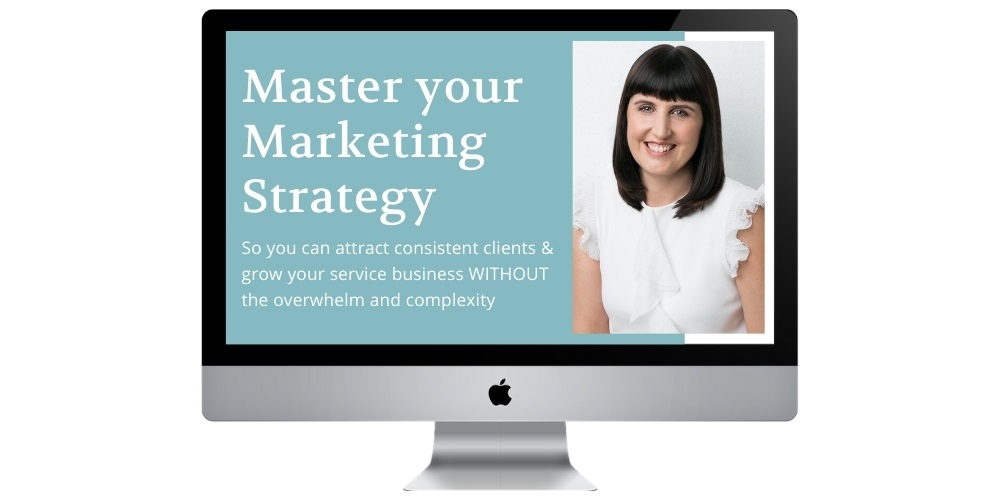 In this Free Marketing Masterclass, you'll learn:
The 3 BIGGEST marketing mistakes I see service businesses make that leaves you stuck and spinning around in circles in your business, and…
My simple 5-step Marketing Framework for mastering the marketing strategy, systems, and structure you'll need to attract consistent clients and grow your business WITHOUT overwhelm and complexity!
Get started with this free marketing masterclass now by clicking the button below to register:
Did you find this post helpful? Please don't forget to share it on Facebook or PIN it to Pinterest.