5 Ways to identify a target market for your service business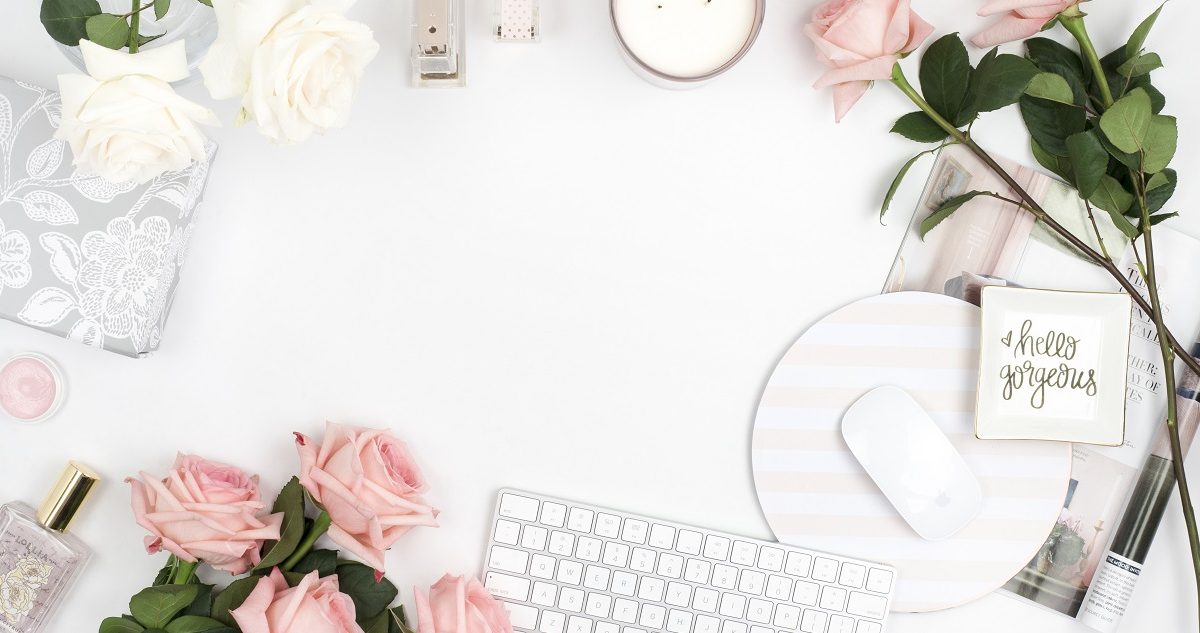 Are you wanting to identify a target market for your service business, but not sure where to start?
Or do you keep changing your mind and flip-flopping from one type of client to another?
Perhaps you may even be worried that you'll choose the wrong target market, so you don't select one at all.
It can be hard to choose a target market, I know!
But would you like to change all that?
Would you like to identify the right target market for your small business, so you can have the clarity and direction that you need to grow?
Well, that's where I can help.
What you need to do is take some time to conduct target market research.
It's a step that I see many small business owners skip over too quickly, which is a big mistake when it comes to marketing.
RELATED: 5 Common target market mistakes you'll want to avoid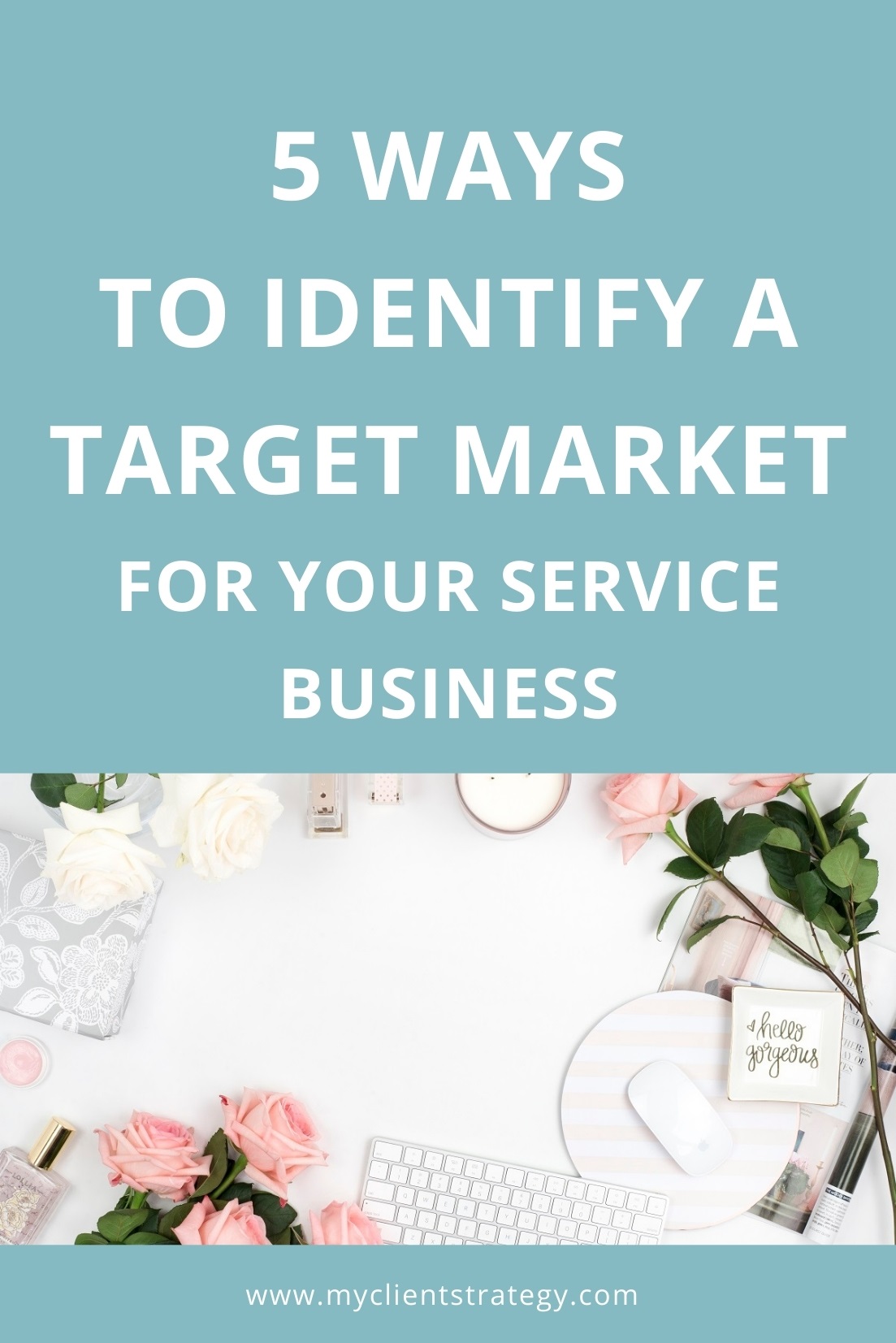 So, where do you start with target market research?
In the blog post below, I outline five ways to identify your target market.
It's the first step you'll want to take when it comes to defining your target market.
Once you've identified who you want to target, you can then move on and start to engage and conduct surveys with them.
Each of the research methods below will help you to identify a target market for your service business.
Some of these methods will be easier to implement than others, depending on your stage of business.
However, I recommend spending a bit of time in each area, so that you can gather as much information as you can to identify your target market correctly.
1. Review your business data and insights
The first place to start when it comes to identifying your target market is to look at your business data and insights.
You can find follower and client insights by looking at information sources such as your:
Google Analytics dashboard which has your website visitor insights
Social media insights platforms
Client database and past sales history
Google My Business account insights
Be sure to take note of where your followers live, as well as the time of day they engage with your profile.
Also, the type of content that has the most engagement.
Content with high engagement levels can provide a good clue as to the messaging and the pain points that are resonating most with your clients and followers.
If you have a new business, this first method will help you see who you are resonating with online. Sometimes it might not be who you think it will be!

2. Research your competition
I strongly recommend researching your competition because your competitors have already tested a few things.
And it will likely give you some clues as to what people are already buying your type of services.
When you research your competition, there are a few things that you'll want to be looking for.
Firstly, what words do they use on their website and advertising to describe their target market?
If you can identify who your competition is targeting, it can provide a good insight as to which markets are the most common and viable for your type of services.
Secondly, what pain points, wants, and needs do your competition also mention?
Often, identifying a target market is less about who the client is (i.e. demographics), and more about what stage of life, or what situation they have found themselves in.
Consider how you could identify your target market using the pain points they have now, or the wants and desires they have for the future.
3. Conduct online desktop research
To conduct online desktop research, all you need to do is head to the Google search.
When you're conducting your research, put yourself in your client's shoes.
What words would they be typing into Google to find your type of services?
What questions would they be asking in the Google search?
What information would they be searching for before they would be ready to buy from you?
Brainstorm ideas and type them into the Google search.
Now, take note of what websites appear in the search results.
Are they include competitor websites that would be in direct competition to yours?
And are there also some sites which may provide in-direct competition to you as well?
Once you've found these competitor sites, please spend some time looking at how they describe their target market and the types of services they provide for more insights.
Also, check out the blog titles you find online and look for patterns around a target market.
This analysis will help you to identify the target markets that exist for your types of services.
4. Join online forums and groups
Facebook groups are probably one of the most common places to research your target market.
Consider the types of clients you would like to work with and search for and join groups where you feel they would already be hanging out.
Next, take note of the questions that people ask inside these Facebook groups.
If you see questions that you can answer and relate to your services, it can help you narrow down your market. And identity who you should be targeting with your messaging.
As mentioned above, you can also identify your target market by their pain points and challenges (instead of just their demographic profile).
Not sure where to start when it comes to finding your first clients? That's where I can help. Get started today by clicking the button below to take my quiz – What's Stopping You From Finding Your First Clients – and let's discover what's been holding you back:
5. Use search engine optimisation (SEO) keyword tools
SEO keyword tools can also help you to identify your target market.
The tools that I commonly use when helping one of my 1:1 private coaching clients to narrow in and identify their target market include Keywords Everywhere, Moz, and BuzzSumo.
I start by typing in the words that describe the services that my clients offer to see what related words come up.
I often find keywords that relate to common target markets for their types of services.
Another way you can use these tools is to look for synonyms and adjectives for a target market.
While we may use certain words to describe a target market, there will be other slight variances, which will help you better articulate and identify your target market.
So, there you have five ways to identify a target market for your services business.
Once you've identified your target market, the next step is to start engaging with people who fit your target market profile to validate your research.
Struggling to cut through and stand out… and feel like you're invisible to your ideal clients?
What you need is a personalised sales and marketing strategy that will enable you to stand out, find your first clients, and start making money in your service business. And, that's where I can help.
In my online course, Find Your First Clients, you'll find 15 concise, self-paced video lessons and a comprehensive digital workbook that will guide you step-by-step through my 5-step Foundations First Framework to unlock the secretsto developing a personalised sales and marketing strategy that's right for you: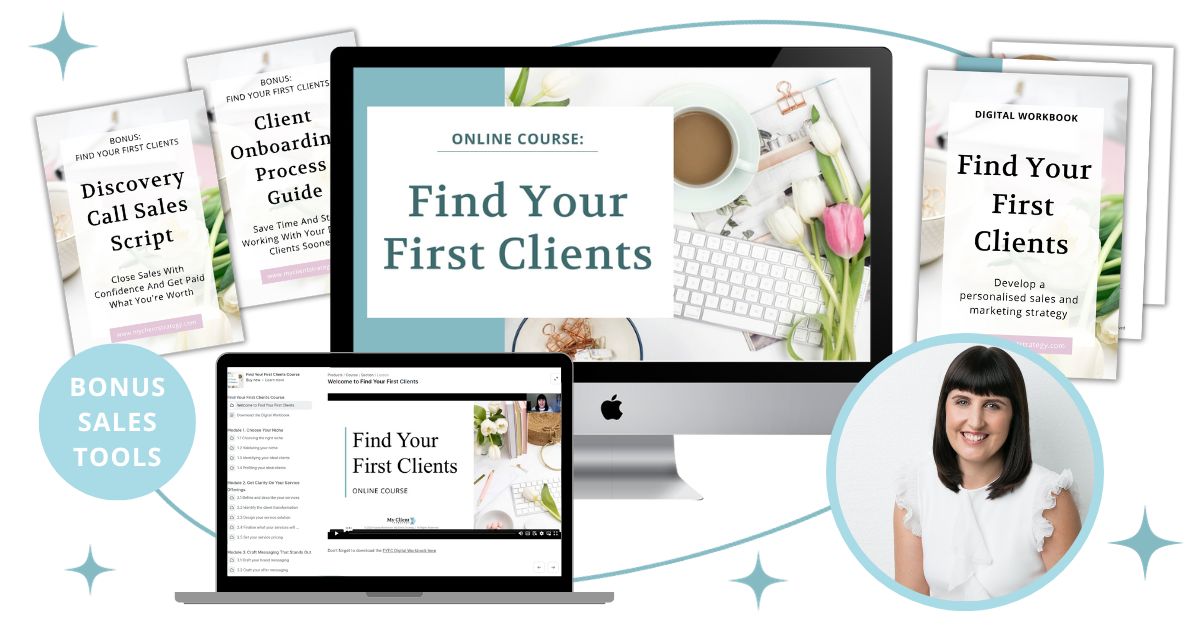 By the end of the course, you'll have written down on paper, a personalised…
Marketing strategy so you'll have complete clarity around your niche, service offerings, and messaging; and…
Sales strategy so you'll be able to qualify leads better, confidently close sales, and welcome new clients with ease.
With the right strategic foundations, you can stop feeling invisible and start standing out, so you can find clients and make sales in your service business sooner.
Click the button below to learn more and get started today:
Did you find this post helpful? Please don't forget to PIN to Pinterest or share on Facebook.