(And the target marketing strategies you'll want to use instead)
When starting your service-based small business, it can be difficult to define your target market, because you want to help as many people as you can.
However, it's important to stop and consider which types of clients you're best suited to work with.
And more importantly, which ones you're going to enjoy working with!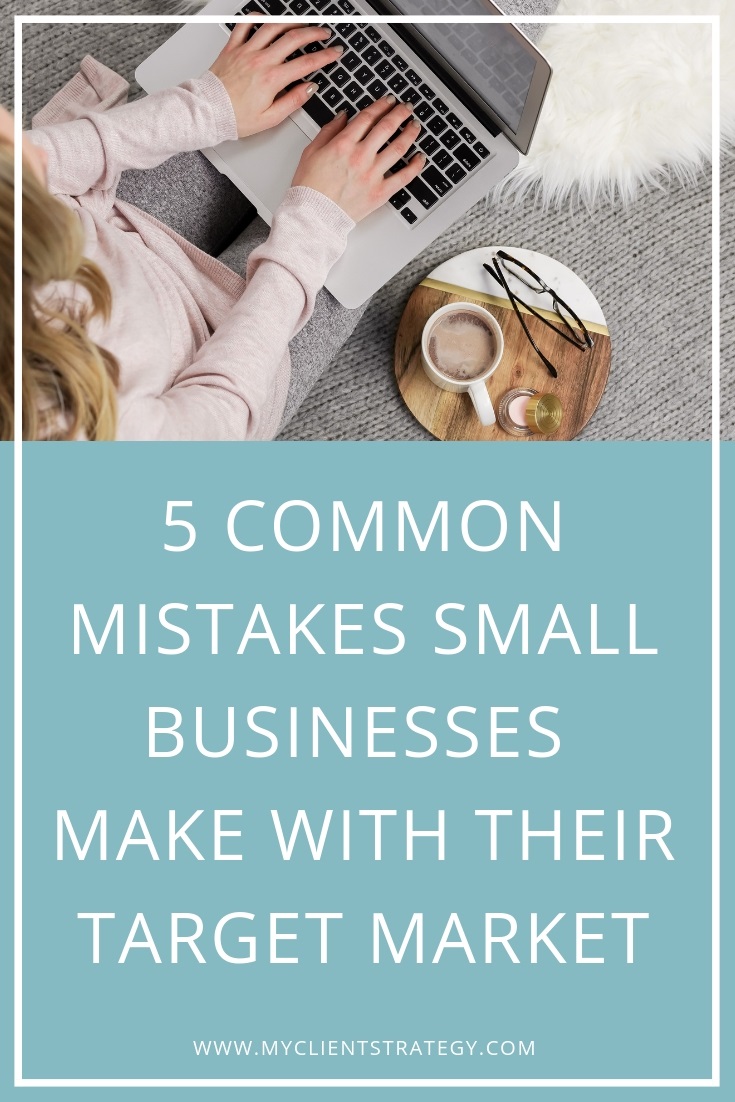 Defining your target market is an essential part of your marketing strategy and a significant factor you need to get right.
To help you get it right, I'm going to share five common mistakes that I see small businesses making with their target market.
As well as the target marketing strategies you can use to avoid making them.
But before I start, I also want to let you know about this step-by-step workbook that I've created to help you with defining your target market. Click the button below to download.
1. Get overwhelmed by too many choices
Many small business owners come up with an excellent idea for a business and they know there are lots of potential target groups out there who will want their new service.
However, one of the challenges of selecting a target market is deciding which one is the best target market to choose.
It can lead to feelings of overwhelm when there are a lot of target markets to choose from, when then leads to small business owners feeling stuck and not moving forward.
To avoid these feelings of overwhelm and effectively choose your target market, focus in on two questions:
Which target market is the most profitable?
Which target market would you love to work with every day?
Then, narrow it down to the target market which is the most profitable and the one that you'll love to work with every day.

2. Define referrer groups as their target market, not clients
An effective marketing strategy is to collaborate or partner with another non-competing business that has a similar target market.
It's a proven marketing strategy that works and one which many small business owners try to implement early on.
However, there are many moving parts when it comes to target marketing.
And it's easy to get this strategy mixed up when it comes to profiling a target market.
Sometimes small business owners can define the types of businesses they want to partner with as their target market, instead of defining the type of clients that they want to attract and work with.
So, instead, to get your target marketing right ensure you're profiling the clients who are going to pay you money for your service.
And, not the referring business partner who will introduce you to those clients in your target market. They will have a different profile and needs and wants.
3. Trying to be everything to everyone
While some small business owners believe they need to chase every customer and every sale, it's not an effective marketing strategy.
In the words of Seth Godin (marketing expert) – everyone is not your customer.
The truth is, your service will not appeal to everyone, and you should not fear that excluding some client groups from your target market will limit revenue.
By niching or narrowing down your client group, you will be able to create a stronger brand message.
You will resonate more closely with your ideal clients which will increase conversions and improve your marketing return on investment.
For help with your niche, follow the step-by-step guide in my free Target Market Workbook.
4. Overlooking the target market viability
It's essential to define a target market that is viable or you will end up without clients and without a business.
Sometimes a target market is just too small or has been narrowed down too far.
To avoid an unfeasible target market, ensure your target audience hasn't been too narrowly defined.
Estimate the size and revenue potential of your target market and adjust if it will be difficult for you to make a return.
Alternatively, work out how many clients you need to service each week and month to make a profit and determine if the number sounds reasonable and achievable. Adjust if necessary.

5. Making too many assumptions
Too often, small business owners assume that they already know what's important when it comes to their service, or they don't see the benefit in completing market research.
Getting feedback from potential and existing clients is an ongoing task that all small business owners must undertake.
It doesn't matter if you are the owner of a new or an established business.
Consumer buying trends shift over time, and it's important to keep in touch with what your target market needs and wants.
To avoid a misunderstood and poorly researched target market, conduct client surveys, read feedback forms and social media comments and utilise online analytics tools.
These are all useful sources of information when it comes to finding out what your target market wants, what their interests are and where you can find them.
RELATED: How to define a target market for your service business
The target marketing bottom line
To create a successful foundation for your marketing plan you need to define a target market that is specific, viable, and well-understood.
The following target marketing strategies will help you to avoid the common mistakes that small business owners make:
Work out which target market is the most profitable and that you love working with
Define the client group that is going to pay you money for your services (not partners)
Niche or narrow your target market or audience
Crunch a few numbers and assess the viability of your target market (adjust if necessary)
Do your market research and don't assume you know everything about your audience
Need some help with defining your target market? Download my free target market workbook for your step-by-step guide.

Did you find this post helpful? Don't forget to PIN it to Pinterest.