Do you ever get confused when it comes to tracking your marketing metrics?
Or have you been quickly overwhelmed when you realised just how many different marketing metrics there are that you can measure?
Unfortunately, I've seen so many service-based businesses that aren't tracking and measuring their marketing activities because they feel like it's all so complicated to understand.
However, when you're not tracking and measuring your marketing metrics, it can lead to more significant problems in your business.
For example, you won't know which marketing activities are the most effective, and you could be spending money on promotions that aren't maximising your sales.
And you could be missing opportunities to build more sustainability and profit into your business.
But it doesn't have to be that way.
I'm a firm believer in keeping things simple when it comes to marketing and just focusing on the metrics that matter.
Plus, it's way too time-consuming and inefficient to be tracking every single metric when you're a small business owner who's trying to do all the things!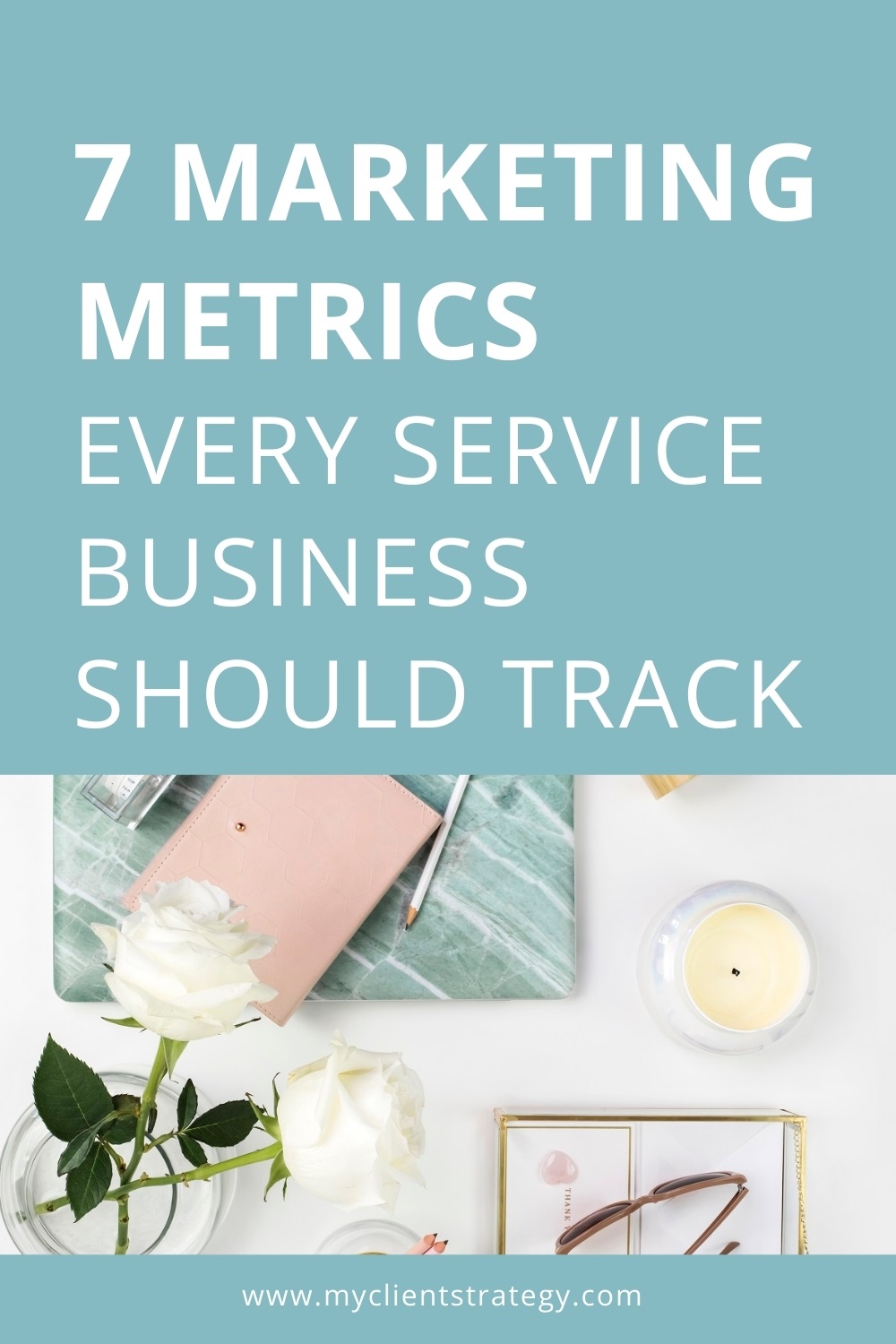 So, what marketing metrics should you be tracking in your service business?
And what insights and information would greatly assist you in improving your marketing performance and driving more profitable growth?
In the blog post below, I've outlined seven marketing metrics that I believe every service business owner should track and measure each month.
1. The number of subscribers on your email list
An email list is one of the most valuable and tangible assets a service business can have.
So, you must have a continual focus on growing your email list.
I recommend measuring and tracking your email list size monthly.
When you have a monthly focus on it, you'll be able to quickly see if you have enough marketing activity happening to bring new subscribers to your email list.
If you have segments set up for your email list (such as by location or interest based on what freebie they downloaded), you may also want to track these segments individually to see what part of your email list is growing.
RELATED: Why your email list is not growing (And how to fix it)
2. The number of visitors to your website (by channel)
Websites are a critical marketing channel for service-based businesses as they act as your 'storefront' when you don't have a physical location.
They're also a key booking channel, where you'll likely have enquiry forms and options for people to book appointments and consultations with you.
To begin with, you must set up Google Analytics on your website, so you can start capturing the information about people who are visiting your site.
Once set up, you'll want to start tracking the number of visitors to your website and the channels by which they are coming to your site.
You'll find this under the 'Acquisition' menu in Google Analytics and then select 'All Traffic' and 'Channels'.
Here you will find how many visitors came to your site from social media sites, the Google search, and from links that lead directly to your site (from your emails as an example).
This information will help you improve your marketing performance by showing you which channels drive more visitors and where you should focus more on your future efforts.
Not sure where to start when it comes to marketing your service-based small business? That's where I can help. Get started by downloading my free Ultimate Marketing Checklist by clicking the button below:
3. Your client engagement
Many people skip this marketing metric because they are more focused on the sales numbers.
However, your client engagement is a leading indicator of how well your marketing is working (or not working).
Your client engagement is the number of people who are engaging with you and your business.
How it's measured can differ from business to business (depending on how you've set up your sales process), but as some examples, it could include counting the number of:
Visits to specific sales pages on your website
Email, direct message, or phone call enquiries you receive
Attendees at your free events, challenges, or webinars
Blog visitors or podcast listeners
Email open rates and click-throughs
Social media followers and connections
I recommend keeping it simple when it comes to tracking this marketing metric and not overcomplicating it by trying to measure every single interaction or engagement that happens in your business.
But instead, simply choose a couple of your primary marketing activities and track the engagement around those.
For this metric, I recommend tracking it monthly and using it to inform your future marketing activities and plan.
4. The number of leads you generate
When counting leads, I recommend focusing on the number of appointments or consultations you have that are set up as specific sales conversations.
For example, you may call these a discovery call, a sales call, or an initial consultation.
Whatever you have set up within your sales process, these are warm and strong leads that you should be tracking.
If you have a lot of transactions regularly in your business, you may want to track these leads weekly.
Or, if you sell high-end services where the volume is lower, then tracking this marketing metric monthly will be adequate.
RELATED: 3 Reasons why your lead generation process is not working
5. Your sales conversion rate
To calculate your sales conversion rate, you'll need to count the number of sales you close and divide this by the number of leads you generated during the same timeframe (as outlined above).
For example, if you made two sales this month from four discovery calls (leads), your sales conversion rate is 50% (2 divided by 4).
It's essential to know your sales conversion rate because you can then work backwards to determine how many leads you'll need to generate to hit your sales goal.
For example, if you have a monthly goal of four sales and a 50% sales conversion rate, you'll need to generate two discovery calls (leads) every week or eight discovery calls for the month.
You can also track the sales conversion rate on your sales page by dividing the number of sales or completed application forms, by the number of visitors to the sales page.
For example, if you have 100 visitors to the page, and two completed application forms, then your sales conversion rate would be 2%.
RELATED: What is a sales page? (And the 10 things it must include to convert)
6. The sales revenue you receive
The marketing metrics above focus on the number of clients you're working with, but it's also essential to count the sales revenue that you earn.
The dollars you receive will ensure you can cover your expenses, pay yourself, and generate profits that you can reinvest to grow your business.
I recommend tracking your sales revenue by service type so that you can see where most of your sales revenue is coming from.
This approach will help you keep an eye on and manage your risk and identify opportunities for more growth in your service business.
If you have an online accounting system like Xero, you'll be able to allocate and track your revenue by service type more efficiently.
Not sure where to start when it comes to marketing your service-based small business? That's where I can help. Get started by downloading my free Ultimate Marketing Checklist by clicking the button below:
7. Your marketing spend as a percentage of your sales
Now, the easy thing to do when you're running a small business is to do no marketing or advertising because you can save money and keep more of what you earn.
However, unfortunately, that approach also slows down your business growth.
If you're not marketing your business, you're going to reach less people, and in turn, you'll generate fewer enquiries and sales as a result.
So, what should you measure and track when it comes to your marketing expenses?
I recommend tracking your marketing spend monthly and allocate the amounts to separate accounts or lines so you can see how much you are spending on:
Marketing tools and systems (such as your email automation tools and website)
Media (such as Facebook or Google ads)
Marketing services (such as copywriting, photography)
Networking and events (such as conferences, memberships)
Other marketing expenses
This breakdown will help you quickly see where your money is going and manage your expenses better.
Next, you'll want to calculate your monthly marketing expenses as a percentage of your total monthly sales.
As a general guide, you'll want your marketing expenses to be somewhere between 4% and 10% of your total sales.
However, this does vary by business type and industry. And the percentage can be higher when you're a new business starting with a low sales base and trying to drive growth.
Another way to set this percentage for your business is to determine how much you would feel comfortable spending to find a new client.
If you had low expenses in other areas of your business, you might be willing to allocate more of your sales revenue to marketing to attract more clients and grow.
So, there you have seven marketing metrics that I believe all service-based small business owners should be tracking and measuring each month.
If you're just getting started in this area, I recommend setting up a simple Excel or Google sheet to track these numbers.
As I mentioned above, it doesn't need to be a complicated process.
And it could even be something that you outsource to your virtual assistant to do for you each month to save time.
Want to master your marketing strategy, so you can attract consistent clients and grow your service business? If you answered yes, then I have a free masterclass that will help: How to Master your Marketing Strategy Without the Overwhelm.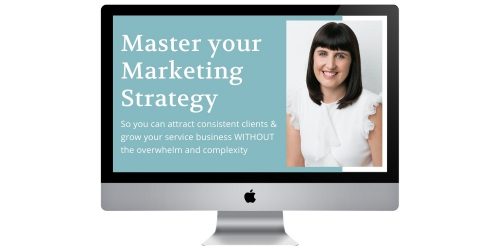 In this Free Marketing Masterclass, you'll learn:
The 3 BIGGEST marketing mistakes I see service businesses make that leaves you stuck and spinning around in circles in your business, and…
My simple 5-step Marketing Framework for mastering the marketing strategy, systems, and structure you'll need to attract consistent clients and grow your business WITHOUT overwhelm and complexity!
Get started with this free marketing masterclass now by clicking the button below to register:
Did you find this blog post helpful? Please don't forget to PIN to Pinterest or share on Facebook.