Do you ever look at other businesses and wonder how they achieved marketing success?
I think we've probably all done it at some stage.
While there can be a lot to learn by studying what others are doing, it can also be a trap.
We can get easily distracted and start trying to replicate what's working for someone else.
Only to see it fail spectacularly in our business.
I know, because this has happened to me in the past.
However, it taught me a valuable business lesson.
I learned the importance of setting and focusing on my own marketing goals.
I understood just how essential it was to spend time engaging with my target market.
And, I knew that I needed to make the time to put together a solid marketing plan for my coaching business.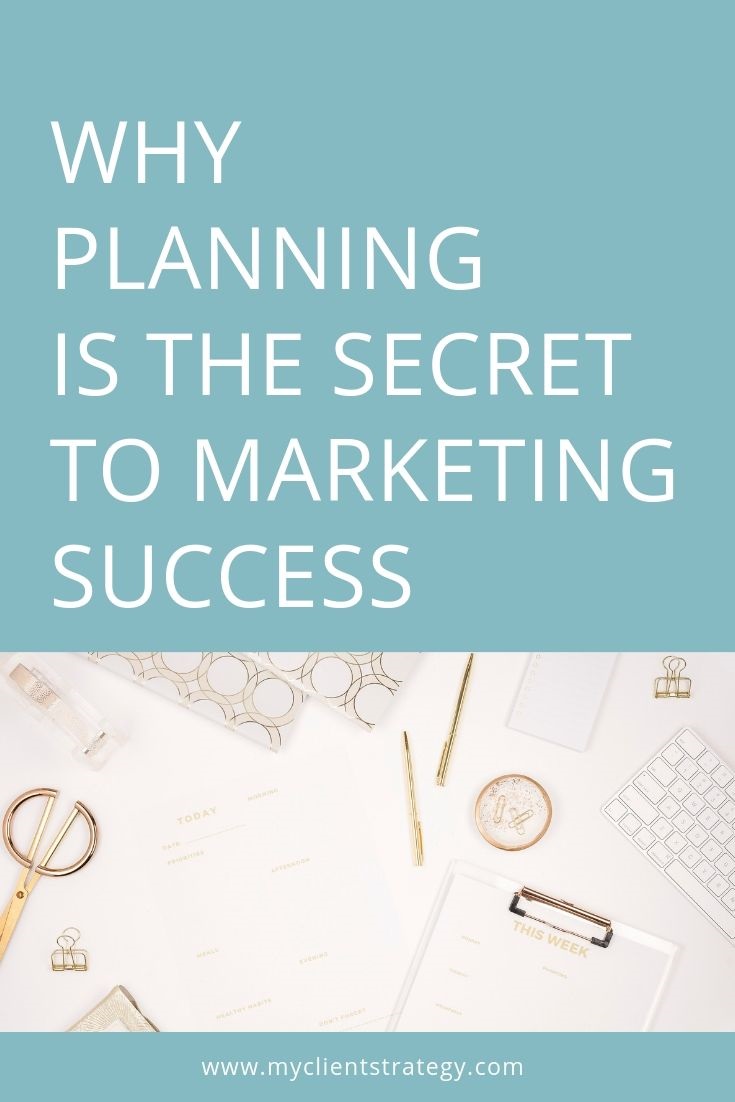 In the post below, I outline the reasons why planning is the secret to my marketing success.
You too can experience these benefits, when you take the time to develop the right marketing strategy and plan for your business (not someone else's).
Planning ensures consistency
Consistency is key when it comes to achieving marketing success.
If you communicate a consistent marketing message, your audience will understand what you do.
If you create a consistent brand, you'll stand out online, and your audience will recognise you.
And, if you develop a consistent publishing schedule, you'll stay top of mind with your audience, and be there at the time when they're ready to buy.
When you have a solid marketing plan in place, it will be so much easier to achieve this consistency.
It will help you to stay on track and to keep showing up every day for your audience (who needs you!)
It will also help you to build stronger awareness and engagement with your target market, which is critical for successfully attracting your ideal clients.
RELATED: How to write a marketing plan for a service-based business
A marketing plan provides clarity
When you have clarity, marketing your business becomes so much easier.
You know what you need to say, because you know precisely what your target market wants.
However, when you're a new business, it can be hard to get clarity.
You have all these thoughts spinning around in your head, and that can make it challenging to work out what you should be focusing on next.
However, a solid marketing strategy and plan will include the actionable steps you'll need to take to attract your target market.
The steps will also be prioritised to ensure you're focused on the most critical tasks first.
Imagine just how much more productive you'll be when you aren't spending time on the tasks that aren't adding value to your business.
Are you tired of spinning around in circles and trying to figure everything out on your own?
Get the expert advice, clarity, and direction you need during a once-off Marketing Momentum Meeting tailored specifically for you. Learn more about a Momentum Meeting here.
Planning achieves a better return on investment
When you're first starting, money can be scarce, so it's essential that it's invested carefully.
Some of the critical things that you'll need to consider include deciding how much you're willing to spend to generate each lead and sale.
You'll also need to decide where to spend your marketing budget.
If you choose to spread your marketing budget out across too many platforms, you'll only dilute your message and diminish your likelihood of a good return.
However, with a marketing strategy and plan, you'll have identified the core platforms or marketing methods that you're going to focus on.
This planning will help you see a better return on investment and assist with achieving marketing success.
RELATED: 5 Ways I invested my marketing budget when starting my small business
A plan helps to get the timing right
There may be certain times throughout the year where your services are in more demand than others.
Alternatively, there may be certain trigger events or activities that generate a need for your type of services.
If you know when these times or trigger events occur, then you can build activities into your content marketing plan that take advantage of this.
Alternatively, you can also scale them back if you are fully booked and can't take on any more work.
Getting the timing right and having a plan for the periods when you know you are going to be either busy or quiet will lead to greater marketing success.
A plan reduces stress and overwhelm
If running your business is causing overwhelm and stress, then you may be missing the secret ingredient that makes it a whole lot easier.
That is a marketing plan that provides you with the clarity, structure, and step-by-step actions you'll need to focus on.
It's incredible how much of a difference it can make to your wellbeing when you know what you need to be working on.
It also helps to save time, which enables you to fit in "all the things" and spend less time working in your business.
RELATED: 10 Time-saving marketing tips for small business owners
Avoid costly marketing mistakes with a solid plan
One of the keys to a good marketing strategy and plan is to include performance targets.
They don't have to be overly complicated, but just a few key numbers that will act as a guide for you, so that you'll know what excellent performance looks like.
When you know what marketing performance you want to achieve, then you'll be able to monitor and adjust your activities much sooner if required.
Making the required adjustments promptly can ensure you avoid costly mistakes that you can't afford.
A marketing plan helps you to move forward faster
As I mentioned above, it can be so easy to get distracted by what our competitors are doing.
Not to mention, the latest marketing trend or a shiny new system or tool that comes along.
However, this distraction can significantly hold you back from moving your business forward.
Because, while you are focused on what someone else is doing, you're losing track of your own goals and the marketing success that you want to achieve.
A marketing plan provides the key anchor document that you can keep coming back to.
It allows you to track your performance against the goals you set and provide indicators for when you need to adjust.
Are you tired of spinning around in circles and trying to figure everything out on your own?
Get the expert advice, clarity, and direction you need during a once-off Marketing Momentum Meeting tailored specifically for you. Learn more about a Momentum Meeting here.
Did you find this post helpful? Please don't forget to PIN it to Pinterest or share on Facebook.