This may surprise you, but I found it hard to create consistent income when I first started my business.
Especially in that first year after I quit corporate life.
Looking back, I think I felt this way because I thought I needed:
A big audience I could promote my services to,
Fancy branding and thousands of dollars to spend on ads,
And popular services that everyone raved about to their friends online.
However, it didn't take me long to realise that you don't need all those things specifically to create consistent income in your service business.
And that you can attract your dream clients and make sales with ease – when you have the right marketing foundations in place.
When I stopped worrying about what I didn't have…
And I got laser-focused on my business and what I could provide to my community…
Well, that's when things started to change and creating consistent income in my service business didn't feel so difficult anymore.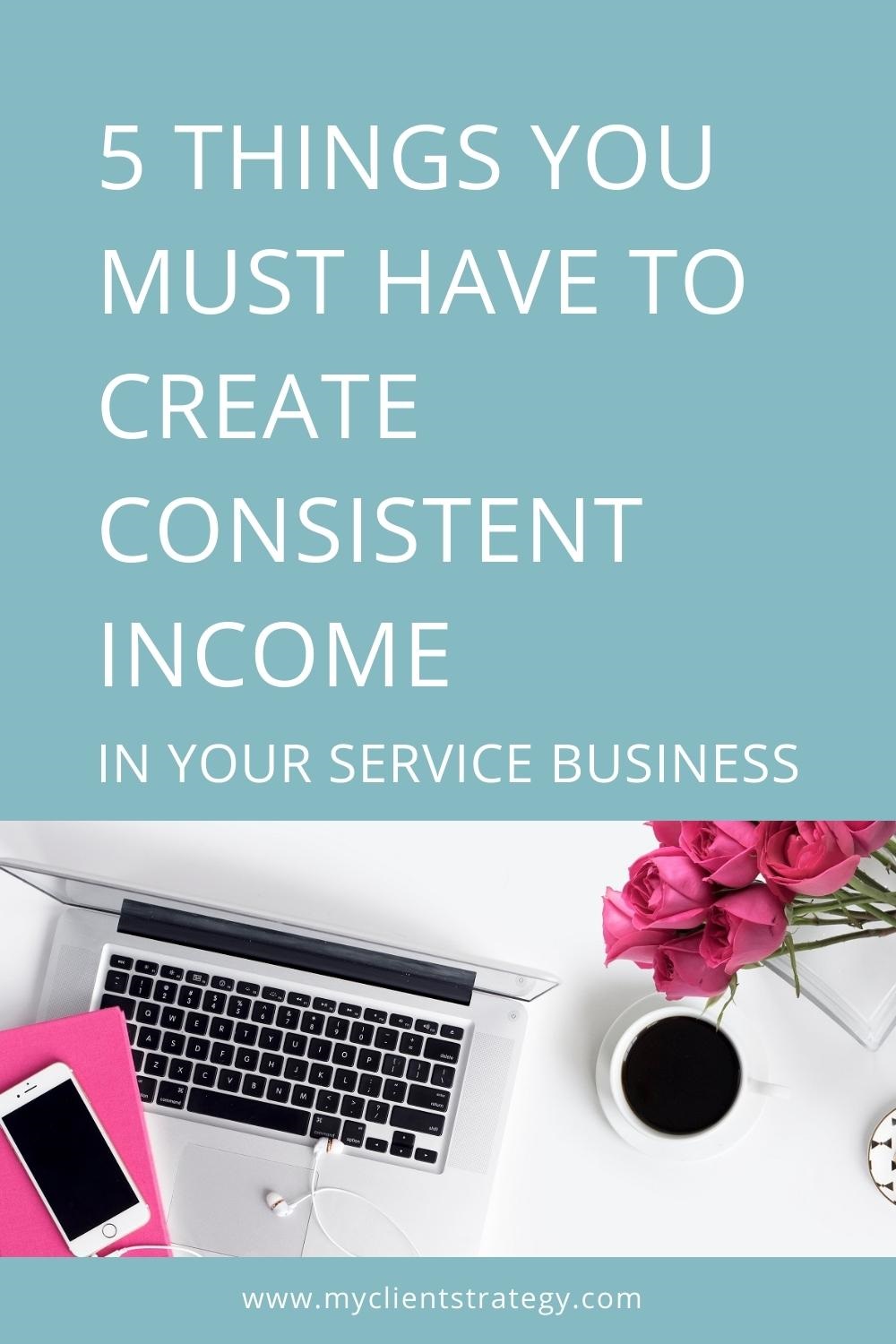 Now, if you're ready to stop worrying about what you think you're supposed to be doing…
And instead, get the sales breakthrough you've been looking for to move forwards, attract consistent clients, and grow…
Well, that's where I can help!
In my blog post below, I've outlined five things you must have to create consistent income in your service business:
1. Clarity around your marketing strategy
A solid marketing strategy means you have:
A well-defined target market,
Service offerings that solve your client's pain points, and
Messaging that cuts through and differentiates you from your competition.
Together, these elements position you as an expert in your niche and help you stand out online in front of your dream clients.
When you have clarity around these elements, you can communicate clearly and consistently.
So, you'll continuously attract qualified leads who are more likely to become your clients.
RELATED: How to develop a marketing strategy and plan for a service business
2. A sales plan you believe in
If you want to create consistent income in your service business, it's essential to set yourself a sales target by service type.
It will create a sales plan across all your service offerings and know how many of each service you'll need to sell.
You'll also want to make sure your sales targets are aligned with your goals and at a level that you think you'll be able to achieve.
Having an achievable target that you believe in will ensure that you're motivated and help you stay on track to achieve your lead generation goals.
3. Visibility and authority in your niche
One of the most critical elements you'll need to attract clients consistently is visibility in your niche.
But not just any visibility – you'll want to ensure you're visible to your dream clients and showing up with content that also acts to build your authority.
So, I recommend regularly creating content that plays to your strengths and that you enjoy making.
This content could include blog posts, podcast episodes, or a video series. (TIP: You only need to choose one format to start with).
When you start publishing this content and people find you, you'll grow your visibility and stay top of mind.
Your potential clients will also hear your perspective and point of view, which will help you to build authority and trust in your niche.
Authority and trust are an essential part of a successful sales process, particularly when it comes to services and creating consistent income in your small business.
4. Promotional marketing messages and stories
One of the most effective ways to cut through and become memorable with your audience is via storytelling.
Stories are easy to remember and often resonate because your clients can relate to them.
So, I recommend incorporating stories into your social media captions and emails, so you'll stand out and encourage your dream clients to reach out and enquire.
The other marketing technique you can use to drive more sales enquiries is to run marketing promotions or campaigns.
These promotional marketing messages offer your audience something extra and encourage them to act now rather than sit back and not do anything to change their situation.
Sometimes all your clients need is some encouragement through a special offer to make a change and reach out to you.
RELATED: 5 Simple steps to successfully create a marketing campaign
5. Testimonials and referrals
The final step to creating consistent income in your service business is to set up a system or process to collect testimonials from your dream clients.
Sharing these testimonials on your website or with your social media followers will add more authority.
And will show others that they too can achieve similar results by working with you.
I recommend creating a simple survey in Google Forms or Type form to collect this testimonial information.
It's also a great place to continually ask for feedback on your services to improve your offering.
And encourages your past clients to reflect on how much they've achieved while working with you.
When your past clients remember all the great things you've helped them achieve, it will give them the confidence to refer you to others in the future.
RELATED: How to use client testimonials in your content marketing strategy
So, there you have five things that you must have to generate leads and create consistent income in your service business.
When you have these elements in place, you'll be well on your way to building a solid marketing foundation for your business to move forwards and grow.
Want to learn how to master your marketing strategy, so you can move forwards and grow your service business?
Well, that's where I can help!
Register for my free online marketing masterclass: How to Master your Marketing Strategy WITHOUT the stress and overwhelm!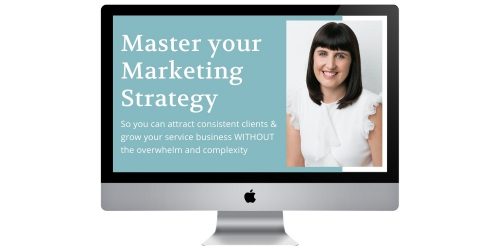 In this Free Marketing Masterclass, you'll learn:
The 3 BIGGEST marketing mistakes I see service businesses make that leave you stuck and spinning around in circles in your business, and…
My simple 5-step Marketing Framework for mastering the marketing strategy, systems, and structure you'll need to attract consistent clients and grow your business WITHOUT overwhelm and complexity!
Get started with this free marketing masterclass now by clicking the button below to register:
Did you find this blog post helpful? Please don't forget to PIN to Pinterest and share on Facebook.