I don't know about you, but I thought it looked easy to create an email list building strategy when I first started my business.
I just needed to choose an email system and set it up with my business profile…
Next, I would create a valuable lead magnet (a PDF Guide)…
And then, I would set it all up on my site and sit back while the email addresses came flooding in.
However, I quickly found that it was NOT AT ALL that simple!
To start with, I spent a few days playing around with the first email system I chose…
Only to realise it didn't have the functionality I needed and was difficult to use, so I had to switch systems.
I spent about a week creating a comprehensive 12-page PDF Guide…
But it didn't end up getting very many downloads because the reality was, it was way too complex to use as a lead magnet.
And I spent the first month getting more and more frustrated as I tried to figure out what I was doing wrong…
And why there were hardly any new email addresses appearing on my list!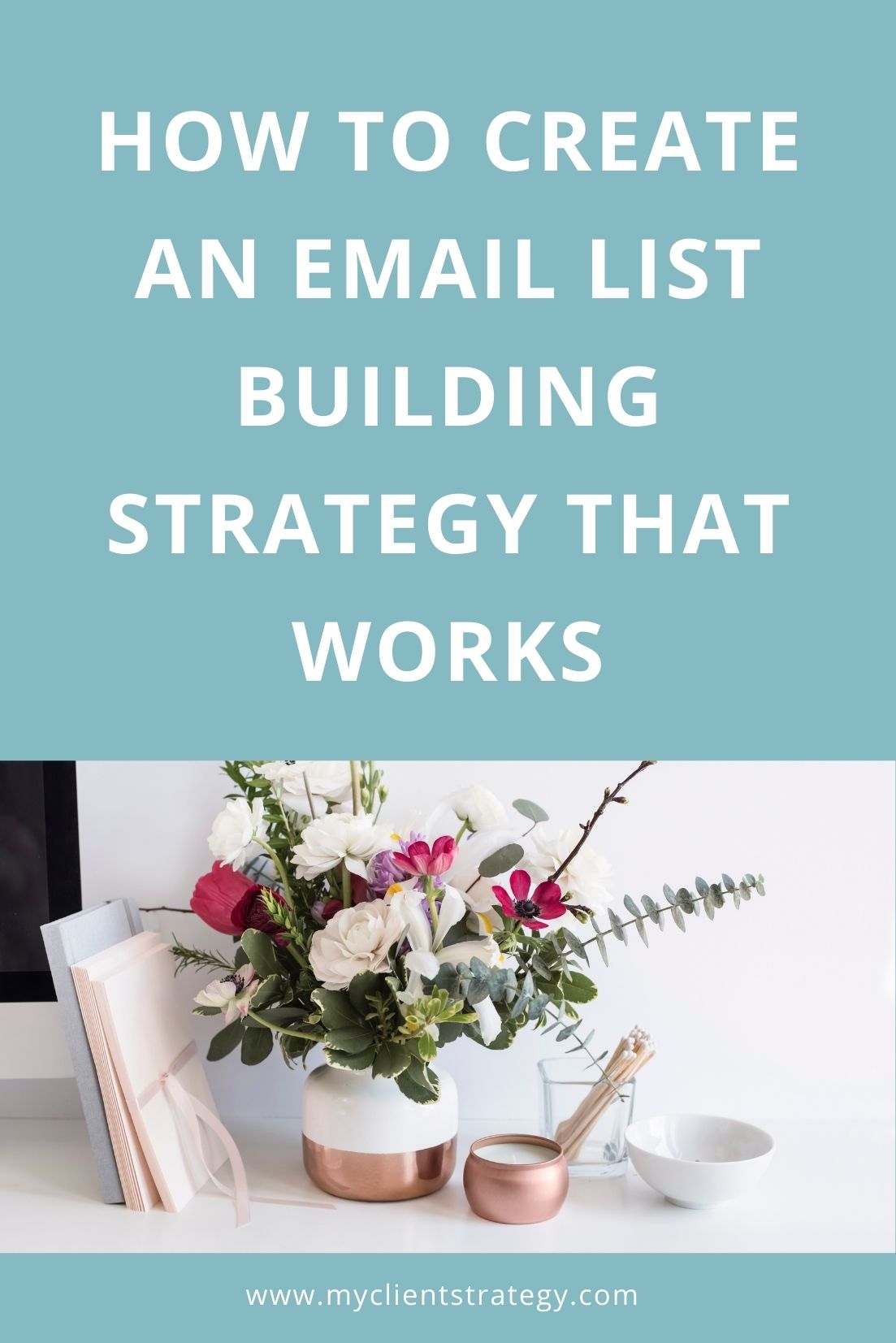 When I reached this point of frustration, I knew that I needed to make some changes.
With some more research and a few tweaks, I managed to create an effective email marketing strategy that I still use in my business today.
What I've come to realise since then is that my story is not unique.
I've worked with more than a few service-based business owners who have struggled to build and grow an email list.
However, the good news is that it is an easy problem to fix.
There are a series of steps that you can follow to breakthrough and grow a high-quality email list.
So, if you too are struggling with building and growing an email list, then firstly, I want you to know that it's quite a common thing.
And secondly, that when you follow my five simple steps as outlined below, that you too can build and grow an email list filled with your dream clients:
Step 1: Focus on a lead magnet linked to your signature service
When it comes to building an email list, you'll want to ensure that you're filling it with people who'll have an interest in buying your services.
As such, I recommend focusing on creating a lead magnet linked to your signature or core service.
This is the service you want to be known for, and that will deliver most of your future sales.
A lead magnet is an incentive or some other piece of value that you're going to exchange in return for someone's email address.
It could be a downloadable PDF checklist or guide, a free training or masterclass, a trial offer, or a discount, as just some examples.
When putting together your lead magnet, try to include your specialty in the lead magnet title or offer if possible.
This approach will reinforce what you want to be known for and will resonate with precisely the type of clients you would like to add to your email list.
RELATED: What is a Lead Magnet? (And how to create one that works)
Step 2: Determine what your dream clients need right now
The next step is to identify what the main pain point or problem your dream clients are currently struggling with right NOW.
The closer you can get to where your dream clients are now, the better your message will resonate.
One way to identify this is to think about some of your past clients.
(If you don't have any past clients, think about someone who would fit your dream client profile).
Ask yourself, what stage were these past clients at when they first approached you?
What questions did they ask? And what roadblocks were they struggling with?
With your lead magnet, you'll want to provide a valuable solution that will help them take the first step to solve this main pain point you've identified.
Not sure where to start when it comes to marketing your service-based small business? That's where I can help. Get started today by clicking the button below to watch my free on-demand masterclass: How to Master your Marketing Strategy WITHOUT the overwhelm and complexity
Step 3: Create a simple and easy-to-follow lead magnet
For service-based small businesses, there are a couple of common areas where clients get stuck.
As such, some specific lead magnet formats will be effective for your email list building strategy.
Often, it can be that your dream clients know they have a problem, but they don't know where to start when it comes to solving it.
They are just stuck where they are and don't know what to do next to move forwards.
In this example, I recommend creating a checklist, roadmap or 10-step guide that gives people the steps or process they need to follow (and in what order) so they can move forwards.
My tip here is not to make it too complicated or to include so many steps that it will take them weeks or months to complete.
Your checklist or roadmap just needs to stay high level and be quick and easy to follow.
Another common area where clients get stuck is that they don't know who to hire and are perhaps a little confused or overwhelmed when deciding who they should appoint.
Your clients will likely not know what questions to ask when they are speaking with potential service providers.
They may also have negative perceptions or beliefs about your industry that you need to overcome before they would be willing to work with you.
If this sounds like your type of business or industry, I recommend creating a lead magnet containing a list of questions they can ask.
For example, "10 questions to ask your social media manager before you hire them".
This list will come across as incredibly helpful and transparent and will work to bust some of those negative beliefs that your clients may have.
RELATED: 3 types of lead magnets that are perfect for service-based businesses
Step 4: Invest in the right tools and systems
Now that you have your idea and content for your lead magnet, it's time to create it.
I recommend using a design tool like Canva to create your lead magnet if it's a PDF.
If your lead magnet is a video masterclass, you could host it in Zoom or opt for a more advanced webinar system such as Easy Webinar or Demio.
Once you're ready to set up your lead magnet, you must invest in a proper email marketing system so that you maximise your email list conversions.
There are three email autoresponders that I recommend – ActiveCampaign or Convertkit. Or, for those who have a smaller list or budget, then MailerLite.
Depending on the plan level you choose, you will have access to use the forms and landing pages within your email system to collect email addresses.
Or you could also use website tools such as LeadPages and Optin Monster to increase your conversions once you have a lot of traffic visiting your site.
RELATED: 30 Marketing tools all service-based businesses should know about
Step 5: Develop a plan to promote yourself
The final step in your email list building strategy is to plan how you will promote yourself and your lead magnet.
You'll want to have your lead magnet prominently displayed on your website so that anyone who visits your site will see it.
I also recommend using pop-up technologies on your website to give your lead magnet further prominence.
If you have a content marketing strategy, you'll also want to include your lead magnet as a content upgrade within your blog articles or promote it when you appear on podcasts.
My tip here is to include links to your lead magnet at the top, middle, and bottom of your blog posts so that it will still be viewed even if people don't scroll to the bottom of your blog.
With your social media posts, you'll want to create graphics and captions to promote your lead magnet.
I recommend creating a few different posts to see what works and resonates with your audience.
Then, once you've tested what works, you can boost the traffic to your lead magnet landing page by running paid ads to it on Facebook or Pinterest.
RELATED: How to grow an email list using Facebook
So, there you have my 5 steps to creating an email list building strategy that works to build and grow an email list filled with your dream clients.
When you follow these steps, you'll be well on your way to building a valuable and strategic marketing asset for your business.
Want to master your marketing strategy to attract consistent clients and grow?
That's where I can help! Register for my free online marketing masterclass: How to Master your Marketing Strategy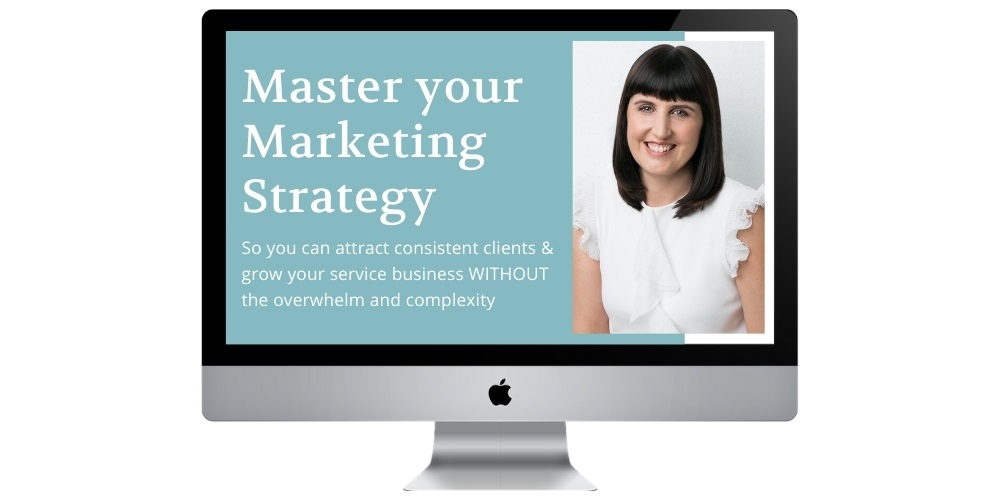 In this Free Marketing Masterclass, you'll learn:
The 3 BIGGEST marketing mistakes I see service businesses make that leave you stuck and spinning around in circles in your business, and…
My simple 5-step Marketing Framework for mastering the marketing strategy, systems, and structure you'll need to attract consistent clients and grow your business WITHOUT overwhelm and complexity!
Get started with this free marketing masterclass now by clicking the button below to register:
Did you find this blog post helpful? Please don't forget to PIN to Pinterest or share to Facebook.