When you create content for your website it can be incredibly time-consuming.
It's also a bit of a risk, as you're spending time on something when you're not entirely sure what level of interest you're going to get from it.
So, when creating website content, it's essential to have a marketing strategy that will assist with generating leads for your business.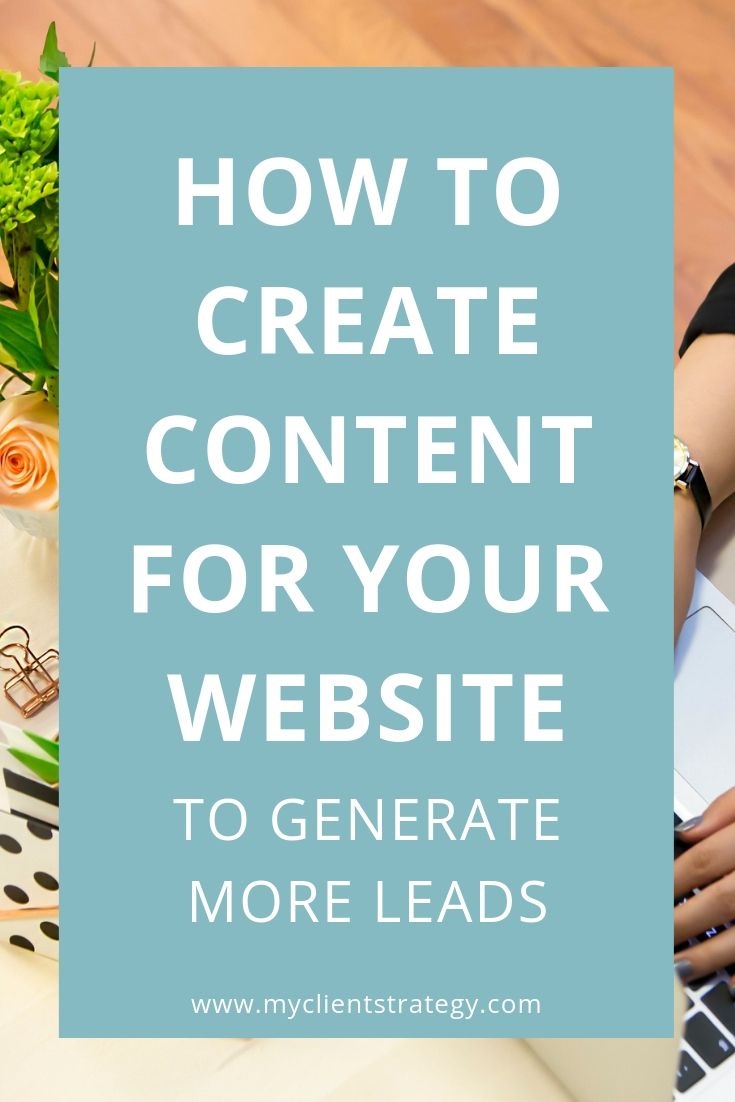 However, where do you start?
Well, here's a list of my content marketing strategy tips for how to generate more leads from your website:
Create content for your website that relates to your services
It sounds simple, right?
Yes, it does. However, it's also amazing how many business owners create fantastic content, but then wonder why they're not generating any leads.
A big reason 'why,' is that their content is just not related closely enough to what they sell.
They're making the mistake of creating content without starting with the end in mind (i.e. generating a lead or sale).
Therefore, before you start creating content, be clear about what your objectives are from that piece of content.
Do you want to attract a specific type of client? Then create something that talks about their pain points specifically.
Alternatively, do you want to promote a new service package? Write a blog post on the same topic and lead into the sale at the end of the article.
A great way to create website content that generates leads is to think about the pain points or struggles that your clients have.
And then to write a blog article that solves that problem.
Not only will you show the reader (your potential client) that you understand how to solve their most significant pain point.
But you'll also have a natural lead in to capturing their details and generating an enquiry.
Are you not sure where to start when it comes to marketing your service-based small business? I can help with that. Download my free Ultimate Marketing Checklist by simply clicking the button below.
Use location keywords to attract local traffic
Location-based content is critical, especially if you're a local business and want to work with residents in the area.
This content would include SEO keywords related to your town, region, state, or country where appropriate.
Use keyword research and website optimisation tools to identify the location-based keywords that have high volume and low competition.
Include these SEO keywords in your title, meta description, and in the page copy on your 'Contact' page.
It's also useful for your search engine optimisation to include location-based keywords in your page copy on other pages and to add a map to your site.
Another way to attract local website visitors is to write blogs about events and activities in the area that have a link to your business.
You could also consider partnering with other non-competing businesses in your area and setting up a partner's page to profile your companies and share links between each other's sites.
Are you not sure where to start when it comes to SEO? Check out my Online Masterclass: An Introduction to SEO.

Create additional website pages
Increasing the number of pages on your website will increase the possibility of your site being returned on the search engine results pages.
With more page content, you'll be able to rank for additional SEO keywords.
It'll also help your website visitors by giving them more information about what you do and how you can serve them.
So, how do you create content for your website by adding more pages?
Well, to start, add pages to your main navigation.
However, be careful not to add too many pages, so that it overwhelms users when visiting your site.
Additionally, you could create a secondary menu that sits under your main navigation.
Consider adding service pages for every type of service that you sell in a secondary menu.
As an example, if you were a photographer, then you could have a service page for family photography, as well as for wedding photography, and portrait photography.
Alternatively, if you were a beauty consultant, you could have pages for hair, makeup, and massage.
When you create these additional website pages, think of them as sales landing pages and the pages which are most likely to generate leads for your business.
These pages are the ones where potential clients are considering working with you, so use sales-generating copy, and make the call to action clear.
RELATED: The 10 online marketing strategies you need for a service-based site
Design an irresistible lead magnet
Your website is an excellent place for generating leads.
And one of these simplest and easiest ways to capture a potential client's contact details is with a downloadable lead magnet.
Checklists work quite well for service-based small businesses, so consider if there is a task which your clients find difficult where a checklist would help.
When creating the lead magnet content, spend time on getting the headline right.
You want to come up with a headline that generates curiosity or urgency and something that a visitor must click.
However, creating the lead magnet is only the first part of the process for generating leads.
Your website or landing page content, sign up forms, and calls to action will all have a significant impact on whether you capture the lead.
Be sure to keep your website forms and descriptions simple and make it as easy as possible for someone to provide you with their details.
If you write too much copy or use a distracting image, you could lose the lead partway through the lead generating process.
RELATED: 15 Types of content marketing you can use to stand out online
Are you not sure where to start when it comes to marketing your service-based small business? I can help with that. Download my free Ultimate Marketing Checklist by simply clicking the button below.
Choose blog categories related to your niche
Just as creating additional website pages increases the possibility of your site getting found, so too does regular blog publishing.
One way to ensure your blog generates leads is to carefully align it to what your target market is seeking help with.
There's no point writing a great article if it's in no way associated with the services you sell.
It won't generate you the type of leads you're seeking.
When starting a blog, a great way to keep it aligned to your business goals is to choose 5 – 8 blog categories that are keywords closely associated to your niche.
Then use these blog categories to guide you on what content to create for your website.
For example, my blog is about marketing for service-based small business owners. So my blog categories relate to my niche – content marketing, email marketing, and website marketing, to name just a few.
I only write blog articles that relate to my niche, so that I attract the kind of clients who are seeking my help and are likely to want to work with me.
Another way to generate leads from your blog is to include links to your content upgrade or lead magnet.
Again, make the download process as simple as possible for people to follow so that you maximise the number of leads you generate.
As a general guide, be sure to include at least three links to your lead magnet throughout your article.
If you include a link at the top, middle, and bottom of the blog you will also capture those who may not scroll to the bottom.
RELATED: How to start a blog for your service-based business
Implement SEO copywriting techniques
There are several techniques that SEO copywriters use when creating website content to generate leads from organic traffic.
These include:
Conducting thorough SEO keyword market research to identify the right keywords
Using SEO keywords in the titles and meta descriptions of pages and posts
Wrapping SEO keywords in the <H1> Header title in the page copy
Linking to internal and external pages to increase the authority of the site
In addition, SEO copywriters use persuasive language in their writing to encourage more click-throughs and leads.
RELATED: How to choose the right keywords for your target market
Add a personal story to your 'About' page
One of the most visited pages on a service-based business website is the 'About' page.
This page is the one that potential clients click on when they are considering working with you and want to build up some trust.
Consider sharing content that contains a transformational story or one that touches on the same pain points that your clients are experiencing.
Sharing a personal story on this page is a great way to show your potential clients who you are and what you can achieve.
A personal story is also great for building trust and starting a relationship.
In addition to the personal story, also include a call to action or invitation to contact you.
If you want to generate leads from your 'About' page, you'll want to make it as easy as possible to get in touch with you.
These ideas for how to create content for your website are designed to help you generate more leads for your business. Are there other marketing strategies that you use to generate leads from your site? Let me know in the comments below.
Are you not sure where to start when it comes to marketing your service-based small business? I can help with that. Download my free Ultimate Marketing Checklist by simply clicking the button below.
Did you find this article helpful? Please don't forget to PIN it to Pinterest.