Hiring a web designer to create your small business website is an important decision you'll make.
Your website is where your clients are going to research your services and make a decision about whether or not to work with you.
And it's the place where you'll need your business and brand to make a good first impression.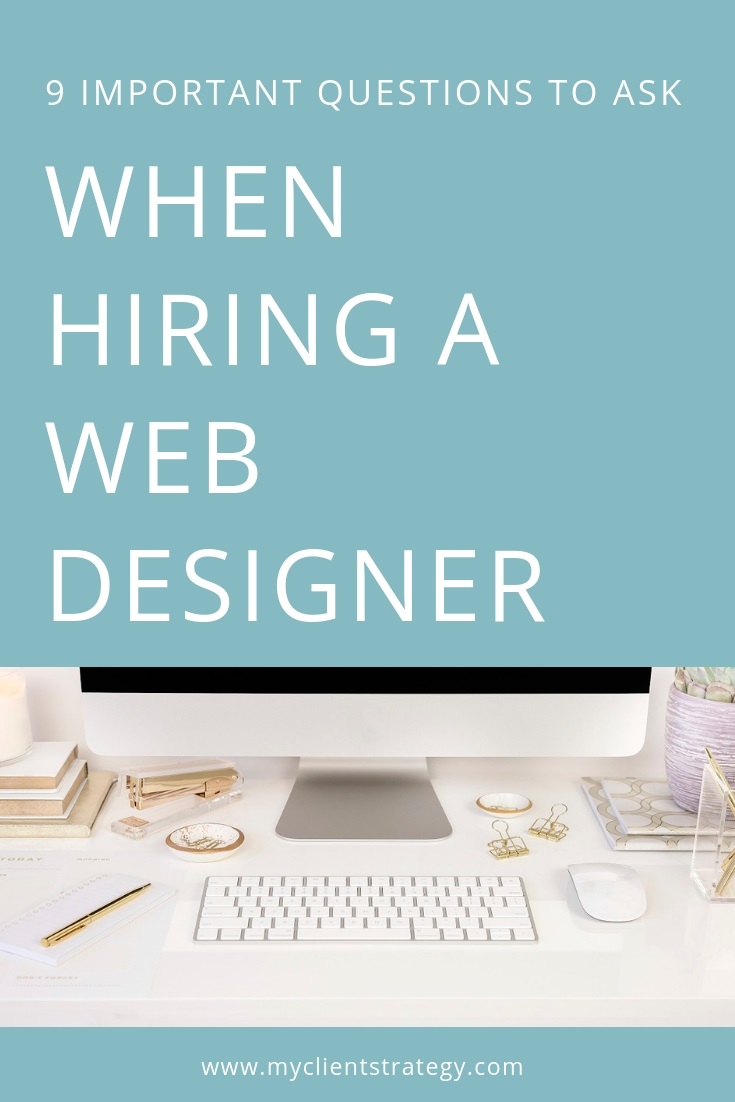 Regardless of whether you're about to launch your business or have reached a point where you're ready to upgrade, launching a new website is no small investment.
As such, it's a decision that you'll want to get right.
So, how do you know what web designer questions you should be asking yourself and potential designers?
To find out, I interviewed web designer, Aimee Harris from Anchored Design for the inside word on what web designer questions to ask and what to expect while working on the project.
Below are the 9 important questions you should ask before hiring a web designer and the critical answers you should look out for…
1. What's your standard process for designing and delivering a website?
There are essentially eight steps to establish a website/blog project:
#1: STRATEGY SESSION/PURPOSE:
I work with a client to learn their goals and objectives for the website to include their primary call to action, audience, and functionality they desire to have in the project. We determine the sitemap and templates needed for the project.
#2: SCOPE ESTABLISHMENT:
Once we know what the client's objectives are, we can define the scope of the project by building out a proposal to include the design and development aspects of their requests.
#3: DESIGN:
Establishing the templates required in the project allows us to begin designing based on the objectives and branding requirements. If we are hired to design a full project, we will start with the HOMEPAGE template first, since it's the "face" of the project… or we will establish a PRIMARY TEMPLATE from our list, so we have a reference point for the balance of the project. We collaborate with the client over the entire primary template design to ensure we are capturing their vision and meeting their objectives.
#4: CLIENT APPROVAL:
Once we have a final design approval on the HOMEPAGE or PRIMARY TEMPLATE, we continue to execute the design requirements within the proposal. Upon completion, all designs are presented to the client via a ZOOM video conference so they can walk through the design with us and better understand what the design will do once developed as well as provide any edits/insights.
#5: DEVELOPMENT BEGINS:
Upon full approval of all the design pieces, we begin the development process. The process starts with a project manager evaluating what our lead developer needs by mapping out the design boards, final templates and pairing it with instruction on functionality and purpose. Our lead developer takes this information and begins building a custom site with the design files and instructions.
#6: TESTING:
The final step before a client receives access to the developed project is for the developed work to be quality checked to ensure it meets the prior approved design files paired with the functionality required via the proposal. Once final testing has been completed, all the pages and templates have been defined and are ready for our client to review.
#7: REVIEW + TRAINING:
Another ZOOM video conference is necessary to walk through the live site with the client. This ensures that we are delivering what they had approved back in step #4 while also providing us with the training needs, they may have to manage their project upon launch.
#8: LAUNCH:
Once everything is working, links are set, browser and mobile capability coding is completed, we work with the client to schedule a launch date that works for both them and us. This ensures successful launches with active communication so we can support their needs throughout the process.
2. What inclusions are in the pricing package? (And what should I look for?)
Strategy Session before proposal/contract terms are reached
Browser Compatibility
Mobile Responsiveness
Training on any custom features
ADMIN control when the project is completed
An opt-in maintenance plan, not a required maintenance plan with on-going fees
30-60-day post-launch support on any technical/plugin issues
3. What other costs should I budget for when getting a website built?
HOSTING: $10-80/month | Different hosting solutions are available based on several aspects of your site. Storage size, load time, tools, functionality. Ones that we recommend include:
DOMAIN REGISTRATION: $10-15/month | A domain name registrar is a company that manages the reservation of Internet domain names. Ones that we recommend include:
MAINTENANCE: If you don't feel comfortable managing your own website, you'll want to ask your designer if they offer a monthly maintenance package to help you manage your website. Costs will vary.
4. What platform should I get my website built on and why?
We LOVE WordPress for many reasons — WordPress powers nearly one-third of the world's websites from small personal blogs to complex corporation websites.
In addition to WordPress, we use the Genesis Framework by StudioPress.com. It's an SEO-friendly tool that provides advanced functionality and support. Yoast SEO is also a popular plugin for non-Genesis users.
If you're looking for a checklist for how you can get your website found on Google and increase the traffic to your site, download a copy of my Ultimate Marketing Checklist by clicking the button below.
5. What would I need to include in my brief for a new website?
If you have an existing website, we want to know what is and what is not working… also, where you hope to grow your site/blog too. If you use Google Analytics, then having access to this allows us to gain a better understanding of the technical pieces of your site.
Also, you'll want to provide us with a general overview of what you're hoping to receive from a project change. From there, we can work with you to determine what steps are necessary to get to where you want to grow.
6. What should I check for when it comes to search engine optimisation (SEO)?
Genesis Framework for WordPress; SEO-friendly/Google search compatible
Yoast SEO is a popular plugin for non-Genesis users
Using a tool like SEOptimer allows you to get a general sense site SEO optimisation
Quality content is ALWAYS King of SEO, so it's important to create good, high-quality content for both readers and the search engines.
RELATED: How to create an effective content marketing strategy
RELATED: SEO Marketing Strategy Session
7. What performance metrics would I measure for success?
Google Analytics is our best suggestion for general performance and customer responsiveness as well as their time on site and how they use their time.
Also, use SEOptimer for measuring general overall health and performance.
8. What maintenance should I expect once the design is complete?
We suggest that clients should understand and learn how to maintain their own websites/blogs.
We also provide training tools to our clients, so they are not dependent on us to maintain, but instead have a deeper sense of pride and self-management to handle backups and updates on their own.
For site security, we suggest SUCURI or WORDFENCE.
9. What previous work have you completed and what references are available?
Before you choose a designer, grab a phone call with them to see how compatible you are with their style and method.
Be sure you understand their process and timeline… and if you weren't personally referred to them, grab some references.
Do your homework. Too often clients come to us because of issues with another design company and we're stuck fixing mistakes.
Be sure to really know who you're hiring — it's a big investment and the expectations are high. If you don't feel they are competent, look for other options!
Thank you, Aimee, for providing such a valuable and helpful insight into the process of hiring and working with a website designer.
These are useful tips and ones that provide a lot more peace of mind when it comes to making such an important investment decision. You can find out more about Anchored Design and view their portfolio here.
I hope these web designer questions have helped you with your research and preparation for building a new website for your business. If there are any questions you would add to this list, I would love for you to share them in the comments below.
Do you want to learn how to DIY your SEO to avoid expensive outsourcing costs? Are you looking to improve your SEO performance and get more traffic?
My 2-hour SEO Marketing Strategy Session is a great way to get someone to take a look at your site and help you with your keywords in a one-off session.
By the end of our time together, you'll have easy-to-follow SEO recommendations to optimise your site and manage your SEO ongoing, without the need to outsource to expensive agencies.
If you found this post helpful and want to refer to it later, don't forget to PIN to Pinterest.