Not sure where to start when it comes to writing a small business marketing plan for your coaching, consulting, or professional service business?
Or what you should include so that your small business marketing plan is useful and doesn't just end up sitting in your bottom desk drawer, never to be seen again?
Well, that's where I can help.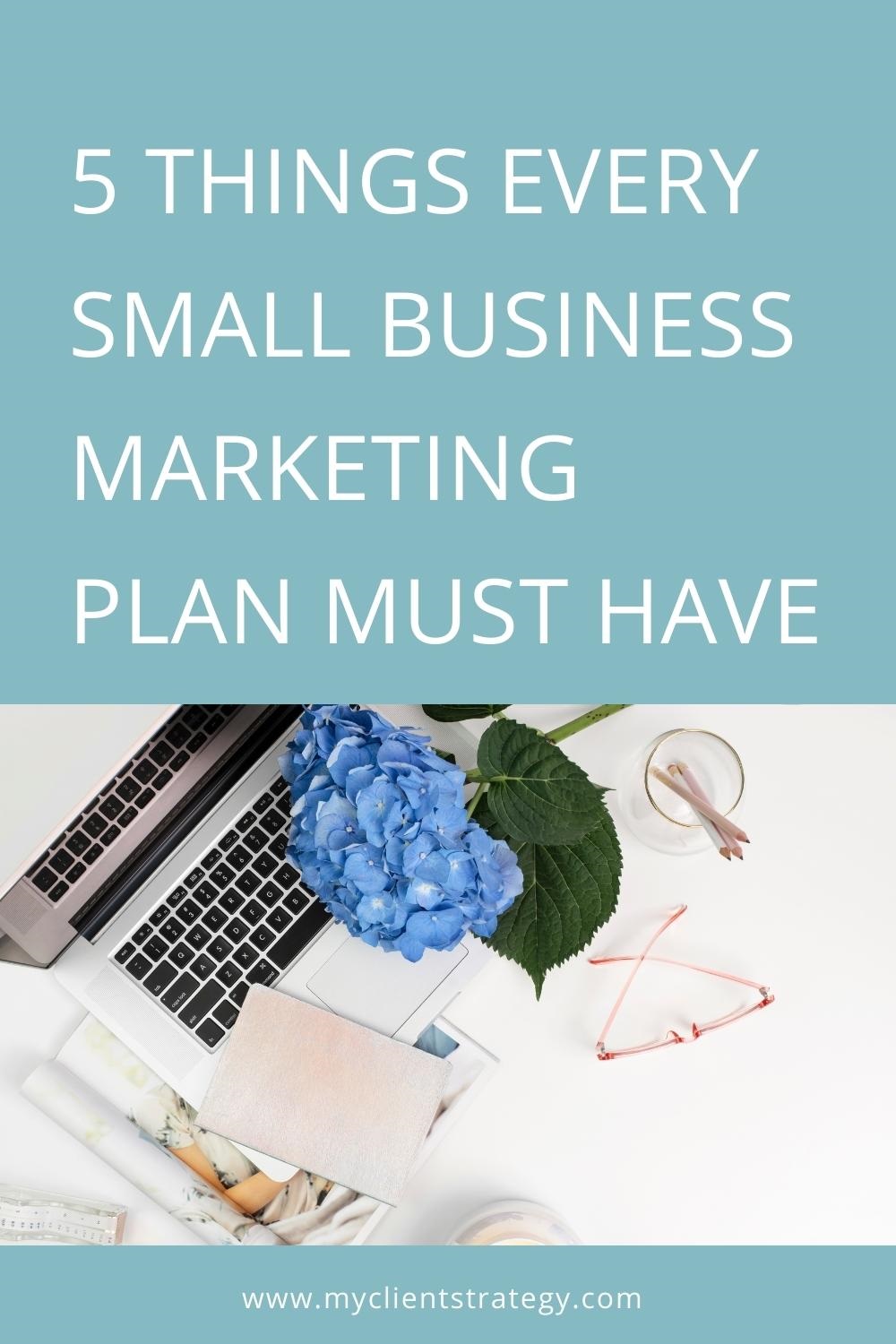 For a small business marketing plan to be useful and helpful, it needs to include your:
Marketing Goals
Marketing Strategy
Marketing Campaigns
Resources and Timing
Performance Measures
In the blog post below, I've outlined these five things every small business marketing plan must have in more detail.
So, you have a comprehensive and straightforward guide to follow when writing your next small business marketing plan:
1. Your Marketing Goals
When writing a small business marketing plan, your marketing goals are the best place to start.
These goals could include things such as:
Growing your audience so you have more people to promote yourself too
Creating engagement with your leads to generate more enquiries
Launching more offers or new services to increase your sales revenue
Enhancing your sales process to improve your sales conversion rates
You'll likely have specific goals around your sales revenue and profit targets that you can also include.
When you know what you're trying to achieve from your marketing activities, you'll find that your marketing plan will be aligned and more effective in getting the results you'd hoped for.
It will also give you the clarity and direction you'll need to complete the rest of your small business marketing plan.
RELATED: 7 Steps to setting marketing goals you'll actually achieve

2. A Marketing Strategy
Once you know where you want to go, the next step is to define your marketing strategy, so you'll have clarity around how to get there.
So, firstly, you'll need to decide on your target market and who you want to be working with.
Your target market needs to be specific, and you'll also need to validate that it's a profitable market.
Next, you'll need to define your service packaging and pricing and decide how many of your services you want to sell to reach your revenue goal.
This service mix exercise will benefit you because you'll likely realise that it's going to be easier to find 2 x $1,000 clients as opposed to 20 x $100 clients, for example.
It will also help you understand if you have enough revenue streams to meet your sales target.
Finally, you'll need to figure out how to stand out from your competition.
This point of differentiation will be a critical element in your marketing messaging, so you'll stand out amongst all the noise online.
RELATED: 7 Signs it's time to develop a marketing strategy and plan
3. Marketing Campaigns and Promotions
I recommend creating marketing campaigns and promotions within your plan to enhance your marketing effectiveness.
The number of campaigns you plan will depend on your capacity.
However, if you're a solopreneur, I recommend creating a promotional campaign every 60 – 90 days.
So, your marketing plan will need somewhere between 4 and 8 campaigns throughout the year.
This approach will ensure you have messaging going to your audience regularly, so you stay top of mind.
Each marketing campaign needs to focus on selling one specific service offering, so the messaging is clear and concise.
Also, when planning your marketing campaigns, be sure they each have:
A start date and end date, so there's urgency around it
An offer, bonus, or discount to encourage action
Themed graphics or messaging, so it stands out as something special
Strong communications activity, so your audience finds out about it
Measures you can track, so you'll know if it's been successful or not
RELATED: 5 Simple steps to successfully plan a marketing campaign
4. Resources and Timing
Now that you have a high-level overview of what strategies and campaigns you'll include in your marketing plan, it's time to map out your timeline and required resources.
I find using an online project planning tool like Asana, Trello or ClickUp can be very helpful for this task.
Or you can also keep things simple and map your timeline in an excel spreadsheet.
Regarding your resources, consider what content and marketing assets or graphics you may need.
And if there are any online marketing or scheduling tools you may need to invest in.
Also, whether you need extra support to help you implement your plan. (Such as a virtual assistant, copywriter, or social media manager as examples).
One of the most common marketing planning mistakes is that people don't leave themselves enough time to properly create and implement their campaigns.
So, give yourself plenty of time in advance regarding your marketing promotions.

5. Performance Measures
The last component you should include in your small business marketing plan is your performance or success measures.
These measures will provide something for you to measure your results against, so you can work out what parts were successful and which weren't.
Examples of performance measures include:
Audience growth – Number of people on your email list, social media followers, or visitors to your website
Sales growth – Number of discovery calls, the number of clients you sold to, and the sales revenue you generated
Campaign effectiveness – Number of webinar or challenge participants and the sales conversion rates
It may not be relevant for you to measure everything for each campaign, so decide what performance measures would be most important for each campaign and track those.
When you track your marketing metrics, you'll find areas for you to improve your campaign for next time and see even greater success.
RELATED: 7 Marketing metrics every service business should track
So, there you have five things every small business marketing plan must-have, to successfully plan your marketing for the month, quarter, and year ahead.
When you create a marketing plan, you'll see an improvement in your marketing results and effectiveness because it will be better aligned with your marketing goals.
And because you'll have success measures and performance tracking, you'll know exactly where you can make changes to enhance your results the next time you run your marketing campaigns.
Want to master your marketing strategy so you can attract consistent clients and grow with ease?
That's where I can help! Register for my free online marketing masterclass: How to Master your Marketing Strategy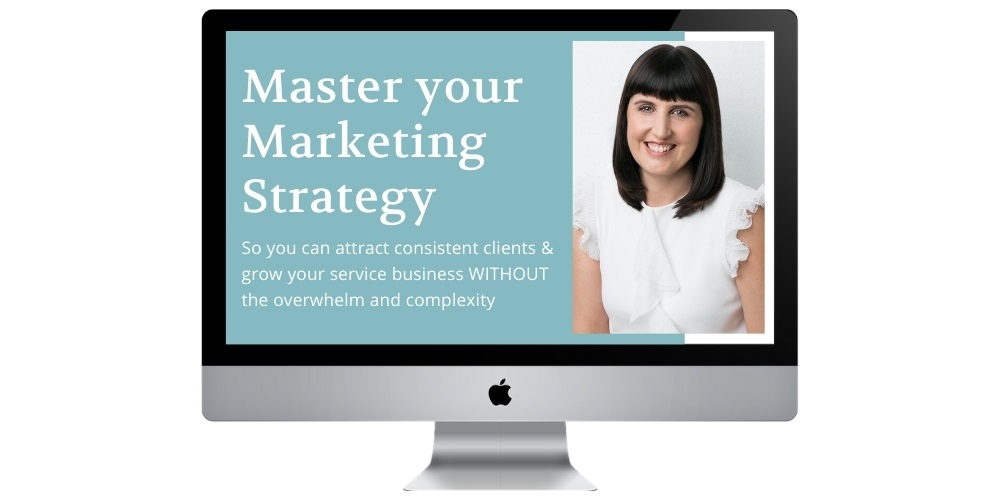 In this Free Marketing Masterclass, you'll learn:
The 3 BIGGEST marketing mistakes I see service businesses make that leave you stuck and spinning around in circles in your business, and…
My simple 5-step Marketing Framework for mastering the marketing strategy, systems, and structure you'll need to attract consistent clients and grow your business WITHOUT overwhelm and complexity!
Get started with this free marketing masterclass now by clicking the button below to register:
Did you find this blog post helpful? Please don't forget to PIN to Pinterest and share on Facebook.