How many times have you thought to yourself, "I'd love to start a business online and sell my expertise, but I'm just not sure where to start"?
And I don't blame you…
Because working out how to turn your skills and expertise into a small business can be challenging.
Especially when you've only ever had a corporate career or worked for someone else before.
However, the problem is…
When you don't take small steps towards starting your own business, you'll never break the cycle of feeling overwhelmed, stuck, and unhappy in your current job.
And worse still…
If you're spending all your time worrying about where to start and what to do first, then it's probably why you haven't been able to monetise and sell your expertise…
…yet.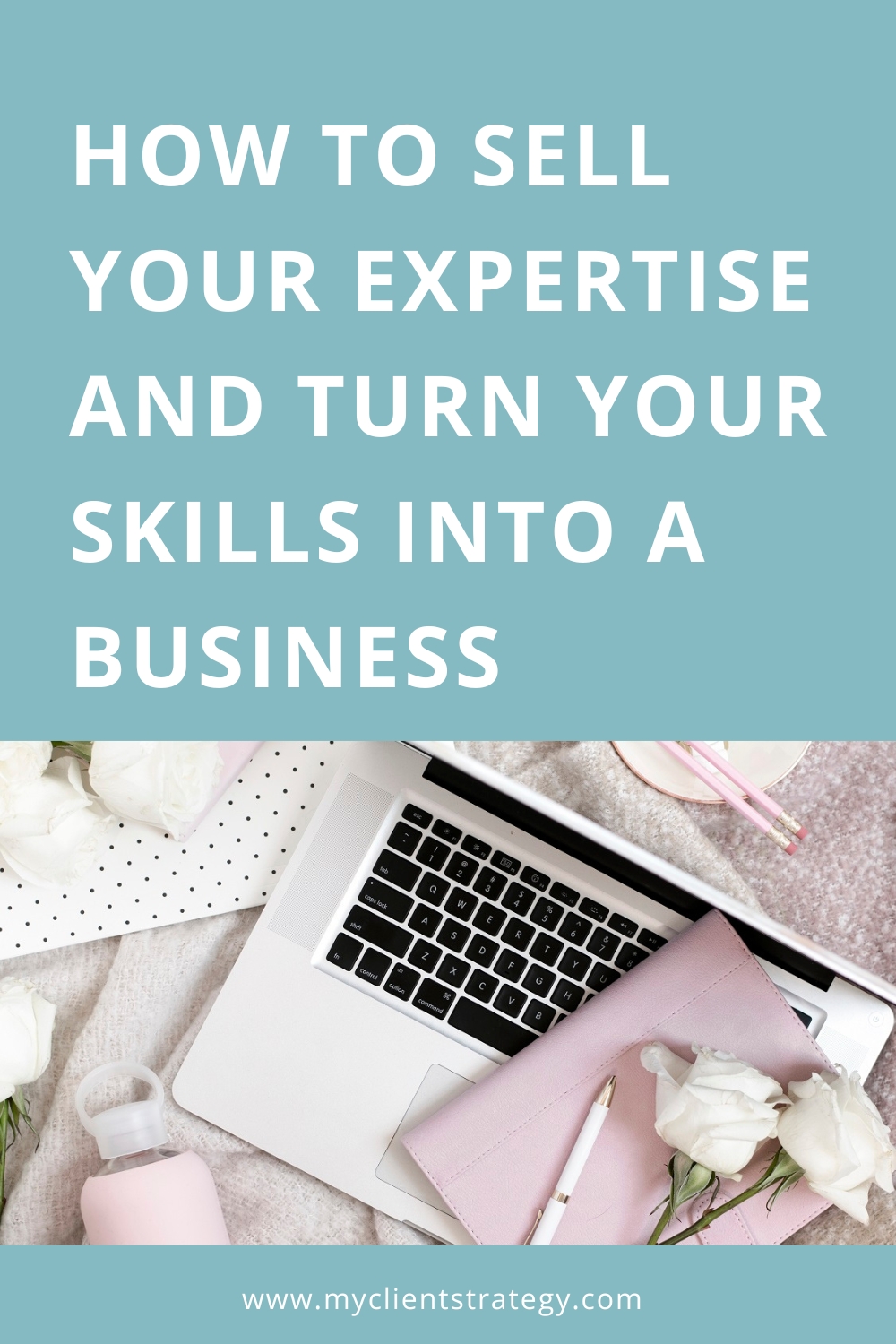 Now, I often hear people in my community say they're worried they don't have enough experience to own and run a small business.
And I worry that this belief is massively getting in the way of where they want to be.
It means they stay stuck in the same place because they don't have the self-confidence and assurance they need to move forwards and grow.
However, there are some simple steps you can take to turn the skills, knowledge, and expertise you have into a business.
Yes, they will take time to set up, work through, and implement.
But the initial effort required will be worth it over the long term when you can quit the job you're not meant to have…
And start working for yourself, so you can get the freedom and flexibility you've been searching for and deserve.
So, here's my step-by-step guide on how you can sell your expertise and build a dream business that you'll love:
Define what you're good at and enjoy doing
It's much easier to run a successful small business doing something you're good at and enjoy.
So, as a first step, I recommend brainstorming and writing a list of all your expert skills, knowledge, and experiences.
Don't just limit your skills and experiences to those you've learned in the workplace, either.
Also, consider skills, knowledge, or talents you've developed in all areas of your life.
From this list, you'll want to narrow in and focus on what you really enjoy and could see yourself delivering to your clients day after day.
If you're struggling with this activity, reach out to people who know you well and ask what they think you're good at doing and enjoy.
Research your target market
The next step is to decide who you want to work with and serve in your small business.
I can tell you from experience it's much more enjoyable to spend time working with your dream clients than to deal with issues and problem clients all day long!
To conduct target market research properly, you'll need to delve much deeper than your client's demographic and geographic information.
In addition to the profile of who your dream clients are, you'll also want to conduct market research to find out what your dream clients are:
Struggling with right now
Really wanting and desiring from your type of small business
Worried about when it comes to purchasing your type of services
May believe or have perceptions about your industry or profession
I recommend you don't skip over this step too quickly because the information and knowledge you'll gather will significantly help when it comes to marketing.
Not sure where to start when it comes to marketing your service-based small business? That's where I can help. Get started by downloading my free Ultimate Marketing Checklist by clicking the button below:
Design your services to monetise and sell your expertise
When it comes to designing your services, I recommend conducting some competitor research to understand the following:
The various business models and ways to generate revenue that are already in the market
Where the market demand is, based on what most other businesses are offering
When conducting this competitor research, you'll probably notice the specific problems that their service offerings solve.
Another essential element to note is the timeframe around each of your competitor's services.
With this market knowledge and insight, you'll be able to design your initial service offerings.
Remember that you don't have to design a broad range of services upfront – you just need one or two to get started and test the market.
You can always add, tweak, and develop more services once you've started working with clients and have a better idea of what they want from you.
If you're unsure how to design your services, check out my helpful blog post here: 15 Things you need to create an irresistible service offering
Set your pricing and create a sales plan
If you want to build a profitable and sustainable small business, then it's not enough to design and create your services.
You'll also need a sales plan considering your service mix and available capacity to deliver your services.
This step means working out how many services you'll need to sell to reach your sales goals.
And determining if you have enough capacity to deliver the number of services you need to sell.
Once you've crunched these numbers, you can build your marketing plan to focus on the services that will deliver most of your revenue.
RELATED: Why setting sales goals is important (And how to do it)
Launch your website and social media presence
Now that you know what you're going to sell and who you will market your business to, it's time to get visible so you can sell your expertise online.
I don't believe you need to spend much time upfront on your website and social media presence because it's likely to evolve and change as your small business grows.
However, getting a basic website launched early on is vital so your targeted search engine keywords start to rank in the Google search engine.
And so that you can reserve the social media handles for your brand and business name.
It will also give you a lot more clarity and confidence to go out and market your business, knowing that people can also find and research you online.
Create long-form content to attract and build an audience
If you want to monetise your expertise, you should focus on building an audience you can market to as soon as possible.
There are various ways to do this, but it's most common to achieve this via a content marketing strategy.
There are three types of long-form content you can create – written (blog or book), audio (podcast), or visual (video or presenting).
I recommend playing to your strengths and choosing one form of content, to begin with.
This way, staying consistent will be much easier, and you'll get faster at creating content when you're doing it repeatedly.
To optimise your content, add a call to action at the end of your post or podcast to sell your expertise.
And include links and references to freebies that your audience can access in exchange for an email address.
RELATED: How to start a blog for a service-based small business
Start networking and increasing your visibility
It's very easy to get trapped into staying behind your computer all day when you first start a business.
However, growing your business is much faster when you're out there networking and meeting people in person.
Because meeting people in person is the fastest way to build a relationship, which is essential for making sales.
And it's a great way to practice pitching your business and generate referrals.
You can also build relationships online if you cannot get out because of family commitments or live in a remote area.
I've met many people over the years in Facebook groups, paid memberships, and via other online networking activities.
Including my own Facebook group, which you can join here.
Capture email addresses to grow your list
If you're creating content and getting yourself visible, you're also creating opportunities to capture leads and grow your email list.
I highly recommend building an email list if you're a service-based small business because you'll have an asset you can use to market your business cost-effectively.
One of the most common and effective ways to grow your email list is to give something away for free in exchange for an email address.
This freebie (or lead magnet as they are called) will also enable you to qualify and filter your leads, so you're building an email list of people who need and are interested in what you offer.
Not sure where to start when it comes to marketing your service-based small business? That's where I can help. Get started by downloading my free Ultimate Marketing Checklist by clicking the button below:
Run promotions and offers to create demand
Capturing leads is typically a lot easier than turning those leads into sales.
And one of the main reasons for this is that your clients are likely holding themselves back from reaching out to you (or your competitors).
It may be that they don't feel ready yet. Or can't see the value in investing their money. Or that they are scared to commit or reach out for help.
Whatever the reason, you can overcome these sales objections and encourage them to act by offering them an incentive.
This incentive could be a special bonus or discount promotion. Or it might be an event or a limited-time offer people can get.
Promotions and incentives are a great way to stimulate demand and make sales when you've got an audience to promote your business.
Join networks for accountability and support
Now, growing a business takes time.
Working on it daily also takes a lot of self-motivation, energy, and effort.
So, it's critical that you also put some support structures in place to give you the motivation, accountability, and encouragement to keep going (even on those tough days!)
It's also much more enjoyable to own a small business when you have like-minded people around you who 'get' what you're trying to do and achieve.
Some of the ways I've been able to get accountability and support over the years include:
Joining a paid networking group called She Will Shine. (I've even become the Ambassador and host for the group events based here in Brisbane).
Investing in group programs, memberships, and coaching.
Participating in marketing collaborations, summits, and online events with fellow entrepreneurs.
Attending training and local in-person events where I've met other business owners.
For more ideas on how to build your networking strategy, check out my helpful blog: How to Build a Network. The Ultimate Small Business Networking Guide
Or, to join us inside my membership, check out the My Client Strategy Academy here
So, there you have my simple step-by-step guide to selling your expertise and turning your skills and experience into a business.
When you follow these steps – in this order – you'll be well on your way to starting a small business and being able to quit corporate life sooner!
Tired of feeling STUCK when it comes to starting and growing your small business?
Breakthrough the barriers holding you back with personalised 1:1 coaching and support from an experienced Marketing Coach who will tailor a program specifically for you.
Click here to learn more about my Business Breakthrough Coaching Program.
Did you find this blog post helpful? Don't forget to share on Facebook and PIN to Pinterest.