Are you struggling to attract your ideal clients?
Even though you feel like you've tried just about everything when it comes to marketing?
Well, you're not alone!
I can tell you from experience and from coaching many of my clients that it can be quite challenging to stand out and attract your ideal clients.
And you can often end up having to say yes to clients that you know you don't really want to be working with.
However, the good news is that it's an easy problem to fix.
When you identify what marketing is not working for you, and instead, you start following the right marketing strategy for your business, it's entirely possible to attract more of your ideal clients!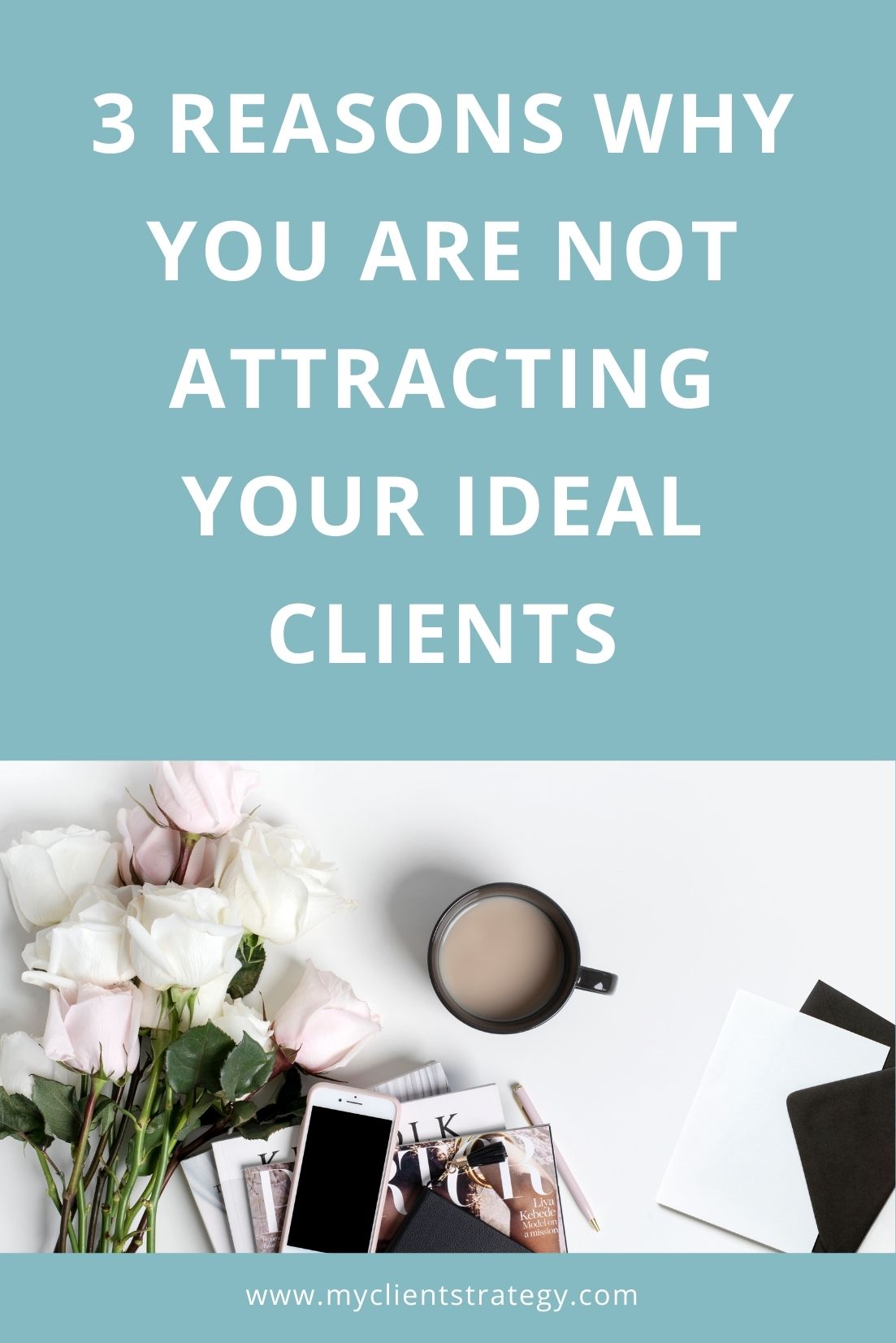 In the blog post below, I outline three of the most common reasons why you're not attracting your ideal clients.
If any of these reasons below resonate with you, then you'll know where you may need to stop and make some business changes.
I also provide my marketing tips for what you can do instead to attract your ideal clients and grow your service business.
#1 Your messaging isn't resonating with your ideal clients
If you're not sure why you aren't attracting your ideal clients, start by looking at your marketing message.
Within your messaging, you must include the following three things for it to resonate:
What you do (the niche you specialise in)
Who you help (your ideal clients)
Why clients should buy from you and not your competitors (your value)
When you look at your messaging, is it clear what type of services you provide in the niche you've selected?
For example, have you included courses, programs, projects, appointments, or similar wording?
If not, then be sure to adapt your messaging to include a description of what you do (and sell).
It's also important to check that you include a specific description of who your ideal clients are.
As soon as your audience recognises themselves in your messaging, they will have more confidence to help them.
And when your clients are confident, they will be more likely to reach out and make an enquiry.
Keep in mind that broad descriptions will not help when it comes to attracting your ideal clients.
So, be sure to really narrow in and define your ideal clients specifically.
Lastly, check that your marketing messaging contains your value or point of difference.
It would be best to tell people why you're better or different from your competition to really stand out.
RELATED: 7 Simple ways to attract more clients to your service business
Not sure where to start when it comes to marketing your service-based small business? That's where I can help. Get started by downloading my free Ultimate Marketing Checklist by clicking the button below:
#2 Your ideal clients can't see the value in your offer
When it comes to marketing services, it can be challenging to describe them as they lack tangibility.
However, an excellent service package will have a description that makes it noticeably clear (and tangible) what your clients will get for their money.
So, take a step back and review your existing service descriptions.
And ask a friend or family member to review them as well to give you feedback.
Can you see the VALUE in your offer?
By that, I mean, can you see the results or transformation you're going to deliver for your clients within the timeframe you're working together?
And if you were to run down the list of things that you tell your clients that they will get, could you come up with a total 'value' in your mind?
Note, this is not the price. But instead, what value you would place on each part of your service.
Ideally, you want to demonstrate a higher value than where you have priced your services.
If you don't feel as though there is enough value in your offer, ask yourself what else you could add to help your clients get the transformative results they want.
The more you can highlight your offer's value, the more ideal clients you will attract to your business.
RELATED: 15 Things you need to create an irresistible service offering
#3 You're marketing in the wrong communications channels
If your ideal clients don't see your messaging and marketing activities, it will be quite challenging to grow your service business.
So, you need to ensure that you're showing up in the right communications channels.
And that you're showing up consistently so that you become memorable and stay top-of-mind.
To start with, can you find your website in a Google search?
And, have you optimised your site with SEO keywords to ensure your content gets found?
Also, review the social media platforms that you're using for your service business.
Are your ideal clients likely to be on these social media platforms already?
And is there one that stands out to you as the social media platform which is likely to have more of your ideal clients than the others?
Next, if you haven't started growing an email list, then I recommend that you start now!
RELATED: How to create an email list-building strategy that works
Email marketing is such an effective communication channel for service-based businesses, so be sure to email your list regularly.
Lastly, consider what networking opportunities you have for your business.
Are there existing networks you could join to help get your message out there and in front of your ideal clients?
Or other networks or business owners you could partner with to generate referrals and introductions for your business?
Suppose you're struggling with visibility and getting your message out there. In that case, you may also want to allocate some of your marketing spend to paid advertising on channels such as Facebook or Google Ads.
These paid ads will help you boost your website traffic while waiting for your other organic marketing strategies to develop and grow.
RELATED: How to write a marketing plan for a service-based business
Want to master your marketing strategy – quickly and easily – so you can attract consistent clients and grow without the overwhelm and complexity?
Well, I have a FREE marketing masterclass that will show you how.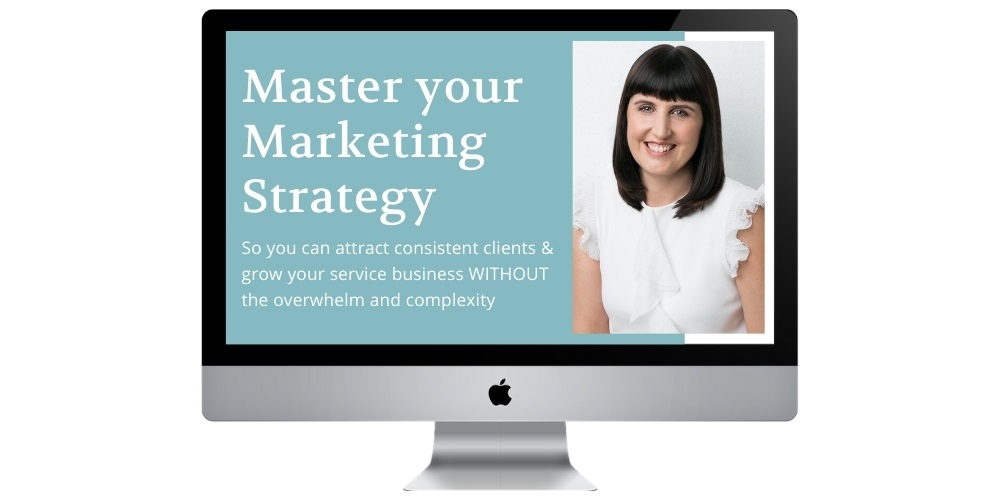 In this Free Marketing Masterclass, you'll learn:
The 3 BIGGEST marketing mistakes I see service businesses make that leaves you stuck and spinning around in circles in your business, and…
My simple 5-step Marketing Framework for mastering the marketing strategy, systems, and structure you'll need to attract consistent clients and grow your business WITHOUT overwhelm and complexity!
Get started with this free on-demand masterclass now, by clicking the button below to register:
Did you find this blog post helpful? Please don't forget to PIN to Pinterest or share on Facebook.